Frontier Pulls Back – And Not Due To Pilot Shortage
Frontier has announced at least 14 routes will be dropped by the end of May.  A couple of them – PHX-PHL and PHX-MSP – were apparently intended to explore whether a ULCC could nip around the edges of a hub-to-hub network route.
Of note: these reductions are not due to any pilot shortage. The Barry Biffle, CEO noted at a J.P. Morgan conference last week that Frontier actually has a near-term excess of pilots, due to delays in aircraft delivery from Airbus.
The majority of the cuts were in impulse/leisure markets – Florida and Las Vegas.
This may be an indication of a softening of discretionary demand. Standby.
____________
Family Seating Fees.
Another Bit of Irresponsible Consumerist Lore
A number of airlines have implemented seat selection processes to accommodate families to sit together when possible. One airline even allows changing flights if it's not possible.
The usual suspects in the world of consumer gadfly-ism have for months denounced airlines for family seating fees. Politicians, too. That's regardless of the truth that there never were such charges.
To be clear, it's the "choice seat" (or other jive name) fee issue that drove the issue. When there were seats open, often they came with an additional charge. So, sometimes that got translated by politicians and factless consumer-types as a "family charge."
Caveat reader. These are the same clowns that have dishonestly spread the nonsense that US airlines have narrowed the average width of economy cabin seats over the past five years. It's not accurate, but it fits the trendy narrative.
_________________
Vox Deorum Video Discussion
With Sun Country CEO Is Now On-Line
We're honored to have had the opportunity to speak with Jude Bricker regarding his airline's unique market perceptions and strategies.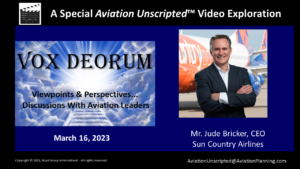 This is a must-view for airport market planners, to get a clear understanding of where this innovative airline might fit in future air service development outreach.
Invest the 20 minutes and get the full story.
And watch for additional Vox Deorum postings coming soon!