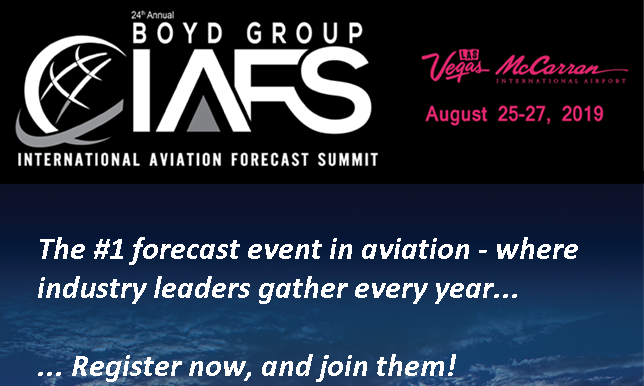 We're Driving Change In Aviation Consulting

The Leading Experts In Aviation Planning & Research. We have a different philosophy. We believe that a consultant must be ready to immediately deliver expertise and futurist data that bring new perspectives and new business intelligence to the client. That's the reason Boyd Group International is focused on independent research and forecasting that gives our clients the competitive advantage.

Clear Thought-Leadership. Boyd Group International is at the forefront of aviation issues. Take a look at our Monday Update. For more than 20 years, it's been a must-read for aviation professionals, delivering insight that often runs counter to stale consensus thinking. Do a media search. You'll find that when it comes to emerging industry issues, it's Boyd Group International that the media and aviation experts call on. When our clients call, they want answers, sound advice and assistance - now. And we deliver.

Industry-Leading Data & Business Intelligence. Our Aviation DataMiner system is a leading on-line source of industry information and forecast projections, relied upon and utilized by subscribers across all sectors of aviation. Not only does it deliver the Analytical Firepower needed to plan and strategize, but it also is customizable - including client-specific reports - for all subscribers. It goes beyond raw government numbers - which are often riddled with errors - and provides a set of intelligence and planning tools for aviation professionals.

Leaders In Aviation Forecasting. To assist our clients, Boyd Group International is constantly involved in forecasting future industry dynamics. From our exclusive Airports:USA traffic forecasts, to our Global Fleet Trend Forecasts,  to Airports:China, the only private-sector projections of China-US air travel, to assisting clients in ascertaining future economic trends, our forecast expertise is unrivaled in the industry.

Global Expertise. In addition, Boyd Group International is expert in global aviation trends. We've assisted US airports in recruiting international air access, with new-perspective forecast methodologies. We have worked with aircraft manufacturers in forecasting new market demand, as well as fleet trends globally. Furthermore, we're now the leader in research and forecasting trends in the China-US aviation sector. In addition to our Airports:China forecasts, our BoydGroupChina.com website delivers insight and business intelligence on this important market.
Welcome to our web portal - we look forward to working with you!
Click here to start the conversation, or give us a call at 1+ 303 674-2000.
__________________________
It's Official!
Mark Your Calendar - August 25-27, 2019
The 24th International Aviation Forecast Summit
The Encore Resort - Las Vegas
Click Here For Details & To Register
Announcing…
New Programs To Assist Airports In Gaining A Share of The China Trade - And China US Investment
Over $14 billion in US investment… over 23 million leisure visitors over the next five years… and each spends on average over $6,000!
Then, There's China Air Service Access… At least four more Chinese airlines will be seeking US access in the next 18 months. Plus, new airport capacity at Beijing will mean huge new hub access between the US secondary airports and points in China.
That's the China opportunity. And it's coming to airports and communities of all sizes across the US.  The economic investment impact is already established in places like  Saginaw, Raleigh-Durham, Edgecombe County, Louisville, Ithaca, Mobile – every part of the nation has this opportunity.
Get The BGI Advantage. Boyd Group International and its partners are assisting forward-thinking airports and regions of all sizes get the competitive edge to attract this new wave of investment, with China expertise unmatched in the industry, and the reach to make their story and opportunity known to decision-makers in China.
We're Delivering New Perspectives & New Approaches To China Access. As an example, we've delivered China Symposiums to communities around the nation, including comprehensive discussion of the emerging Chinese airline system, the new trends in business investment, and the future for more leisure visitation from China. Direct, clear data.
"A Flight To China" - Where Airports Miss The Message. What sets BGI apart is that we assist our clients in developing real-world China access programs. We know the realities and trajectory of the China-US market. And that means developing strategies and outreach that manage and focus regional energies.
For example, across the US, there are communities and airports working to attract nonstop flights to China, and there are consultants only too eager to jump in, with near-zero knowledge of the dynamics of the China air transportation system.
Just Having Local Chinese Businesses Does Not Mean The Airport Can Recruit Nonstops. Here's the facts: no matter how much Chinese business, investment, and/or higher education presence there might be in a given region, that in itself is not an indication that the local airport can support flights to China.
That's the point: China is a diverse commercial nation. Not an airport. We help our clients pursue attainable air channels from points in China - which by the way does not have US-style connecting hubs - at least not yet. But developing channels of air service is a whole different matter.
Take A Look At Our Advanced China Expertise… Boyd Group International is the leader in China-US air service research and consulting. Click here to take a look at the depth of expertise we offer. Then drop us an e-mail and we'll get more information right off to you.
_____________________________
Thanks To All Our Attendees, Sponsors, and Our Host, Denver International Airport For The Best-Attended And Most Exciting IAFS Ever!
And, The Event Delivered $35.9 Million In Earned Media Coverage For The Mile High City!
Interested In Hosting The 2019 IAFS? Click Here To Request The RFP!
Pictures From The 2018 IAFS Now On Line!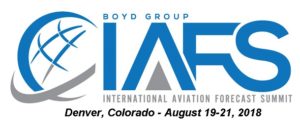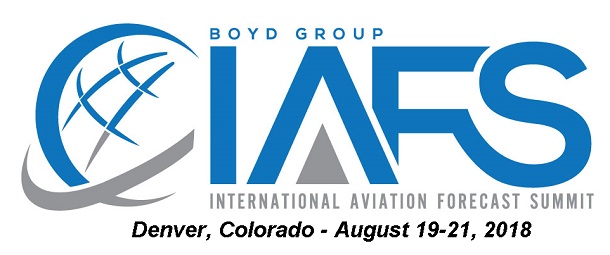 The 23rd International Aviation Forecast Summit brought together almost 400 leaders from around the globe to explore the future or our industry.
Without question, this year the IAFS again delivered more actionable business intelligence than any other event. The discussion format gave the attendees exceptional depth of information and outstanding opportunities for direct interaction with industry CEOs and senior executives.
We again thank our platinum sponsors, United Airlines and Southwest Airlines, and our other sponsors and our great host, Denver International Airport!
___________________
Unique Highlights
The IAFS™ always delivers outstanding new perspectives and business intelligence. We'll be posting key sessions and key insights shortly.
But this year, we had a couple of other aviation "firsts" - and even one "last"
Last Southwest Peanuts. The IAFS has the distinction of being the final time Southwest Airlines served peanuts. As one of our Platinum Sponsors, they provided the remaining stocks of in-flight packages to the IAFS attendees.
New United Color Pallet. Also a Platinum Sponsor, United showcased its new color scheme at the IAFS this year... a very elegant use of a shade of indigo/purple, by the way.
The First IAFS To Get Picketed. When our attendees left the hotel to board busses for the exciting Monday evening event at Coors Field, hosted by Denver International Airport, they were greeted by dozens of in-uniform Frontier pilots, professionally holding banners and posters regarding their current contract negotiations.
In a very real way, this was an honor, and yet another indication of the esteem that the IAFS™ holds in all areas of the aviation industry. Apparently, these pilots recognized the outstanding high level of leaders that attend the IAFS™ and found it a valuable venue to get their message out.
The First IAFS™ To Have Comfort Dogs Assisting Attendees. Things can get exciting at the IAFS™ - but not to worry, our host, Denver International Airport brought their comfort dogs to the event to keep things in a calm and focused state.
We'll be covering the sessions shortly, but these are just some of the factors that make the IAFS™ what our attendees have described as the best aviation conference of any!
____________________________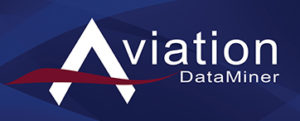 The #1 Source for data, forecasts, and predictive analytics.
Click above for more information and to apply for a free trial.
_____________
Introducing The Leading Source of China-US Aviation Research & Liaison Programs

Including Airports:China, the only independent source of Chinese air traffic and trends.
______________