2019 – 2028 Airport Traffic Forecast:
Everything's Unhinged
Big changes. Bigger uncertainties.
Here are some basic findings for next year, from the Boyd Group International 2019-2028 Airports:USA™ enplanement forecasts. It's the only such data source compiled entirely independently in the private sector.
Traffic: up 4.5% – 5.0%
Among The Top Growth, Percentage-Wise: AUS, COS, SJC, RDU, SRQ.
Changes of Note: STL regains connecting hub status. (True)
Main Forecast Characteristic: Massive Volatility – plan on several airports seeing rapid and unforeseen double-digit spikes and declines. In fact, currently-indicated growth centers could disappear by August 21st, when the final 2019-2028 forecast is issued.
The #1 forecast finding, however, is what BGI has outlined for the last ten years: traditional forecast methodologies are today about as effective as a warped Ouija board.
Future Factor: The Value-Equation of Air Transportation Is Evolving. This is a major challenge for airport and regional economic planners… air transportation is no longer a utility… it's increasingly a consumer option, and volume is more and more the result of where airlines make the corporate decision to increase – or reduce – capacity.
Business travel is today affected by changes in other communication channels. The ability to meet and do transactions electronically is rendering air transportation as too slow and too cumbersome and too expensive in many cases. This is one reason that a lot of attempts at tossing scheduled flights into small community airports are DOA. They don't truly represent time-effective communication options.
Leisure travel is being spiked and stimulated in specific O&D markets via application of ultra-low fares. That new kitchen remodel can get put off a year, with the family budget shifted to an unplanned air trip to visit Florida, or even grandma in Philadelphia, due to the sudden presence of low fares.
Airline Expansion & Contraction: Strategically-Driven. Historically, national and even local air traffic forecasting was mostly a matter of doing some regression analyses based on a couple of economic metrics, and, poof! – all was well.
The assumption was – and, at the FAA, still is – that air travel demand was simply a static component of the economy. The "spend" on air travel was assumed to be concretely and linearly driven by economic factors.
It isn't – at least not anymore.
The ULCC Product – Changing The Traditional Nature of Air Travel Volume. As we've seen with the expansion of ULCCs – Allegiant, Spirit and Frontier – the places where they suddenly expand capacity has nearly zero to do with static econometric data.
And often, little to do with whatever the current levels of service may be. For example, Spirit's new Seattle expansion is right in the face of two legacy carriers, both doing quite well. There is not any capacity shortfall at SEA – particularly on the routes planned by NK.
This illuminates the new dynamic that puts a spread of torpedoes directly into the rusted hull of traditional traffic forecast methodologies.  It's the fact that the expansion of these carriers isn't to fill "air service gaps" or address "unmet" consumer demand.
Instead, it's all about offering a new option for consumer spending… in short, most of the ULCC expansion is all about creating net-new revenue, instead of fighting for "market share."
Air travel is now a consumer option, and consumer decisions are wildly volatile. Even the definition of "demand" is increasingly a mathematical greased pig – it's now the result of a whole range of constantly shifting factors that are specific to each market.
But at the end of the day, it's whether there's capacity for sale, and it's revenue generation – not just high load factors – that determines whether a ULCC continues to operate a route, or cuts bait and moves on.
The challenge is forecasting where this type of growth will take place – it can't be done with any traditional mathematical model.
That's because the decisions are based on subjective corporate strategies on the part of these ULCCs in regard to where they can get the highest and best use of aircraft.
There is no model that would have predicted Spirit's expansion at Seattle. Or Frontier's new capacity at Colorado Springs or San Jose. Or Frontier expansion at RDU.
As we illuminated last week, the entire concept of relying on historical DOT data is useless as a planning tool in this new air transportation environment.
Strictly Business. Nothing Personal. Because the objective is to offer an alternative spending option, the ULCC model is transient. If a given market doesn't work sufficiently – or if another appears to be able to generate more revenue – the ULCC responds rapidly to shift resources. Read: pull out of town, and fast.
And when they do, most of the traffic they generated evaporates.
In fact, we've seen this clearly in the past. When Southwest opted to delete SRQ from the AirTran system subsequent to their merger, virtually all of the more than 300,000 annual passengers disappeared. They didn't show up at Tampa or at Orlando or at Fort Myers… they were gone with the capacity. Same with the situation at Newport News – neither Richmond nor Norfolk got a tsunami of new passengers. It was simply gone.
It's been in play for the past 18 months. ULCC markets with what would appear to have high load factors are suddenly dropped – because it's now revenue-factors that count. We've even seen newly-announced markets dropped before they were ever started.
New Close-In Forecast Methodologies. The bottom line is that traditional approaches to forecasting are out. The future is based on determining where there's potential for air travel to be a new discretionary spend product.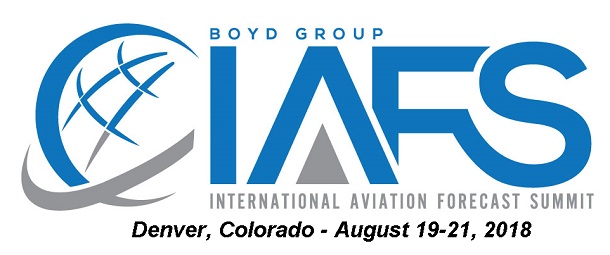 Join Us At The IAFS™ To Explore This New Future. On August 19-21, at the International Aviation Forecast Summit in Denver, this new air transportation future will be front and center in our discussions with airline and aviation industry CEOs and executives.
In addition, the Airports:USA® session on August 21 will be covering the new range of core trends that will change how airlines apply their resources, and the factors to consider in regard to making logical projections within an entirely new and evolving airline industry.
Airports: Bring Your Board Members… and maybe the mayor, too. This event delivers data, forecasts and perspectives that will give them a clear perspective of the future. Judging by a lot of the semi-ethical "ASD" schemes being peddled to unwary small communities, this event will assist in keeping civic leaders from being misled into the planning weeds.
Click here for more information and to register. We look forward to seeing you in Denver!