So, Why Are Communities Working So Hard To Bring Back The Past?
The New Realities & Opportunities of The USA
Air Transportation System
In the last two weeks, three communities got air service pink slips. In the same period, several others got net-new service.
In the first case, it was Springfield Illinois, Erie, and La Crosse. United is pulling out of the first two. Delta is saying good-bye to La Crosse.
Meanwhile, RDU, PVD, CAK, ORF, CRW and at least five other airports got notice of new service.
What's the message here? It's called evolving aircraft economics. The loss at the first three airports is due entirely – write that down, entirely – to the fact that 50-seat jet costs are exceeding the revenue they can carry, and for a number of communities, the next capacity up – 76 seats – can't be supported. There will be more in the months ahead.
No, its not due to pilot shortages. And there will be more such pink slips regardless of the number of pilots coming on line.
The expansion at the other airports – and to be clear, in some cases there is some heavy risk-offset gelt in the mix – is that they can support larger airliners.
Yes, a lot of this is impulse leisure traffic, or just ULCC fare-stimulated service. It makes no difference. The hard fact is that small communities are increasingly seeing the effects of plunging small jet economics.
Invest A Couple Minutes For Facts. In just 11 minutes, the latest Aviation Unscripted video takes a hard and very blunt look at the new air transportation models, and tends to unkindly pillory a lot of the efforts to reverse the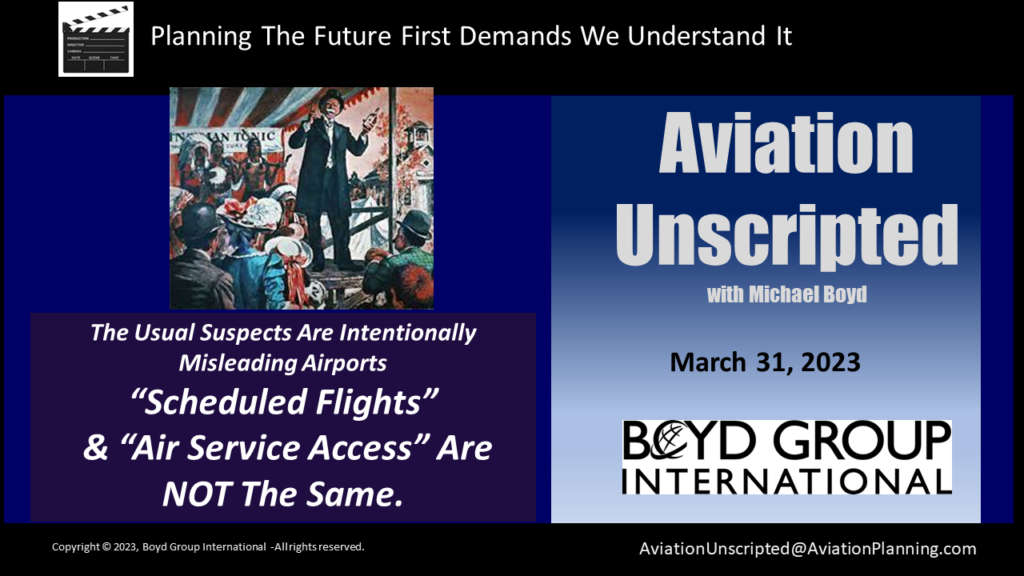 inevitable and ignore the opportunities of the future.
There is way too much long green wasted on trying to bring back the past, instead of optimizing the economic future for rural and small community airports.
Keep Spending To Find The Solution That's Not There, Anymore. It's almost like latter day cargo cults. Heck, we came across one very rural community (say, @ 12,000 passengers, best case) that has been playing consultant roulette for the past three years. Hire one for $40K, and then cancel the deal when the Houdini-like ASD promises don't come to pass. Then, find another magic peddler for, say, $50K. Oops, after a year of studies and analyses and other voodoo, fire them for not having a network carrier at the gate.
Now, the same community is looking for a third Data Messiah to bring in that air service that can't be supported from airlines that don't exist, anyway.
It's sort of like the ASD version of battered wife syndrome. Keep coming back to get financially clobbered when the hard reality is clear.
in the Unscripted video, we cover the new and different air service applications that are developing, and take a look at the potential – at this point it is just that, potential – new-dimension air logistics applications for rural areas.
If you want some straight talk and clear futurist perspectives on the air transportation modalities, click here to access aviation's new cutting-edge video source.
And, let us know your thoughts, too.
_____________