CCP-COVID Traffic Rebound
We will start with this… our Airports:USA® CCP-COVID forecast projections are starting to play out.
While May was more of an economic disaster than expected, resulting in around a 95% elimination of consumers allowed to take trips, it appears that the second half of June will still be the stark turnaround point.
According to TSA, Memorial week-end delivered a couple of near 350,000 passenger days. Anecdotal information indicates that ULCC leisure traffic is rebounding strongly. As just one example, our client Latrobe will be gaining back independent nonstops to Orlando, and it appears that Frontier, Allegiant and Spirit are experiencing traffic comebacks.
On the fleet side, the picture is also positive…
… Delta is going ahead with the acquisition of an additional seven A-350s from Qatar airlines. That portends well for the near future.
… Allegiant indicates it has brought a net 22 more A319/320s back into service.
… Southwest has parked another 70 737-700s, but brought 62 back into service. Since these data are just a one-day snapshot example, this would indicate at the least a wash.
Point: fleets are starting to return.
__________________
It's Time To Fricassee Chicken Little
Okay, the argument could be made that as far as air service was concerned, the sky was falling. But only temporarily. It's coming back.
Going out on a forecast limb… by the end of June, daily passengers going through TSA checkpoints will be over 1.0 million and by January we will be back to 85% of 2019 levels. A major factor in it not returning to full 2019  demand is international traffic… it will remain weak, particularly in trans-Pacific markets. USA-China traffic will plunge – and stay – at @20% of prior levels. As for the E.U., leisure traffic will be a fraction of before to and from North America.
It all has to do with the economy being allowed to come out of the caves. It has to do with an increasing understanding of people who are and are not at risk.
Domestic Air Service Access Restoration – Certain, But Trickle-Down. The pandering veneer media stories are rampant that it will take years to get air travel back to where it was before the CCP and WHO allowed this pandemic to spin out of control and eventually spread from Wuhan to just about everywhere. They are wrong.
(Yup, that last comment is a red herring for the folks who are trying desperately to mislead the public into believing that the Chinese government isn't responsible for the pandemic. Or worse, contending that holding them responsible is just a "distraction" or even more dishonestly, racist. Got a problem with that, then bring it on. We have facts. When all this settles out, the CCP must be held accountable.)
Back to the U.S. air transportation system – we are seeing the ULCCs starting to gain traction. For major carriers, mainline O&D traffic between hubsite airports is felt to be gaining strength, and by the end of June, the they will be adding spokes to more secondary feed markets.
Damage Done. New Approaches. New Airline Industry. But the system will be different. As we've noted, the air transportation industry is not unlike parts of the economy… the CCP-Pandemic has damaged the underpinnings of the entire transportation system… so when the dust settles, not all will be as before.
Some smaller communities will see their air service accessed at airports other than the local one. The mid-size airport metro-peripheral air service trend over the last 20 years will be affected as well. Consumer and businesses have found that some air travel can be replaced – or is no longer necessary – due to electronic communication channels.
Traditional Air Access Approaches – Here's a Flash – There Is No Tradition. The key factor to remember is that airlines will be operating different fleets, with different market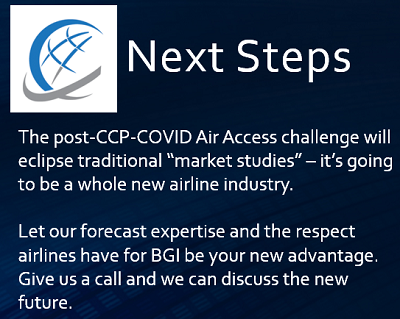 strategies and revised revenue goals. Traditional "true market studies" and "leakage analyses" measure (and often not well) the pre-CCP-COVID airline industry, not the future one.
Post-CCP-COVID, air transportation will have a different development trajectory and different route-decision metrics.
Forecasts – Not Past Data. At Boyd Group International, what sets us apart is that we are a forecast and research firm, with a 30-year track record of assisting clients with futurist planning. Our work with airlines and aircraft manufacturers in identifying emerging trends – from new aircraft platform feasibility, to specific airliner demand, to shifts in national and regional traffic patterns –has been our advantage in assisting clients develop effective air access programs.
The point is that BGI is better postured to identify the fundamental changes and emerging opportunities emerging from this pandemic.
If your airport is looking at crafting new-generation plans for the future – including long term strategic opportunities, click here to send an email, or just give us a call. We'll get right on a tailored air access strategy program based on the future – not old data.
_______________
FROM ALL OF US AT BOYD GROUP INTERNATIONAL, WE WISH YOU A SAFE AND HEALTHY WEEK AHEAD!