Preparing For A Future That Does Not Exist?
Face masks. Temperature checks. Plexiglass barriers wherever transactions take place. Mandatory social distancing in airplane cabins.
This is the stuff that is sometimes repeated in the media as being the permanent "new normal" for air travel. That's because, according to at least one article, we are now in the "virus era" of air transportation.
Actually, we are in the me-too era of media reporting. That's when the source tends to be a compendium of "what everybody knows" instead of hard fact checking.
The more we know about the China-inflicted corona virus, the more we are finding that while contagious, for the majority of the population, it is not lethal. Yes for some sectors, such as nursing homes, it is a proven killer… but so have been other viruses.
That can be managed without the entire population of America doing a re-run of The Flintstones, living in caves. The main challenge now for airports is in crafting pro-tem measures that not only deal with curbing the spread of the virus, but addressing the demands for politically-acceptable facility changes… changes that in a year won't be needed.
____________________________
Rebound Is Accelerating – Air Fleets Leaving The Desert

Fleet composition reports are daily indicating a return of more airliners into both U.S. and global fleets.
Southwest, which was reported to bring another 70 737-700s back into service on Friday, has indicated that it will be back in full operation by the end of the year. Frontier has announced a number of expansion markets to be implemented in the coming weeks. United is pulling more aircraft into service.
Delta continues to retire MD-88s, MD-90s and B717s. However, it is clear that this was a process in the works before the CCP-COVID pandemic.
Add to this reports of increasing traffic through airports, and it is becoming clear that air transportation will be part of the economy that will see an early return.
We are still confident of our Airports:USA® forecast of a return to 85% of 2019 year-over-year traffic by the end of the 4Q 2020.
_________________________
New Airline Economics – New Metrics Needed

 Below are O&D numbers for a few markets in the Northeast. They tell a compelling message in regard to crafting future air service access planning.
There are similar examples across the nation, but these provide a stark example of how the value and time-efficiency of air transportation have changed over time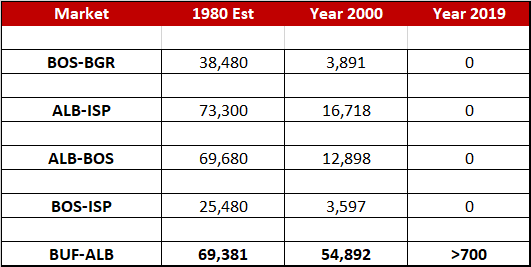 The 1980 numbers are estimated based on past schedules and other factors. Back then, "commuter" airlines filed data with the CAB on a different table, and sometimes didn't file at all. The 2000 and 2019 numbers are as analyzed by our friends at Cirium. Data reported under 200 passengers in any market can be considered as "noise" due to the outdated reporting systems in use by the DOT.
Toss in the enormous time-inefficiency of air travel in markets such as these, and – take it to the bank – this sector of aviation history is dead. It's just one sector that's now completely changed – and not all are negative. Not that the loss of routes such as those above is negative – it's just a reflection of shifts in consumer and business preferences.
Positive Shifts Are In The Works. As we've pointed out before, there are fleet changes in play that will generate a new set of long-haul routes from interior U.S. non-hubsite airports, including international. Our advice is to put down the past data, and start forecasting and projecting what the new fleets and new airline strategies will be.
Changes in global trade patterns will emerge. Don't buy into the assumption that post-CCP-COVID air travel will be the same as before. Take it to the bank, as just one example, substantial FDI in manufacturing and heavy industry will shift away from China, which is becoming a global pariah due to their malfeasance that inflicted corona virus on the world. These will also change airline strategies, domestic and international.
Take it to the bank, too, that new efficient airline fleets will extend hub reach materially in the next five years. Take it to the bank that airports such as Norfolk, Albany, Grand Rapids and Columbus will have trans-Atlantic nonstops.
Post CCP-COVID pandemic, the structure and the strategies of the U.S. airline industry will represent a new set of planning metrics.
Join Us In Cincinnati To Explore This New Future. The aviation industry is now in line for the greatest set of changes in history.
The CCP-COVID pandemic has completely changed the global air transportation system. Across the globe, airlines have disappeared… others face new opportunities. Super longhaul flights will have an effect on traffic flows over airports such as Singapore, Dubai and Istanbul – all different in scope today but all in the crosshairs of change, too.
More regionalization of air access will be in play. But increased growth of ULCCs will continue to develop new traffic flows from airports that formerly had little or no passenger traffic at all.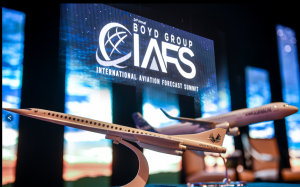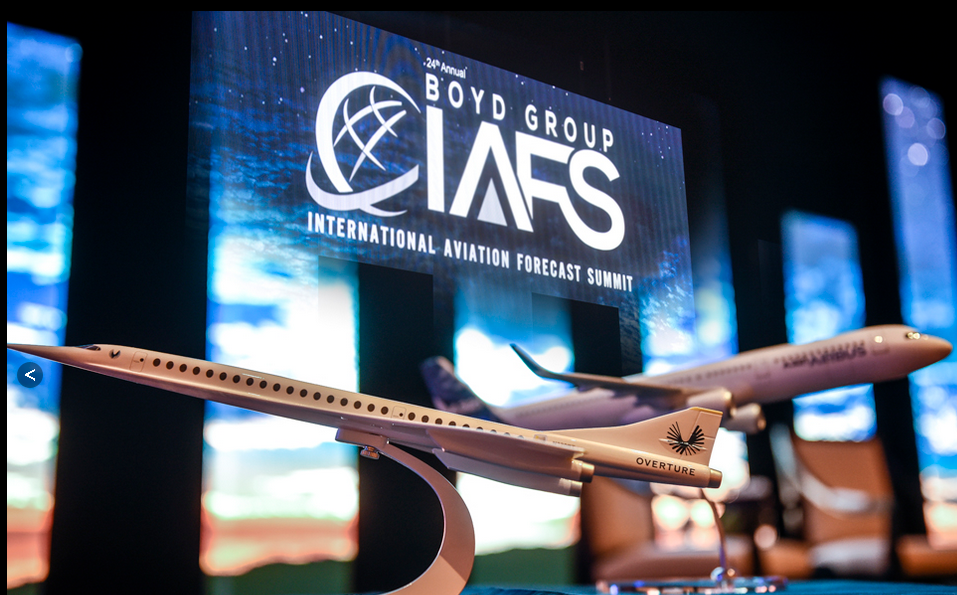 Fleet changes and near-term excess airliners on the ground will pose both challenges and opportunities for OEMs and for aviation suppliers. Airports across the USA could be in line for new investment.
And, sometimes not fully understood, we have the UAS segment – drones.
Forget the four-rotor toys used by real estate agencies to take pictures of fixer-uppers, we are looking at the development of "dronelines" that could network the nation with a new logistics delivery system using aircraft that are a whole lot more that amateur curiosities. For the first time, rural airports may well be in line for a new role in aviation.
The IAFS™ will be the first major post CCP-COVID event and one that will outline the future of the new aviation industry.
We will be exploring the real future – not rehashing what's happened. This is a forecast event, and that's the exclusive direction we're taking. Airline strategies will be different… fleet demand will change things from facility needs to communication systems… logistic shifts will positively affect airports, particularly rural airports… and past planning metrics and programs will be obsolete.
We're going to be tapping the expertise of a range of industry thought leaders, and we'll be outlining the agenda shortly. For 25 years, it has been at the IAFS™ where new trends and breakthroughs in air transportation have been first illuminated. This year will be even more so.
So, clear your calendar and join us and your colleagues August 23-25 in Cincinnati, USA for the 25th International Aviation Forecast Summit. Click here for more information and to register.
________________________
FROM ALL OF US AT BOYD GROUP INTERNATIONAL, BEST WISHES FOR A GREAT & PROSPEROUS WEEK!