Rural America & Small Communities:
"De-Isolation" Is The Future… Air Service Planning Needs To Adjust

News Flash: Here's some heresy…
Rural America is now, as we speak, getting "de-isolated" from the rest of the world.
More heresy: in ten years, small communities in all areas of the country will be "connected" like never before. Businesses will find advantages of building facilities and establishing offices in places that have been written off as being too far into the boondocks to be of any factor in the global economy.
Quality of life will be a draw, and new modes of communication will make these moves inevitable. Write it down… it's already in progress.
That's the good news. There is no bad news.
Except that most of the current assumptions regarding rural "air service development" are now completely out to lunch in this new environment.  The new connectivity will be driven by combinations of communication channels, and air transportation will be in a whole different role than that traditionally assumed. Community and regional planning needs to adjust accordingly.
Adjusting Air Service Planning To The Global Realities. On August 25, at the International Aviation Forecast Summit, there will be a special pre-event Workshop that will shake up and threaten ambient thinking in regard to air service planning.
The Workshop – Opening The Globe To Rural America – won't be yet another Walter Mitty session talking about "air service development." Those kinds of events talk about vague concepts such as "finding airlines" when the potential carriers (or lack of same) are as immediately obvious as a blemish on prom night. Or throw-away concepts to "lure more service" with incentive programs to unnamed and unknown carriers, without any recognition that in many cases, the airline system has passed them by years ago.
At this Workshop, several sacred cows will get tossed on the barbie of hard reality. We'll be covering the changes in air transportation driven by the new channels of global communication, and how airport and air service planning must adjust to them.
Optimizing & Recognizing The Power of New Communication Channels. Here's the bottom line – the economic future of every region of America will be based on the flow of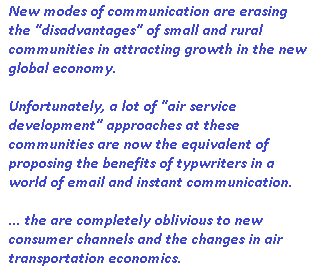 communication to and from the rest of the global economy.
Air service is only one part of it – an important part, but changes in raw economics and the emergence of competing communication modes have shifted its role and applications.
It's Whether They Can "Get Here"- And Not Just Physically,  So, the future for small communities and rural America will be based on how openly, conveniently, and cost-effectively they can interact and communicate within the global economy.
Analog Air Service Planning In A Digital World. As the Workshop will illuminate, the perception of "air service" in too many cases is still based on the assumption that the communication system of the 1970s is still in place… like, back when IBM Selectrics were the ultimate in office equipment, broadsheet newspapers delivered the news in the morning, and payphones were the main communication tool when one was away from the home or office.
And, also this was back when Beech-99s and Cessna 402s and Metro-IIIs piled the rural skies, connecting places like Abilene with Austin, Bangor with Boston, and Albany with Buffalo.
That communication network, including the air transportation system that existed back then, is as dead as the dodo, just like payphones and self-correcting typewriters.
In its place is a system of contact and exchange of information that's almost instantaneous between just about any two points – or set of points – in the world. In 1980, a day business trip from Hartford to New York to meet people and do business, made sense.
Today, it's too time-consuming. Too inefficient in regard to alternative communication options.
Inter-Modal & Inter-Channel Are The New Realities. Air as a mode of communication has also evolved within the new realities.
A lot of traditional air service concepts – which some communities are still chasing – is like mailing a letter compared to an email.
Example: it's non-competitive from a consumer perspective trying to wedge a trip from Muskegon to Los Angeles into a local schedule of just two daily flights, when an easy 50- 60-minute drive to Grand Rapids delivers a range of faster, more numerous and more time-efficient options. Yet millions are spent every year at a lot of small communities trying to convince consumers otherwise… and it's not a compelling argument. Regionalization – not futile attempts at balkanization – will be the strength of the US air transportation system.
This dynamic is the reason that the role of air as a communication channel has fundamentally changed. It's also part of the fallout of new channels that are actually opening America's rural regions to the globe.
Electronic Proximity Levels The Business Playing Field. Even without scheduled flights at the local airport, a company in Worland, Wyoming today can conduct a meeting with potential customers in Delhi, face to electronic face, with channels such as Skype and Zoom.  This adjusts for the economic fact that connective air service at the local airport is a thing of the past.
For the metal-fabrication company in Lima, Ohio, the need to travel to Lima, Peru to discuss a contract or sales call is now replaced by a high-def screen, and a quick exchange of e-mailed documents. Getting on an airplane is less and less required to get business done.
This does not imply that air transportation will go away. It just has a different set of roles within the regional, national, and global communication systems.
Communities that recognize these changes and plan their air access programs accordingly will prosper.
Clear Your Calendar For A Clear Look At The New Future. The core focus of this Workshop will be on how air transportation has and will evolve as part of this communication system, and how simply chasing after "commercial service" or "scheduled flights" at the local airport, outside of the context of the new communication systems is like blindfolded kids swinging at a pinata.  Fun, but it accomplishes nothing in the real world.

A wider and more comprehensive approach to the future is needed, and more "leakage analyses" or "true market studies" are the equivalent of expensive intellectual pinata programs that often only lead the community away from developing global air access solutions.
Join Us At The Only True Aviation Forecast Event. This Workshop is one of four planned for the afternoon of August 25, as part of the 24th annual International Aviation Forecast Summit, being held at the Wynn/Encore Resort in Las Vegas. It's August 25-27th.
The complete line up of Workshops will be announced shortly, and they're just the start of the only true aviation forecast event in North America.
No pre-set "panels. Instead, there will be data and trend projections important to all sectors of the industry. Plus, exploration sessions with the industry executives who will be shaping the future.
For more information and to register, click here.
At the IAFS, there are no comfort zones – we take on ambient thinking, and attendees get the competitive edge in planning for the future.