Spirit/JetBlue Deal:
It's An Asset Acquisition, Not A Route System Merger.
Spirit-Served Airports Should Get Prepared. 
We all were wrong.
At least initially.
The general consensus has been that a JetBlue/Spirit merger would be a giant furball in putting the two systems together, and therefore would seem a whole lot "problematic."
The logical questions: would the combined entity be like Spirit, or would the combined entity be like JetBlue? One is bare bones. The other is nearly full-service. Mating these two together would be a nightmare, right?
It certainly would be – if that was the intent. But it probably isn't.
Most of the aviation media cognoscenti are still, as we speak, jumping around, trying to figure out how the JetBlue model will fit into a low-fare, low-cost system focused on impulse traffic to places like Florida, the Caribbean, and Las Vegas.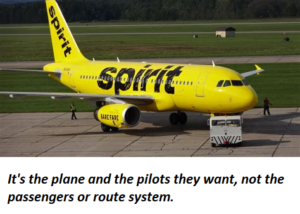 That's where we all in the industry got it wrong. It's obvious and in plain sight when we look at what B6 really needs. It's not an incompatible route system. It all does not need to "fit" because combining Spirit's route system as such into JetBlue likely isn't in the plan.
Fixing JetBlue's Pilot Shortage: Buy Another Airline. If the politicians at the DOJ actually approve this, there won't be a new merged airline in the traditional sense of two combined pre-merger route systems. Instead, it will be a much larger JetBlue, focused on its current expansion plan and strategy, funded with the assets – pilots and airliners – acquired from Spirit.
The strategy of B6 is brilliant.
To grow and expand, they face the need for a lot more pilots and a lot more aircraft. That takes time. So instead, they bought another airline that has both resources that they can access quickly. Where Spirit flies them today is a non sequitur. JetBlue needs airplanes and folks in the cockpit – not the route system of a ULCC.
In a very real sense, JetBlue just poached Spirit for its pilots and other assets. They did it by simply buying the airline. The reported $3.8 billion is one sound and innovative investment.
Message to Spirt-Served Airports: Don't Count On A Simple Transformation. This may seem a bit harsh, but JetBlue did not get to where it is by being an airline Mother Theresa. They are in business to make money, and to do so with a strategy that makes sense for its unique model.
Point: every airport with the benefit of Spirit service today needs to take a hard look at a contingency plan. One is reviewing a potential strategy to determine if and how to attract and retain JetBlue as the merger proceeds. Simply having thousands of enplanements to 'Lauderdale or Orlando or Las Vegas is NOT necessarily an anchor for JetBlue.
Remember, to state it again, B6 is not taking over a route system. They are acquiring airliners and crews and other assets to meet their specific and very different air transportation model. Not all currently served Spirit airports will fit in. Not all current Spirit routes will survive, either.
The second is to craft a traffic retention plan should the market not be compatible with JetBlue. Traffic retention means identifying one of the remaining ULCCs and building a plan to attract it. No, not a scattershot program at any and all such carriers, but instead determining to which one the former Spirit traffic would have the most value.
Call Us & Get Ahead of The Planning Curve. Boyd Group International's Airports:USA® system is ready to assist in building clear and demonstrative strategies to address this. In some cases, it will be identification of emerging market opportunities for the larger JetBlue. In others, it will be developing outreach to other ULCCs to take advantage of the market should/when the former Spirit routes are dropped.
Being prepared is being forearmed.
Click here to start the conversation.
____________________
Latest Boyd-Swelbar Unvarnished Video
Conformity. Consensus. Acquiescence.
These tend to describe the foundation of most aviation analysis and reporting.
Some fresh thinking and fresh air from the outside is desperately needed. Enter Boyd-Swelbar Unvarnished. A bi-weekly Friday video that isn't reticent to call groupthink for what it is. This is one source you need to bookmark and subscribe to.
Here are some of the areas we dive into this week. It's about 33 minutes of fast-moving data and insights that aren't available anywhere else. Not just audio, but illustrations as appropriate to underscore the points we present.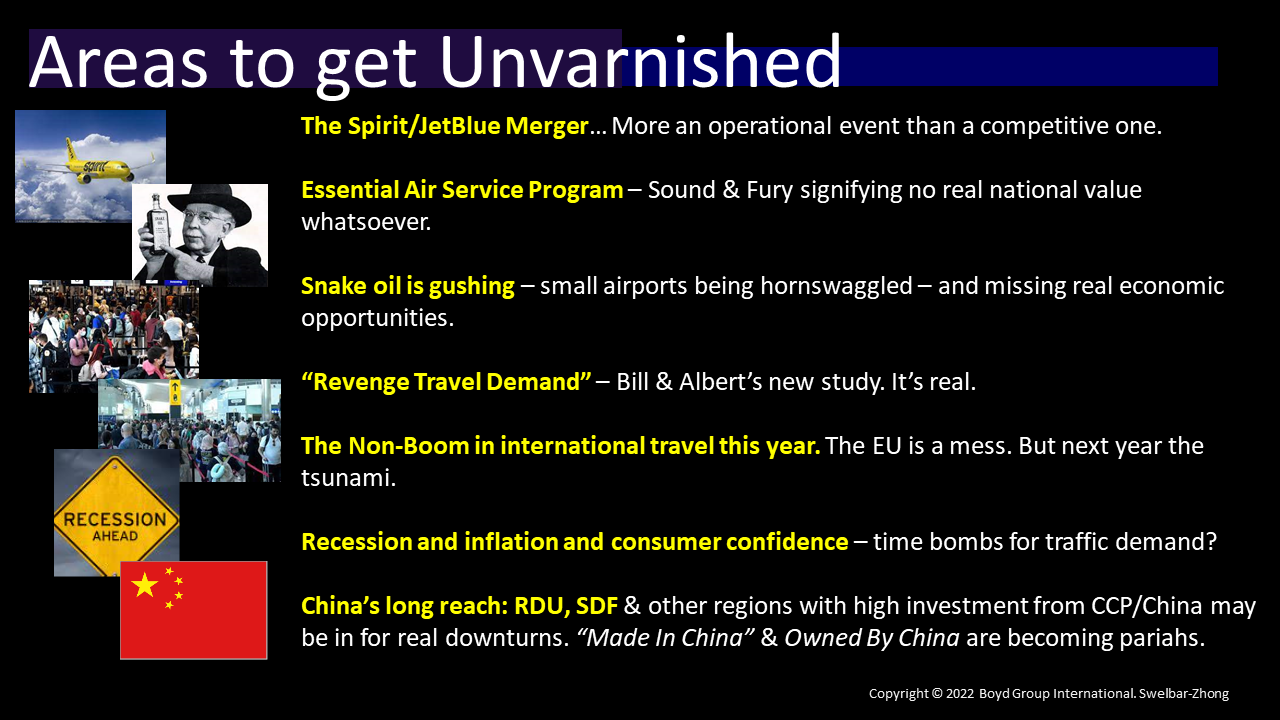 Invest the time, and be sure to let us know your thoughts. And again, be sure to hit the subscribe button. Click here.