Let's Start With A Challenge To Consensus Thinking
The Guide To The New Air Service Access Realities
Discarding Obsolete Approaches
Air service dynamics were completely evolving even before the arrival of the current recession. A lot of air service assumptions made no sense in the past, and even less today.
The new economics and new role of air service demand completely new thinking. Airline strategies and fleets are changing. Consumer demands are changing. The value and utility of air transportation have changed.
Stop Working With Obsolete Metrics. Providing airlines with traditional "leakage studies" or geographical catchment area analyses are like sending new sheet music to the orchestra on the Titanic.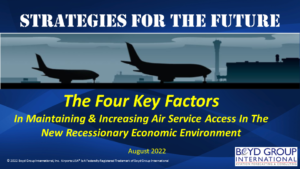 Boyd Group International is now offering a brief overview of the new realities that communities need to address to assure access to and from the rest of the world.
The Guide is short and direct, but it pulls no punches in demolishing a number of accepted methodologies and assumptions traditionally used in air service development programs.
Take a look at the future. Click here and request your complimentary copy. Then, let's talk about programs to break into the new air transportation future.
_______________
Of Course, There's No Recession. It's Just A "Transition."
Oops. Air Consumers Didn't Get The Memo
In the latest Aviation Unscripted video, we commit heresy.
We're calling the current economy for what it really is. A recession.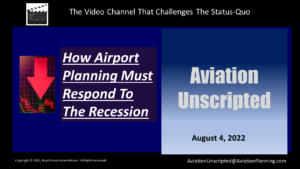 We just covered this in our latest Aviation Unscripted video. In eight short minutes, we demolish the drivel coming from the hacks inside the beltway who are telling us that all is well.
Click here, or at the bottom of this Insight, to take a look at reality.
There's Certain Evidence. Last week, Frontier indicated it was dropping more than 43 routes from its fall schedule. (We say "more" because we were informed by our friend Anthony Gilmer that Louisville was also a victim, but SDF was not reported in the media stories, apparently.)
Most of the markets were dependent on price-induced impulse Florida traffic. That would indicate booking levels are not percolating for the 4th quarter. That would indicate there is less and less "impulse."
Now American Airlines has announced major cutbacks in service, including at its Philadelphia hub. The red flag is that this was not entirely attributed to lack of pilots, but also to adjust capacity to demand. Gee, that would mean less demand.
This is not a "transition" – which is what the life forms in Washington are telling us. For the airline industry it's a transition into less demand. Let's take a look:
It's just that consumers aren't planning on spending as much on air travel. It's just that major companies are cutting staff. It's just that roaring inflation is continuing to eat up discretionary dollars.
What Happens At Heathrow Affects Omaha & Spokane, Too. Going into the 4th quarter, it now is near-certain that more capacity will be coming out of the schedules. While the first hit will be in fare-stimulated impulse ULCC markets watch for additional pull-backs in business demand, and – surprise – even in trans-Atlantic demand.
Heathrow is now a non-hub, with British Airways yanking down significant short-haul flying. That will affect AA and oneworld carriers who connect traffic over that airport. Amsterdam is limiting passenger volume as well, which will zap a lot of connecting SkyTeam traffic. This means the international feed traffic that the domestic AA system fed to its DFW-trans-Atlantic flights will shrink materially. Ditto for the feed traffic to the DL hubsites at Detroit and Atlanta.
By the way, the chaos at airports such as LHR and AMS are not primarily due to the supposed explosion of demand that the media conveniently sites. The reality is that these airports in the post CCP-Covid period don't have staff to ground handle flights.
Possible: A Downward Traffic Spiral. Major enplanement declines in the 4th quarter. At the start of 2022, BGI's Airports:USA® forecasts indicated nearly 700 million enplanements at US airports. That has continually slipped due to airline capacity cuts and now due to economic "transition" issues. We are now predicting 615 million.
And no, that is a long way from 2019, before the CCP thugs in China foisted the pandemic on the world. In that year, there were 983 million enplanements.
The entire underpinning of air service demand drivers has changed. This means traditional pre-CCP-Covid forecast methodologies are obsolete. Airports need to re-assess the future based on the new dynamics of air transportation. And the new dynamics of air transportation as a communications channel.
Get Ahead of The Future. In the next 90 days, we are going to see some major shifts in airline route and market strategies. As always, if your community is interested in a truly comprehensive  airport traffic and access strategy, click here and we'll look forward to exploring together.
To take an 8 minute view of how the recession will affect air traffic, click here for the latest Aviation Unscripted video.
____________