How A New Airport In China Will Affect US Air Travel
The New Beijing Airport – Positive For US Air Traffic
There's been a lot of media coverage on the opening of Beijing's new airport – but beyond the fluff, most have missed the real story in regard to how this event will affect China-US travel volume in the future.
So, we thought we'd cover a few bases on how airport capacity changes at Beijing (and, overlooked, also at Shanghai Pudong) will positively affect travel between China and the US, and will open dozens of Chinese commercial centers to easy air access to and from points across the USA.
Take It To the Bank… In the course of the next five years, virtually every mid-to-large airport in the US will see positive traffic effects directly due to these – and other – airport capacity projects in the People's Republic of China.
Looking Over the Current Political Barricades. We could get into the dynamics of the current China-US market, and how it is events and changing economics in China that are – pro tem -causing this segment to decline. (No, it's not the "trade war" – the revenue streams driving visitation and investment in the US started to dry up long before any tariff activity.)
But, instead, we'll jump to the data and look at the future.
First, a quick glance at the forecast of passenger traffic through China's top 10 airports: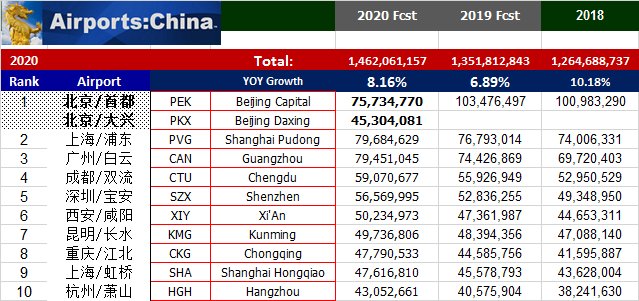 These Airports:China™ forecasts are conservative and derived from analyses of known and expected shifts in traffic drivers at each airport.
We included the two Beijing airports together for the purposes of comparison, and we show only the expected 2019 total for PEK.  We forecast that in the 4Q of 2019, PKX will see between 3 and 6.5 million passengers, but this is dependent on factors such as the assumption that all of the traffic at the now-closed Nanyuan Beijing Airport will shift to PKX, and that other shifts from PEK will be completed by the middle of the quarter.
But the Airports:China™ forecasts accomplished by Boyd Group international indicate that the new Daxing International Airport will handle 45.3 million passengers in 2020… making it immediately China's #9 airport.
Connecting Hubs Will Open Floodgates of Access That's Not There Today. But these data are mostly within the current structure of the Chinese air transportation system. To be sure, the new gate capacity at Daxing (and also the new 83-gate addition to Shanghai Pudong) will open new flight capacity.
But that's just the start, because the real expansion will be over the next five years as the three main Chinese airlines, along with their controlled subsidiaries, open true connecting hub operations at Daxing, Beijing Capital, and Shanghai Pudong.
Just to get an idea of what the Chinese air transportation system represents, here's a snapshot of YTD July numbers from the Airports:China™ database: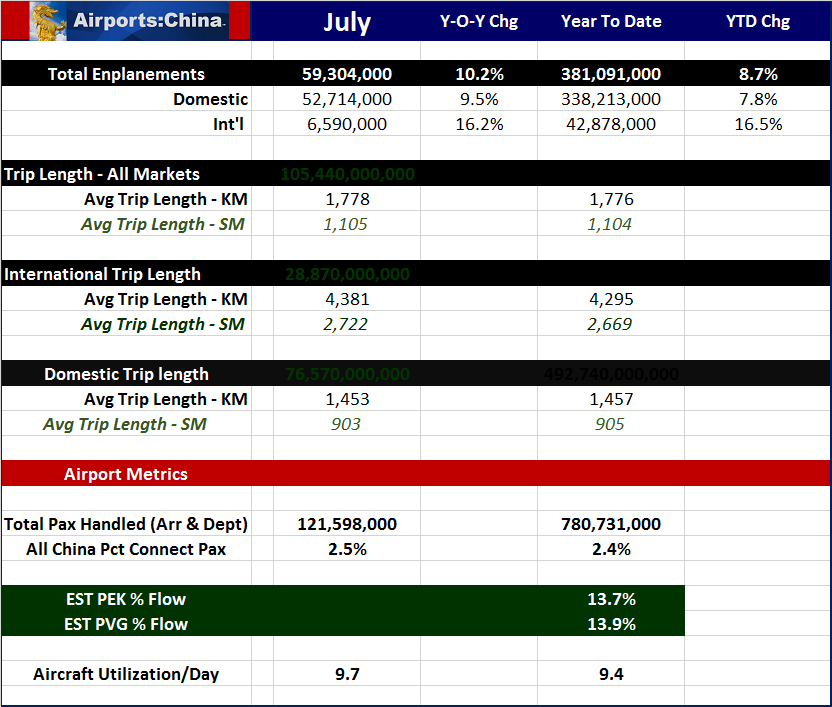 The Data Show A Different Airline System. Take a look at the current level of passengers that are "flow" – connecting. Across the entire Chinese air transportation system, it's just 2.4% of the total.
That means that 97.6% of passengers in China today are on point-to-point itineraries, and most of the connection activity, such as it is, is at just two airports, PEK and PVG. In the US, only 59% of passengers are on pure point-to-point itineraries.
That's because today, the demand is so strong between points in China, that aggregation of passengers at intermediate connecting points is not needed, nor productive. So, there really are no US-type connecting hubs in China.
Even the largest airports – Beijing Capital and Shanghai Pudong – have less than 14% of their enplanements representing connecting passengers. By US standards, that's nowhere near a "hub" – indeed, CLT is 70% connect, for example.
What this also means is that the business traveler in Louisville who needs to visit a supplier in Zhengzhou has a bear of a time working out itineraries to get there. With the opening of new true connecting hub operations at PKX, PEK and PVG, that is going to change, and it means a significant jump in passenger traffic between the two countries.
Trade wars and economic shifts in China notwithstanding, Airports:China data indicate that the true demand for China-US traffic is seven times what's being carried today, and with new connectivity through these hub operations, a lot more of this will be captured.
Between now and 2023, as the three main systems – China Southern, China Eastern and Air China – build more capacity at their respective airports – PKX, PEK and PVG – this will result in connecting flights to and from the rest of China, with nonstop spokes to US airline hubs to distribute traffic across the country.
Ten Million More Visitors… By 2023,  BGI forecasts indicate that US airports could see another ten million passengers coming into the USA from China. The demographics will change, moving toward more FIT (non group)  travelers, which will completely change spend patterns and travel patterns.
In addition, the vastly increased access between internal US cities and internal Chinese commercial centers will tend to spike new industrial investment from the Middle Kingdom.
Growth Killer: Internal Political Turbulence. There are, however, some distant and troubling noises coming from inside China that could affect this picture. In fact, if certain political and policy planets align the wrong way in China, all bets could be off. Not likely, but possible, and these considerations must be included in future planning.
One is the growing economic uncertainty, such as the declining real estate bubble and over-investment in that area.  Banks may be an issue, with one in northern China reportedly needing a $90 billion bailout. If that is much more than a one-off, there are big problems ahead.
Also, there are political issues and some indication that the blossoming Chinese business base may be in line for renewed political intervention. Furthermore, the basic underpinnings of the Chinese economy are evolving. China is finding that much of its manufacturing base can simply move to other countries. China has grown and prospered in the last 40 years by reducing government control. If that reverses in any significant way, all bets for future China-US travel growth are off.
The assumption is made in this forecast that these dynamics will evolve in a market-positive manner.
The take-aways are these:
The true potential is enormous. Despite any political differences, the true unmet demand between China and the USA could decline by 50% (it won't) and still represent a huge jump in traffic.
There will be at least four newly-developed airline connecting hubs in China by 2023, allowing easy feed between Chinese cities and US cities, with connect hubs on both sides of the Pacific.
Alliances between Chinese airlines and US carriers will focus on feeding Chinese carrier hubs. Outside of the top 6 Chinese cities, and a few one-off situations, there will be limited opportunities for US carriers to enter non-hubsite markets in China.
For More Insight… Boyd Group International is the leader in analysis and research in the China aviation sector. For communities and airports looking to build outreach with China, the current

situation represents a strong opportunity.
There are major economic revisions going on in China. Some are of concern; others indicate an inevitable shift to additional trade. BGI monitors these dynamics as they will affect China-US aviation, and we are the only firm in the US that has this as a core competency.
If you're interested in gaining more insight, or further specific research on China, just click here and we'll get back to you.