Industry Arrivals & Departures
It's New Nonstop Service In Mother Russia – Even On The Runway, Maybe.
There are reports that some Russian airlines are making relying on reverse thrust instead of brakes on landing. Seems the embargo due to the Ukrainian war is making brakes hard to maintain. No telling what this is doing to the thrust reverser parts bin.
More Evidence That Boeing Is Out of The China Narrowbody Market
The recent order for 500 737MAX airliners from Air India really isn't necessarily all coming off the future production line. Something like 55 of these will be comprised of 737s built for Chinese carriers and sitting undelivered for the last three years. Reports are that there are another 85 of these orphans undelivered. Meanwhile, Chinese airlines have continued to order A320s.
Challenges In ULCC Land – Troubling Smoke Signals
Breeze reported that it took in $67 million in 1Q 2023 revenue, and had expenses of $115 million. Some changes in the operating model are likely in the cards.
This relates also to rumbles out of other carriers, including Southwest and JetBlue, that demand is softening. The open question is whether the unique day-of-week, mostly non-leisure traffic model at MX is more vulnerable than traditional leisure-focused scheduling.
Also, there have been ridiculous stories that consumers are dropping domestic flying and shifting to international. Get real. The two sectors have entirely different demand drivers.
More news from the ULCC front: Avelo has cut two Florida markets – one even before the launch. The experimental Red Way operation at Lincoln has dropped three markets already.
Let's put aside the careful wordsmithing in much of the media – the fact is that the majority of Americans feel the economy is going in the wrong direction. That doesn't encourage discretionary travel, probably including low-frequency non-leisure service as well.
Shock! American Is Dropping Champagne!
It's always a wonder regarding how some of these gadfly hobbyist aviation websites get off and running on non-stories.
It's all over the 'net – AA is replacing the real stuff with sparking white wine! The story line is that customers will be re-thinking future travel plans away from American because of being denied at boarding 3.5 ounces of a type of hootch almost none of them ever drink at home – or anywhere else for that matter.
American's Fleet Plans – Lots of ASD Messages
American is reportedly in discussions with both Boeing and Airbus regarding a later-in-the-decade need for 100 additional 737MAX and A320 series airliners. Apparently not on the table: anything in the <100 seat category. The message for small lift providers – a.k.a "regional airlines" is not comforting. The fleet trend in the last five years has been for the major airline customer to acquire these machines for use at their partners.  The E175 is the only game in town.
One Last Shot –
The Advanced Air Mobility Concept In Deep Trouble
Yes, the media stories are all sunshine. Air taxis and short haul small airliners are on the way, y'all. There will be new vertiports and new intra-urban air transportation galore.
The fact is that the AAM concept has huge potential. But there is one looming torpedo on the horizon.
It's called batteries. More accurately, the supply chain, the environmental damage, the production processing, and the dependence on China, for starters. Then there is the fact that actual cost and actual market demand are unknown because the ultimate AAM operating costs will be dependent on a new generation of battery sources that do not exist today.
For the past two years, BGI has been alone, with videos on the Aviation Unscripted™ channel, in factually outlining how the airline industry will need to deal with these challenges. No interest whatsoever, and no answers whatsoever. AAM has gained cult status. The narrative will tolerate no questions.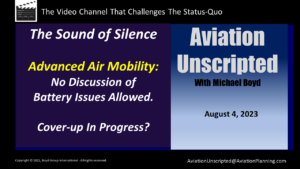 One Last Discussion. Hit this link and invest eight minutes to get an idea of what needs to be done to assure AAM is not just another VLJ concept on steroids.
Then, it's time to move on because AAM has taken on a status where anything contrary to the consensus narrative is not welcome.
I am on record: the AAM concept could be the next huge dynamic in air transportation. But it won't unless the planners face reality.
Moving on.