William C. Oliver – Vice President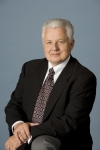 William C. Oliver – VP, directs the project coordination and client liaison for Boyd Group International. He also directs the firm's extensive traffic, passenger, fleet, and forecast databases.
With a 30 year career in the airline industry, with focus upon airline operations, planning and customer service, Mr. Oliver is an expert in the area of airport/airline interface with regard to customer convenience and operations efficiency. Subsequent to service in the Marine Corps., Mr. Oliver had a distinguished career with Braniff International Airways, attaining positions as Director – System Operations, Director – Customer Service Administration, and Vice President – Personnel & Labor Relations.
Following his career at Braniff, Bill was Executive Vice President of a low-fare jet airline, and was responsible for the carrier's route planning, marketing, and daily operations. Mr. Oliver holds a degree in Business from the University of Texas.