Monday 26 October Insight – In Progress… To Be Posted Shortly!
________________
25th IAFS™ – The Most Successful & Productive Yet!
We want to again thank our hosts, sponsors and attendees for making this year's International Aviation Forecast Summit one that again sets a new standard for industry events.
We will be posting pictures and summaries of key sessions shortly, and our attendees have been provided with access codes to virtual program.
In the meantime, there is a more detailed preliminary discussion of the IAFS™ on the home page.
______________
China – Still No Mandarin Translation of "Chutzpa"
Solid data… it's what allows aviation professionals to make logical planning determinations, as well as ferret out where trends do or don't make any sense.
At the International Aviation Forecast Summit, we had the great experience of Mr. Jim Ogden of Cirium outline the new importance of having reliable data, and more importantly being able to understand what they represent, instead of just taking them at face value.
One of the key parts of the IAFS  Cirium Workshop were examples of schedule data. In particular, the difference between "schedule changes" and "cancellations." The first is adjusting capacity on a pro-active advanced basis, more than one week out. The second is cutting flights close to departure date. Then there is the concept of "orphan" flights – capacity left in the schedule but not operated. Flights left in schedule but not operated.
Or, as we'll see below, flights put back in schedule with no intention of being operated… for political eyewash.
One of the examples given was a chart of schedule capacity changes by region between the first of the year and the third quarter. This one slide was enough to prove that having solid data from Cirium is critical to professional aviation planning. It can illuminate a lot of things beyond just the numbers filed by airlines and governments across the globe.
In this case, it was a simple comparison of changes in airline capacity over the past year.
In all regions, as would be expected, the scheduled capacity went into a nose-dive in March and April. And as expected based on the economic damage done by the CCP-pandemic, in all regions – except one – the capacity has hovered at 30% to 40% of last year.
Golly gee – guess which "region" has boldly rebounded to the point that it is just about back to year 2019 levels…. the only one to do so.
Yessir, that region is China. Capacity filings by Chinese airlines – all controlled directly or indirectly by the Chinese Communist Party – imply that air travel demand has resiliently come back like a giant boomerang. And no other part of the world that has been a recipient of the virus they allowed to spread has any similar trend.
Take a look from Mr. Ogden's IAFS presentation, regarding the levels of flights cancelled. Take a gander at the purple line. That's China… and it purports to represent that capacity in that country is coming up roses – right back to 2019 levels. That is in contrast to every other region of the globe.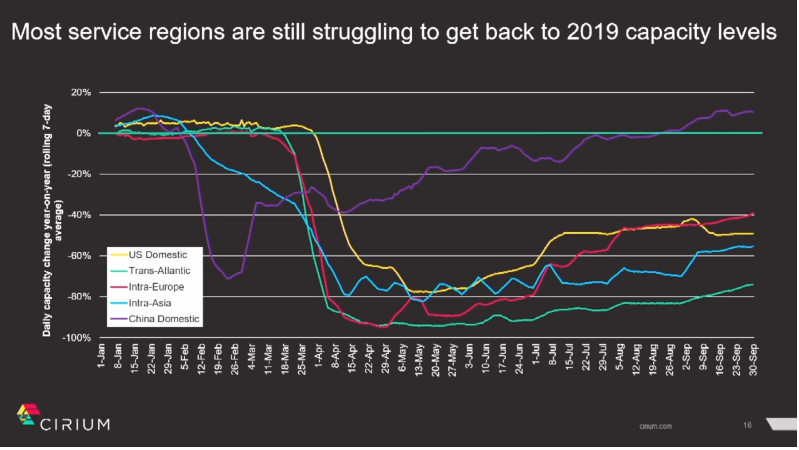 Now they wouldn't file these data unless those seats were occupied, right? If you buy into that, call your real estate agent. That bridge in Brooklyn is for sale, again.
What is the magic causing this miraculous trend in the Middle Kingdom?
The reason is simple. They are lying. Orphan flights galore, likely… and a smattering of flights operated just to imply the market is gangbusters.
It's what they are reporting, not necessarily what they are operating, and not necessarily any indication of traffic volume. But it sure makes great press for the gullible. Or for those who have a business dog in the China fight and are not too picky about questioning information from an unelected rogue government that has a history of publishing bogus data.
The global consulting firms and media hacks with big China operations are assuming that the data are not only accurate but are indicative of a traffic resurgence. So, too, with most of the aviation media. They are actually trumpeting that China is the example for the rest of the world.
Example it is indeed.
P.T. Barnum must be smiling broadly from wherever he may be… apparently there's been a lot more than just one sucker born every minute.
Now, put this in context. The same sleazy government that hid the corona virus and let it infect the world, and lied about it consistently, is now to be trusted with the data they file in regard to airlines?
Sure.
_____________________