Breaking! UK Bans Leisure Travel In November
Due to the China-CCP pandemic, all leisure travel out of the UK is now restricted.
This is major, and will affect some U.S. airports materially. We'll be updating Airports:USA forecasts immediately.
___________________
Before We Start This Week…
We are compiling data and insights from 25th International Aviation Forecast Summit and will post them shortly. But there's a few additional updates now…
We are proud to have accomplished the first in-person live aviation forecast event since the advent of the arrival of China's Covid "gift." In addition, it was the most successful and insightful in our history
The IAFS was also the first conference in Cincinnati in over six months, and we are excited to note that the Summit allowed the Hyatt Regency to bring back over 40 furloughed staff.
Over the last year, there were times that we were urged from several sectors to make the IAFS entirely virtual.
No way. We knew that, properly done, live was the right thing to do – we had to be an example for the industry. And, because of the support of the presenters from across the industry and across the globe, and the wonderful attendees, that's exactly what happened. We sold out the Covid-rated capacity of the Hyatt ballroom, and added an additional over 400 virtual attendees from around the globe, including Japan, Mexico, Israel, Dubai, and more.
Again, we want to thank all who attended in both forms.
Achieved: The Most Professional Event In Aviation. And, it's time to thank the staff here at BGI who made this happen. It takes a lot of hard work, and dedication to innovative excellence to make the IAFS what it has become – the #1 event of its kind in the industry. Matter of fact, the only aviation forecast event.
Marian Boyd, co-founder and COO of BGI,  and one of the first woman pioneers who years ago shattered the glass ceiling in airline management, long before the industry admitted it existed, is the one who has conceptulized, directed, and managed the entire IAFS from top to bottom and from beginning to end. She is responsible for not only the accomplishment of the event and the professionalism of the IAFS, but for the high regard and respect she has among aviation executives, who join us year after year.
Sonia Watts of BGI was waist-deep (and more) for the past year in assuring that the IT, web systems and information flows were examples for the industry and that any attendee issues were handled right away.
Jnge Haltinner and Kirk Moses, our partners at Travel Destination Guides, of Las Vegas, were with us again this year, making sure that all the hotel, AV and other arrangements were perfect. There are thousands of inter-related issues, factors and dynamics in putting an event like this together, and these are the professionals accomplished these challenges.
The International Aviation Forecast Summit has for the past 25 years set the standard for delivering excellence both in content and in format. And we want to thank all the aviation leaders from across the world who have joined us, supported us, and those who have sponsored the event.
___________________
The New Indicator of Air Service Shifts…
Fundamental Airline Fleet Restructuring
As of today, all air service access planning in the USA has a new, fundamental component that will be the main driver of how and where airlines will add or reduced air service. It is one that is completely ignored in traditional analyses.
It's called fleet mix. And every airline is in the process of re-fleeting.
It's one major factor in the key changes that will shape future air service in America. To start with,for the foreseeable future, airline route, market and revenue strategies will be implemented based entirely on internally-generated corporate restructuring programs… it's called survival. Part of that is re-thinking fleet capabilities.
No Growth. New Capacity Applications. There is now little disagreement that it will be 3-4 years before air traffic volume returns to the levels seen in 2019 – and that doesn't include the organic growth we would have experienced annually in the interim.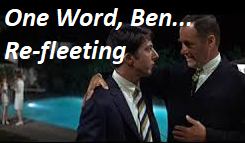 This means that near-term and long-term planning that was in place in February is now in the round file. The traffic, which was appearing to return last summer, is now moribund due to clutzy and uneven city, state and regional reactions to the China CCP pandemic. It means that airports need to completely re-think approaches to assure air access.
It means aggressively understanding the new strategies of each airline, and crafting plans that anticipate them as closely as possible. We'll say it again: since airline service and capacity systems are changing, it means that past traffic demand and flow data are largely obsolete.
There's More Capacity Than The Market Demand Can Absorb. That also means airline fleets are being restructured. As of today, about one third of the @6,300 jet airliners in the U.S. airline industry are either "parked" or are materially under-utilized. Since congress is too corrupt to produce a simple support program that isn't accessorized by billions in political pork that has nothing to do with relief from the Covid pandemic, airlines will at some point in the near future have no choice but to completely restructure to accommodate a different air transportation environment.
That gets us to new fleets… and new fleet demand criteria.
At the 25th International Aviation Forecast Summit in Cincinnati last month, Airbus, Boeing and Boyd Group International each presented its own forecasts for airliner demand over the next ten years.
All three were accomplished independently. Yet, aside from some variances in specific categories, they all were similar. The BGI forecast was within 2.5% of Boeing's projections, for example. But they all had the same general direction: the demand is constricting into the middle – into narrow-body, single-aisle airliners. One of the drivers not the result of pandemic issues is the new generation airliners, such as the A321XLR, the E195 E2, the A220-300 and the 737Max. These platforms are far more multi-mission capable than earlier versions.
As an illustration of what airports will be facing in regard to revised airline fleets, we compared our latest CCP-Covid-related Global Fleet Trend & Demand Forecast with our prior forecast of slightly more than a year ago. The starting point is that while there is expansion expected in the latter years of the forecast period, total global demand is now seen as being more than ten percent down from what was expected a year ago: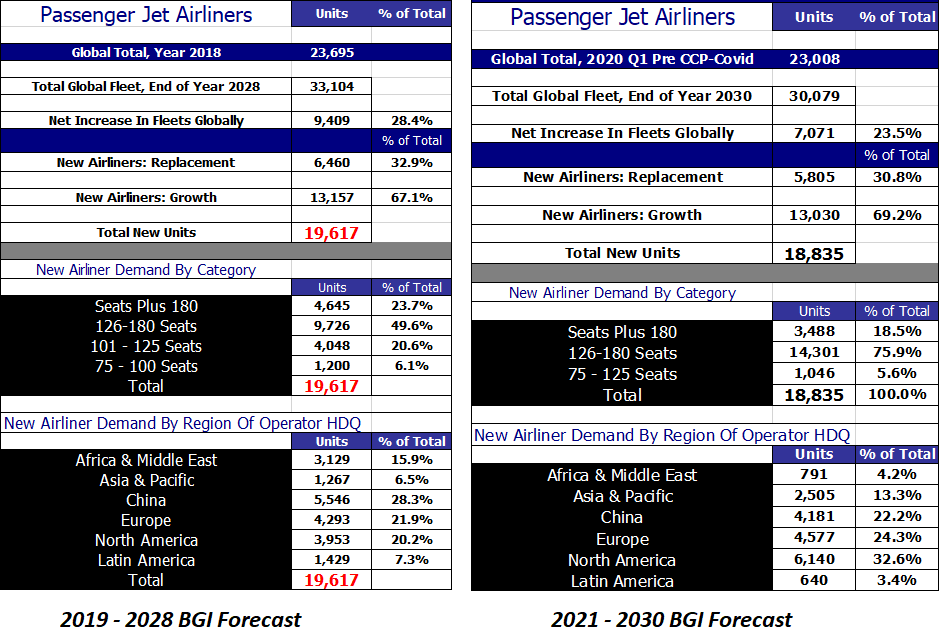 The total fleet demand is forecast to drop for the ten year period by about 800 units. When we look at the mix of projected airliners by category and region, it indicates fundamental changes coming in the air transportation system. In the latest forecast, we compressed the airliner categories from four to three due to the mission overlap new platforms will represent.
Take a look at North America. This is where massive re-fleeting will be taking place, with 50-70 seat airliners (still mis-monikered as "regional jets") being retired in droves and the capacity replaced by airliners in the 75-125 seat category (think Embraer E-2) and by larger new single-aisle designs by Airbus and Boeing.
The China CCP-Covid damage is expected to have the potential for major damage to some regions, particularly Latin America and – appropriately – China. These will be watched closely for changes in the coming 18 months.
Runway To The Future… Is Your Airport/Community Lined Up On It? In the meantime, we would urge airports to immediately move to re-think not only their strategic planning, but also review the effects of the new aviation realities… this brings in our incisive new program that takes our client airports into a clear view of the emerging future… It's called Runway To The Future, and it's tailored to the specific situation and future of the airport and region.

Airlines, as noted, are moving now to revise fleets and route systems. At BGI, we believe that this will result in new markets added at some carriers, as re-thinking of hub structures… General and executive aviation will be going in different directions from pre-Covid. Recreational flying is going to take a big hit, plus airports need to consider changes in revenue streams as electric propulsion replaces 100LL. Then there is the 5,000 pound gorilla called air cargo, which is evolving into a new logistics channel – and revenue opportunities – for airports of all sizes.
It's going to be a new business environment… BGI has the expertise to assist airports in anticipating the challenges and opportunities it represents.
At Boyd Group International, we are not discussing another tired market study that relies on past data generated by an aviation system that's going away. We uniquely focus on identifying and focusing on the future, and this program does exactly that for our clients.
Click here for more information and to reserve your program accomplishment.
______________________