Before We Start This Week:
Aviation Unscripted's Growing Viewership
When we opened our YouTube page, Aviation Unscripted last spring, our intent was to provide a new channel with short videos of issues and data concepts not generally covered elsewhere.
We also opened access to the individual videos via channels other than YouTube, including our Linkedin sites. As a result, the viewership has continued to grow, and we are experiencing over 2,200 views of our latest video, in just the first few days after posting.
At BGI, we believe that active communication and involvement in the forum of aviation ideas is important. Aviation Unscripted is just the latest. In addition, this Monday Insight goes back to 1997, with now over 1,000 articles published. In July, we also implemented our weekly Touch & Go news email for our clients and friends, addressing emerging issues and data.
We want to thank all the folks who have accessed our information channels, and we'll be working to expand the scope of Aviation Unscripted in the months ahead.
____________________
Prognosis For 2021:
A Fundamentally Different Air Transportation System…
… Fundamentally Smaller, Too.
Fifty-six percent.
That's the number of scheduled departures U.S. airlines will be operating in the fourth quarter of 2020 compared to 2019.
Or, putting it on the other side, it's about 44% fewer flights. Almost one million fewer, just in the 4Q.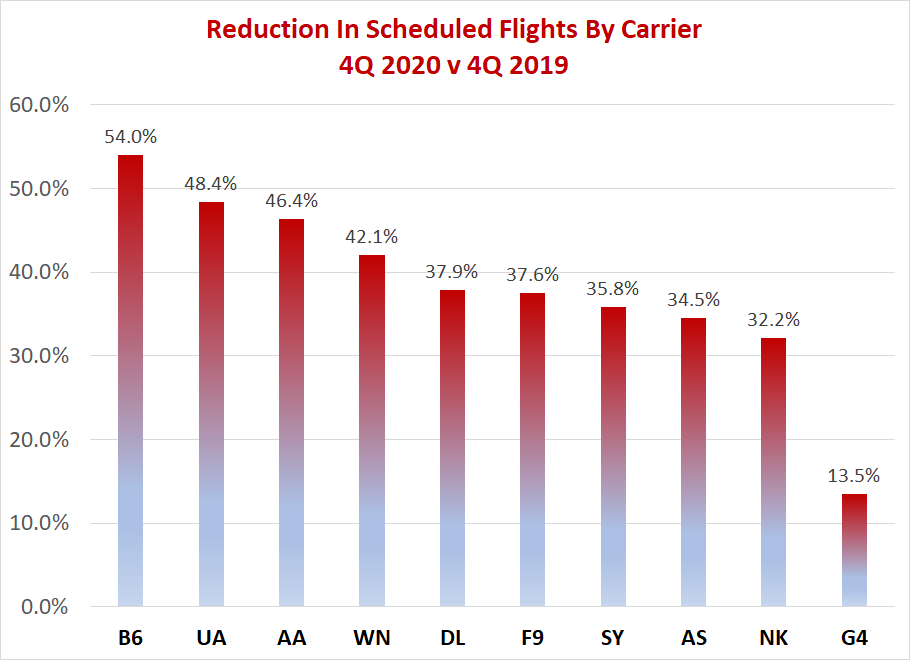 Think about it: A whole lot fewer airplanes in the sky. Lots of jet-A that isn't going to be purchased. A lot fewer folks going through airports. A lot less consumers using air travel. A lot less need for some facilities.
And, how 'bout those expected PFC revenues? Next year is going to be the "year of the accountant" at airports – re-thinking how to handle what will be one billion dollars in less PFC money to airports across the country. It's back to the forecast drawing board for any projects that were funded by, or bonded via, passenger facility charges.
The tough part is that there doesn't appear to be anything on the CCP-Covid horizon that will result in a fast growth curve.
The CCP-Covid pandemic is still in control, as is a lot of the panic it brings with it. States are still bumbling around, thinking that closing businesses and restaurants, and keeping people home, and requiring "masks" as if just anything covering the nose and mouth – a cloth, an N95, a pollution mask, an oxygen mask over seat 23A, or whatever, is effective. Right.
The Future: Less Airliners. New Route Systems. New Airline Strategies. Today, A4A estimates that 25% of U.S. airliner fleets are on the ground. Accurate, but it gets worse… the ones that are flying are likely nowhere near full utilization. BGI fleet forecasts indicate that essentially, it's the combined equivalent of one out of three airliners out of the system. Not all will be coming back into the sky.
The entire future of airports has changed. Indeed, the entire future role of airports as part of our communication modalities is changing.
New Smaller Airline System. Old Data & Metrics Are Obsolete. It's as clear as a Big Mac at a vegan wedding that the next 3-5 years will result in an air transportation system that isn't anything like it was before the pandemic. Airports and communities must not be misled into believing that things will get back to the structure we had up until the CCP-Covid pandemic, soon or even in a couple years.
The pre-February Humpty Dumpty air transportation system is now an omelette.
The sooner this is fully understood – and the factors surrounding the future are grasped – the faster airports and aviation can accommodate the future. But, right now, the airport system and air transportation system that uses it, are not prepared for or appropriate to the new realities.
At Boyd Group International, we have the expertise and the resources to address this.
Every airport has different vulnerabilities to the changes we are seeing. It depends on a range of factors that vary and will be specific to each airport – airline strategy shifts, airline re-fleeting, the damage and changes inflicted by the pandemic on regional traffic flows, the business/leisure and domestic/international mix, proximity to other airports, and an entire passel of additional factors. We are talking about first identifying the changes that can be anticipated, and making hard decisions on a strategy plan to both accommodate and optimize them.
Once again, a hard fact that can be ignored only at a community's economic peril is that from now on the air transportation system will not be like before. It will be smaller, more focused, and will be operating on different operational and financial metrics. This also means that historical traffic data are not indicators of the future. They relate to an industry that no longer exists.
A Few Hard Realities… The "smaller and more focused" air transportation system will be accommodating and adjusting to different revenue goals within a different consumer mix. Business travel is not going to return rapidly, and will be affected to some degree by the shift to electronic communication. Leisure traffic will be a larger part of the travel mix, and that means whole new pricing challenges for airlines, as well as a tendency for additional regionalization of air access.
Let's cut to the chase: airport planning based on what was on the shelf or in the works last February is now obsolete – just about every dynamic of airport operations has and will continue to change.

This is the reason airport and aviation planners engage Boyd Group International's expertise in crafting plans that address the changes that the CCP-Covid scourge has inflicted on our economy. It is the reason we've developed a comprehensive program to deliver a clear and actionable view of the future for airports. For our clients, we've developed Runway To The Future – which takes every aspect of known and anticipated change at the specific airport and develop logical outcome effects as well as planning to address them.
We Are The Forecast Source. BGI is the leader in aviation trend forecasting, be it traffic, airline trends, fleet trends, airliner feasibility and more. Other consultants will endeavor to find forecast answers from outside sources, and then report back. At Boyd Group International, we are the source, because for the past three decades, forecasting is our foundation, and our clients over the years have gained the competitive edge as a result.
Our independent Airports:USA program has identified trend and traffic changes well before any other source, and helped our clients be proactively prepared. Our Global Fleet Trend & Demand Forecast expertise has assisted global aircraft and powerplant manufacturers in projecting demand – or, indeed, lack of same – for new platforms and products. Our expertise in aviation has assisted the support sector in forecasting demand for component systems from thrust reversers to new-generation flight simulators.
BGI is on top of trends in the industry, and this CCP-Covid situation is no exception.
Based on this unrivaled expertise, we are offering an aggressive program for airports to clearly identify the changes in aviation and where the new path ahead will lead, based on their specific and unique circumstances.
Getting on the right planning runway means having full understanding of the changes in all areas of aviation – not just commercial service, but general aviation, executive aviation, and – now importantly, air cargo logistics.
So, the choice is clear. Uncertainty is the alarm bell for new planning necessity, and BGI's forecast and analytical expertise can be your advantage in meeting the change due to the CCP-Covid pandemic.
Get a jump on the future… click here or on the icon above, and let us know a time when we can talk.
We're looking forward to working with you.