New Summary 2018 Report…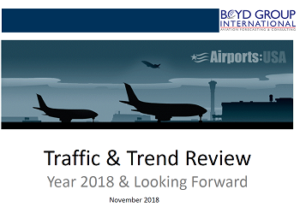 We've just made available our Summary report of the trends emerging as we come to the close of 2018.
There are some interesting takes… like, the potential for rural airports to emerge as part of a whole new logistical system, CLT developing into a China gateway, and mid-size non-hubsite airports seeing much more robust growth.
A short read, but take a look. Click Here
__________________________
Forecast Update:
Going Beyond "True Market Analyses" & Into The Future.
Boyd Group International's Airports:USA program is now producing comprehensive Forecast Trend & Market Analyses, designed to give airports a clear view of the future.
Instead of just digging up past data, the program discovers the dynamics that will shape an airport's future. Factors such as changes in airline strategies, fleet shifts, capacity changes, emerging or declining choke at the airport's gateway hubs. Expected changes at competing airports. And more. In short, a review and plan of what an airport will face in the coming years.
For more information and to request a detailed proposal, click here.
________________________________
It's Now Complete:
The Consolidation of The Airliner Business
Last week it was announced that Bombardier has sold off its remaining turboprop airliner business.
Roughly three decades since they bought what was deHavilland Canada from Boeing, they're quitting that sector of the industry.
Lock stock and barrel.
The Real Story: The Loss of The CSeries As A Competitor. That's news, but it's dwarfed in long term impact by the announcement of last summer, when Bombardier essentially turned over its CSeries jet program to Airbus.
That transaction, combined with the pending Boeing-Embraer partnership, signals the end of a consolidation in the airliner manufacturing business that began fifty years ago.
Back in the 1960s, global airlines had products from Convair, Douglas, Vickers, Dassault, British Aerospace, Lockheed, Sud-Aviation, and Boeing – all of which had full-size jet airliners on the market.
Today, we're down to Airbus, Boeing and Embraer… and the latter two will soon be in a cooperative venture.
Despite some nonsense from analysts who are not particularly concerned with learning about the subject matter, the CSeries is a mainline airliner platform – not a "regional jet" (which itself is an obsolete term, anyway.)
The CSeries was a clear future competitor to the A-319/320 as well as the B-737. In fact, the decision to come out with the A-319/320 NEO series and the B-737MAX was clearly due to the threat of the CSeries, which was a major economic breakthrough airliner, and which likely has the stretch capability to 160 seats or more.
With the expected economics of the CSeries, it was in line to cause some serious market heartburn in corporate offices in Toulouse and Chicago.
The Delta order for the CSeries could have been the start.
Now, that potential competition is not going to happen.
Airbus will certainly market the former CSeries in its present form, but it's not likely that they'll do much to expand the program into larger variants that will compete with the A-319/320.
CRJ Nearing End of Run? In the commercial airliner segment, all Bombardier has left is the CRJ program. Still a strong order book, but it is pretty clear that the company isn't too interested in pushing further into commercial airliners.
Just Airbus & Boeing… It is noted that Boeing and Embraer are in discussions to collaborate in airliner development in the future. With Bombardier's CSeries out of the competition, and the E-170/190 platform clearly size-limited, it's time to tumble to the reality that when it comes to jet airliners, the future is with two manufacturers, Boeing and Airbus.
Chinese Airliners? A Decade Late & A Couple of Yuan Short. Where might new competition come from in the future?
We can forget Russia. The experience with the Sukhoi Superjet hasn't been real super. Reportedly, InterJet of Mexico had to take one off line to be a parts supply for the rest of the fleet. And a few years ago, Sukhoi flying a demonstrator into a mountain in Indonesia didn't do much to polish the image of the machine.
The TU-204  "757-ski" has had zero success in the global market. Russian airliners are not in big demand – particularly from Russian airlines.
But China has an emerging airliner industry, so there will be the logical suggestions that China's aerospace industry can jump in.
They certainly could – it they had a competitive, or more critically, a super competitive product. Which they don't.
The ARJ-21, a relatively simple traditional 100-seat design with mostly off-the-shelf components, took years upon years to become market-ready. A nice aircraft, it offers zero advantages over
anything produced by Boeing or Airbus or Embraer.
The C919, albeit a completely clean-sheet airplane, designed to compete with the -319/320 and the 737, offers nothing substantially better than the now-in-production Airbus and Boeing narrow-body airliners. It's development is behind schedule, and now there's an issue with needing cockpit modifications to meet FAA certification.
With this in mind, it's unlikely any current non-China operator of Airbus or Boeing airliners would be willing or interested in going through the expense of introducing either of these machines into their fleets.
The huge costs of needing another parts inventory, new pilot and maintenance training, not to mention issues of global technical support, would only make sense if these Chinese airplanes offered material advantages in performance and cost. They don't. So, their market reach will be captive Chinese airlines and a smattering of smaller airlines across the globe.
As for turboprops, China has the 60-seat MA-60 and slightly re-designed MA-600. Based on a Russian design, the MA-60 is such a dog that it's pretty much only sold to cash-short airlines outside of China, and has an abominable operational record.
There's the new, MA-700, which curiously resembles the ATR-72.  But it is years away from market entry.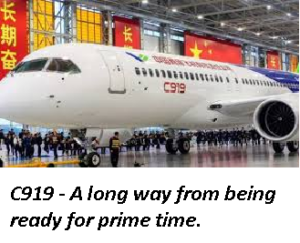 Let's not forget the planned Sino-Russian wide-body C929 that's also a glimmer on the long term horizon. Or, maybe we should.
The reality is that if China is to become a global presence in the airliner field, it will need to develop – or acquire – airliner platforms that will represent breakthroughs in either performance or in mission applications.
China has emerged as a global thought-leader in several industries. Airliners are not one of them.
Other Fallout: Major Upheaval In Ontario. Just in passing, the Bombardier turboprop sale involves all of the intellectual rights to the deHavilland name, the support business for the global fleets of Dash-8 100/200/300/400s, plus the roughly 111 -400s on order.
The purchaser, Longview Capital, reportedly paid $300 million CAD – roughly the retail price of about 20 of the Q-400s still to be delivered. Earlier this year, Bombardier also quietly sold off its entire factory complex in Downsview.
It's unclear whether Longview Capital will be engaged in further R&D on the -400. In any case, the product support business alone will be very lucrative by itself. Longview is the parent of Viking, which several years ago bought the production jigs and rights to build a next-generation 19-seat Twin Otter utility aircraft.
With this latest sale by Bombardier, 5,000 jobs will reportedly be eliminated. An enormous economic hit.
Canadians can look forward to some excitement in the next election in Ontario.
__________________________