Before We Start…
Are You Registered For The #1 Forecast Event? It's Where Industry Leaders Will be, August 25-27
Insights right from the airline and aviation industry CEOs and senior executives… and we mean insight. Other events shoehorn speakers canned into "panels" covering subjects determined ahead of time by the event organizers.

The International Aviation Forecast Summit is unique, in that it is focused on delivering new perspectives, new vision, and exploration of new dynamics that will shape the future. That means we allow the industry leaders to present what they feel is critical – in the format they feel most effective.
Interested In Airline Strategies? Hear Directly From Industry Leaders
Getting the unique insights of airline leaders is one of the reasons many attendees join us year after year.
Here's just the start of the global airline leaders who will be discussing the future August 25-27 in Las Vegas…
Southwest – Andrew Watterson, EVP & Chief Revenue Officer. Spirit – Ted Christie,  CEO. Korean Air – John Jackson, VP. Delta – Joe Esposito,  SVP. United – Linda JoJo, EVP. Allegiant – Maury Gallegher, CEO. American – executive to be announced. Sun Country – Jude Bricker, CEO. Aeromexico – Anko Van der Werff, CCO. Hawaiian – Peter Ingrahm, CEO (to be confirmed). Aer Lingus – to be announced, SkyWest – Chip Childs, President & CEO. Frontier – Barry Biffle, CEO – to be confirmed, Air Canada/Rouge – Duncan Bureau, President… and more to be announced.
And this is just the airline sessions… we'll be hearing from leaders from the aircraft industry – including Airbus, Boeing, Embraer and Boom Supersonic.
Plus – forecasts that illuminate the future…  Industry trend forecasts… Airports:USA enplanement and traffic trend forecasts…. airliner forecasts from all global manufacturers… and more. Interested in where the burgeoning China-US traffic will be seen? Our Airports:China forecast has some surprises for a number of US airports.
If you're not registered yet, early rates are still in effect – and bring your colleagues, too.
Click here for more information and to reserve your space… we look forward to seeing you!
________________________
New Cuba Travel Sanctions:
Restricting What Doesn't Exist, Anyway
Two weeks ago, President Trump announced that new restrictions will be placed on travel to Cuba.
We'll probably have the usual sub-ethical types in congress claiming that this will torpedo the flourishing economic ties and exciting air service between the US & Cuba.
Fact is that there isn't anything to torpedo. The supposed tsunami of air traffic never materialized.
When Obama "opened" the market, and flew down to the Workers Paradise to schmooze with the cleptos running the place, the media stories were gushing about how this would be a bonanza for US businesses, all just hankerin' to sell stuff in a nation where the average monthly income is less that $250.
The travel industry – they went bonkers, too, extolling how this would be the next Big Thing, with potentially over 800,000 US visitors a year. And the folks in the socio-wacko Peanut Gallery decried that this would introduce capitalism to the island, inflicting the streets of Havana and Santiago and Santa Clara with disgusting things like Kentucky Fried Chicken franchises and t-shirt shops, despoiling over half a century of Marxist-Leninist social progress.
What is amazing is that all of these folks would have passed a drug test.
They really believed this nonsense – without bothering to consider that Cuba is an economic bow-wow, regardless of any photo ops of Obama chasing to Havana to shake hands with leaders in a nation where free speech is verboten, and where there is no business base.
Within the context of realities, most of the expectations of huge travel volume were based on bogus and sometimes huckster-level forecasts. No basis in fact.
Airlines Can Continue To Re-Deploy Assets. The initial comments are that travel will be again restricted to family members. More information coming, according to the DOJ, but it will probably open some airplane time at the few US airlines still flying to Cuba.
It's not at all bad news for US carriers – Cuba hasn't lived up anywhere close to the hot air issued by much of the travel industry. That's because Cuba isn't a destination.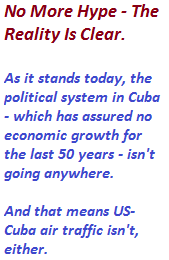 It's an economic wasteland. Left out of most of the stories about the evil US embargo, Cuba can freely buy goods from anywhere else in the world – just like the US does.
But they don't.  Their wonderful socialist system has trashed the place economically. Consumers can't consume because they have no money… the government has no money, either, and is living off systems like taking oil from Venezuela – another socialist paradise where people literally have to scrounge for food – in exchange for impressing Cuban doctors to work there.
So, when all the hoopla was going on, celebrating the "opening" of Cuba, there was dirth of hard analysis of the market. But a lot of vapor cheering.
Reality Has Come Home To Roost. As Boyd Group International's 2014 study on US-Cuba travel predicted, the only destination with a snowball's chance of strong traffic was Havana. We also pointed out that the Pollyanna nonsense coming from politicians about huge business opportunities was just contributing to their sacred fears of human-caused global warming.
No, a little political and diplomatic TLC would not open a flood of new Cuba business – the fact is that Cuba has no business base.
We also pointed out that there was near-zero originating traffic from Cuba to the US – as a matter of reality, Cubans can't freely leave the Worker's Paradise of low living standards and an approximate monthly income that should be a leper's bell to any US business still so naive as to think there's potential there.
The Potential Hasn't Materialized – So Cut Bait. Back in 2014, it was noted, however, that US carriers probably had best jump on any Cuba authorities that were made available – back then, the doddering Castro brothers were on their last legs, and it was entirely possible that the whole totalitarian socialist cleptocracy could collapse. In that event, Cuba could be a bonanza of economic investment and growth.
But that hasn't happened. Last year, there were approximately 1.3 million O&D between the US and all of Cuba. Other than HAV, the load factors have been so-so, and the operational costs – on the books, and, yes, off the books – are estimated to be astronomical. There are better places to put airplanes.
The traffic base indicates 80% origination in the US. Putting this into reality, the bottom line is that what traffic has originated in Cuba is likely other foreign nationals, not excited Cuban consumers.
All of this was obvious from the git-go. Now that we're a couple years in on this Cuba hoedown, the chickens of reality have come home to roost.
And in coming months, so will more N-registered airliners – with or without new travel restrictions.
(By the way… our 2014 research study – Cuba-US Traffic Potential, The Reality – is available by clicking on the "contact us" link. Media copies are complimentary. Non-media copies are available for $200. The conclusions are generally still valid, and the predictions were accurate – and alone at that time.)
___________