Okay, Before We Start This Week…
Quick Quiz… What do American, United, Southwest, Delta, Sun Country, Spirit, and several other leading global airlines have in common?
Answer: They'll all be part of the industry leadership that's participating at the Boyd Group International Aviation Forecast Summit, August 25-27, 2019, to be held at the fabulous Wynn/Encore resort in Las Vegas.
Perspectives From Leaders – No Pre-Defined Panel Discussions. And what's more, they will be each delivering their own unscripted views of the future of our industry. Unlike at other aviation events, they won't be corralled into pre-structured "panels" that generally go nowhere and deliver no conclusions.
Instead, they'll be giving us their own unique perspectives of where the industry is headed. As they see it…. where they see it.
After all, that's what forecasts are all about. And what the IAFS is all about, too.

So, clear your calendar and join us at the most aggressive and futurist annual aviation event.
Free-Form & Unscripted. At the International Aviation Forecast Summit, the executives and leaders who shape the future join us to discuss what they feel are the trends and dynamics of the future – free-form and no restrictions.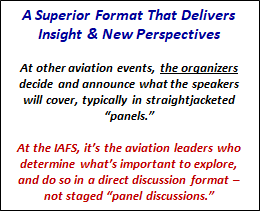 Take a look at other industry events – they all are based on discussions restricted to subjects that the organizers somehow deem to be pertinent, and in stone months before the event itself. By he time the conference comes about, the whole subject may be history.
The IAFS is completely different.
Our exclusive one-on-one discussion format brings out aspects of the future that are not confined to a straitjacketed subject agenda.
In 2018, these leaders delivered their views – again, as-is, where-is….
Scott Kirby, President, UA; Joe Esposito, SVP, DL;  Kim Day, DEN's CEO, Andrew Watterson, EVP & CRO, Southwest; Chip Childs, CEO, SkyWest; Nick Calio, CEO, A4A; Kurt Stache, SVP Marketing, AA; Dennis Cary, SVP, Copa; Oliver Wagner, CCO, Eurowings; Dr. Chi, VP, Air China;  Trent Porter, SVP, Allegiant; Steve Smith, VP Global Sales, JAL; Daniel Shurz, SVP, Frontier; Robert Fornaro CEO, Spirit.
Plus presentations and discussions with Air New Zealand, Lufthansa, Airbus, Boom Supersonic, Embraer, Boeing, Bombardier,  IATA, and Google.
This is the reason that the IAFS is the one annual event that aviation leaders clear their calendars for. It delivers perspectives no other conference gets close to.
Click here for more information, and to reserve your space at the Early Registration rate.
The choice is, simply… what do you think is more valuable… hearing what conference organizers deem as important, or what airline and aviation leaders see as the future?
No contest. We look forward to seeing you in Las Vegas!
___________________
Monday Update –
Airline Fleets – The New Air Service Driver.
Fleet limitations.
With traffic at record levels and load factors in the mid-80% range, one might assume that US airlines are growing their fleets.
Actually, they are. But the first part of the process is in re-fleeting – parking current airliners and replacing them with new-generation units that are far more operationally-efficient and far more operationally-capable.
In this process, we won't see any real increase in the number of flying machines in US fleets until roughly 2023.
Not Just New Airliners. New Revenue Systems. But it's not just a one-for-one replacement. It will be technically a fleet-capability replacement. There are new revenue opportunities being made possible with  the new operating economics these aircraft deliver.
It's not been hidden…we've seen where 787s have made international service possible from large non-hubsite US airports. (And some, like Charleston, not so large.) In the next 36 months, there will be more fundamental shifts in the US air transportation system – and just about all will be positive. Then as the re-fleeting process winds down in late 2023, real additional fleet growth will be in the cards.
Take a look at new-generation narrow-body 737s and A320/321 variants. Their economics are opening whole new markets – including international – from airports that ten years ago didn't have a snowball's chance in Miami of ever seeing such service.
And with a very strong, robust economy that is generating record air traffic growth, and system load factors in the mid 80% range, the implications in regard to air service access for communities across the US are clear.
Airplanes In & Airplanes Out… The Boyd Group International Global Fleet Trend & Forecast, 2019 – 2028 indicates that the US will be in a net holding pattern in terms of the number of airplanes they operate, as current-generation airplanes are supplanted by new ones.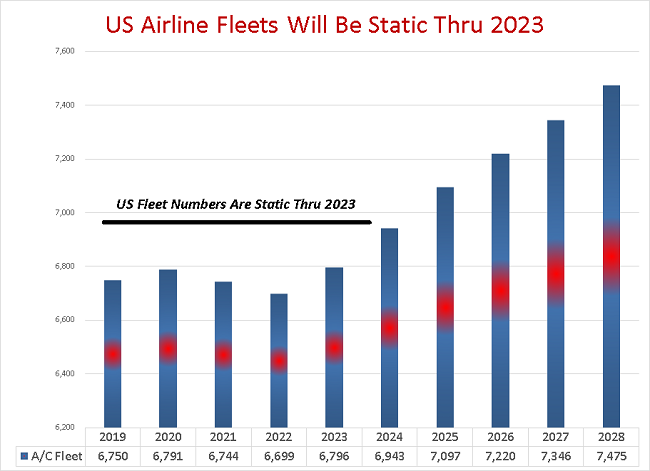 American, Delta, United and Southwest, for example, are taking delivery of new A-32X-Neos and 737-800/900Max and A-220 airliners.
But at the same time, there is a constant flow of older airliners heading for the sunny climes of the desert.  At all three, the 757-200 is disappearing. The MD-80s at American are soon to be completely gone. Ditto for the MD-88s at Delta.
Remember just a few years ago, Delta found that adding more used MD-90s to its existing fleet made sense, mainly due to very low lease costs? Well, that's run its course, and now MD-90s are getting retired. The 717s that Delta got on such a deal from Southwest? Yup. starting to head for the boneyard.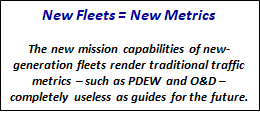 On the periphery of all this, used A-319s are actually in demand… because of low lease costs, United has brought in fleets of them as they come off lease at other carriers. American, too… a number that have come off-lease at Frontier are headed for AA. But they are units that can be quickly and cost-efficiently retired as newer aircraft come on line. When a C-check comes up, a decision can be made to park the unit, or go ahead and keep it for a couple more years.
New Fleets… New Missions. This also means that the new airliners fit missions that are much wider and more flexible than the airplanes that are retired. So, while the number of airplanes will be relatively static, how and where they are used will change.
This will be a new planning challenge- and opportunity – for just about every commercially-served airport in the nation. Nonstop markets that two years ago were just on the margins of profitability will start to emerge new revenue options.
As BGI has forecast, there will be new long-haul and new international flying from airports that ten years ago were tethered to feeding major carrier hub operations. Domestically, mid-size non-hubsite airports are in line for strong service expansion.
Airports, Suppliers, Industry Planners Take Note: Traditional Metrics Are Out. How will this new airline fleet composition affect future air access for communities and regions? Here's a hint: relying on past trends and obsolete DOT O&D numbers are perfect for ending up in the planning weeds.
We'll be exploring this at the 24th annual International Aviation Forecast Summit, August 25-27 in Las Vegas. In addition to the Boyd Group International Global Fleet Trend & Demand Forecast, the global aircraft manufacturers will be there with their perspectives, too.
Exclusive to the IAFS, the BGI Airports:USA enplanement forecasts for 2019-2028 will review how and where we can expect the effects of new airliner fleets to manifest.
And these are just part of the comprehensive future views delivered at the IAFS. It's two full days of intense forecast sessions.
If you haven't registered yet, click here for more information and to take advantage of Early Registration rates.
It's the one event that actually gets into solid forecasts and future perspectives. Join us!
_____________________-