The A-380 Media Circus – Now, They're Experts
Monday morning quarterbacks
As far as the cancellation of the A-380 goes, Superbowl Monday is a distant second.
Now That It's Obvious… It seems, at least from a lot of the diatribes from several corners of the aviation and travel media, that Ray Charles could have seen from the start that this program was full of lethal holes.
Most of that is Monday-morning malarkey… it's easy to prognosticate when an event has already occurred.
Here's a bit of rain on this parade… the A-380 is an airplane that clearly and demonstratively had – and has – a market need and a market application. The only issue has been a disparity of the forecasts regarding the actual number of these machines that the global airline industry could absorb.
But some of the articles churned out mack on the edge of Harvard Lampoon level journalism. CNN actually published a story with the headline, "Where To Fly The A-380 Before It Goes Away." The fact that these airliners will be produced for the next two years and will likely remain in airline service for at least another 15- years wasn't apparently a factor to whoever concocted that stupid and misleading headline.
Funny, but going back to the early 2000's, when this machine was front and center in the public eye, it's real hard to find a lot of folks who brought up any of the supposedly now-obvious flaws in the A-380 program. In fact, there were articles in prestigious financial journals that actually commented that all major airlines were ordering the 500-seat wonder.
The A-380: An Airliner That Fills A Clear & Obvious Niche… But… In reality, despite the current din of sudden "experts" – the foundational logic relied upon by Airbus for the -380 was entirely solid. Growth in air travel would choke major airports, and consolidation of frequencies onto larger airliners would be a solution.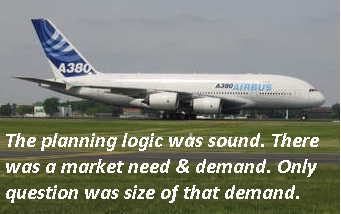 Back then, BGI opined that while this was valid, the -380 would have limited multi-mission capability, and would face a situation where its utilization would be highly restricted, precisely due to its size and need to be operated only in very high-density markets.
There was no argument that there was a demand and market for the A-380 platform, but only how big that demand might be.
Further, in actual operation, the airplane's economics really came into their own on nonstop routes of 5,000 miles and higher – further restricting its mission capability.
Our forecasts indicated between 350-400 units. When the order-book music finally stopped this year, just before Emirates shifted their -380 orders to other Airbus products, actual deliveries, orders and on-paper options were smack in that range.
We'd note that BGI and the Teal Group were among the few entities that openly urged some additional reflection on the total global demand for the A-380. But back then, it was considered Luddite heresy – after all, the 747 was a big success, see, and the -380 would be a follow-on.
Join Us For More Forecast Heresy… At Boyd Group International, our futurist forecasts have established a track record no other aviation firm can match. Whether it's a demand forecast for a global aviation supplier, or a traffic demand projection for a small airport, we deliver the data as we see it. We are not concerned with "the consensus" – which often just a closed loop of opinions supporting each other.
It's one reason that on August 25-27, aviation leaders from around the industry and around the globe will gather at the Wynn/Encore in Las Vegas for the 24th International Aviation Forecast Summit. What is discussed at the IAFS is what the industry will be noticing years from now.

Ambient thinking and political correctness will not be there. Exploring new ideas and concepts will be the focus.Also not in attendance will be federal officials repeating the same party line that's delivered at other events. Instead, the IAFS™ tackles the future, directly with the executives shaping it.
Direct Discussions With Decision-Leaders. Confirmed airline sessions at this year's IAFS™ include executives from American, United, Delta, Southwest, Sun Country, Spirit, and more. Plus, the core structure of the IAFS™ is free-form exploration with these leaders… no pre-determined subject "panels" that straight-jacket the range of discussions.
In addition to exploring emerging trends in aviation with industry decision-makers, the IAFS™ also delivers solid forecasts that illuminate the future… global fleet forecast, US airport enplanement projections, anticipated shifts in airline & air travel strategies, as well as the effects of globalization of the aviation industry.
As always, the Airports:USA™ traffic trend forecast will be delivered, along with the changes that need to be anticipated in the next 3-5 years.
With A New Trade Deal – China's Back Front And Center. This will be in addition to Boyd Group International's exclusive Airports:China™ forecasts that deliver insight on how communities and airports can plan and attract more business from China.
We'll be talking candidly about which airports are in line for nonstop service, and which can expect to be on the back-burner for the next decade, regardless of local Chinese investment.
Register Now For The Extra Early Rate. Click here to reserve your space. Also, we have special rates arranged at the fabulous Encore… and these will be bookable in the next few days.
We look forward to seeing you there!