To Start This Week…
Forecasting The Rest of 2020
While still cloudy, it still appears that the economy may start to come out of the caves in June.
In such case, the airline industry will likely move to new approaches to accommodate the return of passenger traffic. It is certain, however, that there will need to be some very aggressive actions and procedures implemented to stop the contagion.  Emirates is experimenting with blood tests at the boarding gate. (Do Platinum flyers get pin-pricked first?)
Others are talking about leaving the middle seat open in economy, which is more of a PR stunt than anything else. If you're lucky enough to be on an A220, that's just 19 inches of separation. On a 737 it's closer to 17 inches. In any case even if this could make money, the close proximity of customers is still there.
Solutions will be found. Nevertheless, we believe each airport should have a perspective of what they might expect in regard to traffic, and when they can expect it.
We are accomplishing CCP-COVID recovery traffic forecasts for airports across the country. The program reviews destinational profiles, incumbent airline strategies, and a range of other factors to deliver a 12 month starting point forecast.
Give us a call or click here and we can discuss your airport's future.
___________________
DOT Scores Another Misfire.
Political Correctness First.
Let's Financially Weaken Our Airline System.
Just when we thought there were signs of a scintilla of common sense at the US DOT, our hopes are dashed.
They never have had much understanding of the 21st century air transportation system. One look at the BTS/DOT reporting of air carrier data (which some lightweights still peddle off in raw, un-adjusted form on unsuspecting airports) is clear proof that they still think this is 1975. Then take in the rationale for EAS and SCASD programs, and it's clear that these folks are still listening to music on 8-track players.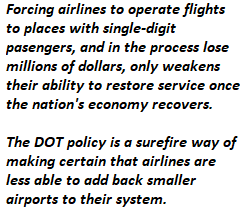 And it continues. In its veneer wisdom, and even less understanding of the situation facing the US airline industry, the DOT has rejected applications for service waivers at a number of airports where there simply isn't any real traffic.
Now, if the CARES money were underwriting flight operations, the decision could have some validity.
But all those dollars are only to protect the income for airline employees, within a market where airlines cannot continue to use, or need, anywhere near the pre-CCP-COVID pandemic staffing. By itself, that is still a sound concept, pending a restoration of the workings of the economy.
But to unilaterally force airlines to keep flying empty airplanes at huge financial losses – which has minimal effect on the places served – is politically-motivated stupidity. And a total lack of leadership gumption.
Then, on cue, there are the tear-jerk stories on how the DOT policy will keep smaller airports connected. Connected with what? Connecting who? The whole reason for this is that there aren't any passengers at those small communities which shallow-end reporters are so concerned about.
Cut List or Service Reduction – The Prudent Strategy Is To Let The DOT Know. We have advised our airport clients to take pen to paper and advise the DOT of their support for these airline actions.Whether or not the airport is on a complete cut list, or whether incumbents are massively reducing capacity and schedules, go on record as supporting such actions in light of the current crisis. The DOT policy is simply an attempt to regulate a market that even in the best of times they completely don't understand.
Wasting Cash Needed For A Return To Service. Airports and airlines are in this together, and anybody with an I.Q. exceeding the temperature of a chilled martini knows full well that these DOT decisions only weaken airlines, drain off cash needed to get back into the sky, and thereby making a return to full service even more distant. Take a real hard guess which categories of airports will be materially harmed. The politicians that the DOT is pandering to certainly haven't.
We would again suggest that airports and communities move now to advise the DOT that their determinations are, under the current situation, anti-consumer. That's because every dollar an airline has to burn flying mandated empty flights is one less that can be used to quickly bring airplanes back into the sky.
Do so directly to the DOT, with a copy to the airline, and to the local congressional delegation, which might or might not have a clue. No fluff… be short and powerfully to the point. Just make it clear that you support the carrier's pro tem choice to keep their financial powder dry, in regard to service reductions to get through this crisis.
Just the facts and your point of view, with a list of civic supporters. The Docket to refer to is OST 2020-0037.
_______
A Bit More On The CCP-COVID Pandemic
For folks interested in following events unfolding in regard to the handling and the effects of the CCP-COVID pandemic, we've posted an update at BoydGroupChina, regarding some bogus information on how it all got started.
Beating A Dead Dragon. There is no doubt regarding the responsibility and complicity of the Chinese government and the World Health Organization in this pandemic.
But some of the talk show narratives get off the straight and narrow of the facts. One of them is that the Chinese government supposedly quarantined all the folks in Wuhan, except international travelers, allowing the virus to intentionally spread across the globe and protect China.
The CCP should have been so lucky… they had no such control before millions of Wuhan residents skidaddled out of town for the New Year. So that conspiracy theory is not accurate. The CCP and the WHO are still with blood on their hands, anyway.
CCP-COVID Torpedoing The Airframe Industry. Here's another tidbit. We are reviewing our global fleet demand forecasts for the next three years. There is no doubt that the overhang of over 4,000 relatively low time, grounded and orphaned A320/321s and 737-800/900s are going to have aircraft leasing companies in turmoil. One reason is fuel prices. These leasing companies have lots of new A320/321s on order. 737MAXs, too. They burn 15% less jet-A.
The proposition of a new airliner isn't what it was three months ago. Fuel prices since January have gone from $1.87 a gallon to somewhere near 60 cents. The prognostications would indicate a fuel capacity glut for the next 18 months. So for an airline, why take on a few million in increased lease payments for a new airliner compared to a used one, just to save, maybe $200,000 in annual fuel expense. The industry isn't in a growth mode.
China International Air Traffic – Back At Least 15 Years. Another one of the findings is that, while the rest of the world can and will return to some semblance of the pre-CCP pandemic, China's air transportation system will shrivel to the point of being stuck with approximately 450 excess widebody airliners. One reason is that the pre-pandemic traffic levels won't return because of changes in China. As for U.S.-China air traffic O&D, figure 2021 being approximately 400,000. That's about 5% of what it was in 2019. That will have some localized economic ripples.
We'll be coming out with a report shortly.
The New Source of CCP-COVID Insight. For the latest intelligence updates on the CCP-COVID situation, click here to go to BoydGroupChina.
The difference between this and other COVID-related sites is that Boyd Group International focuses on futurist projections and research. Most other sites and unsolicited "data" emails just repeat what's happened. We cover issues that directly and also indirectly affect aviation. We are doing constant outreach and research from sources inside and outside China, including periodicals and reports in both English and Mandarin.
We will be updating the site throughout the month, and we're planning some unique features in the coming weeks.
____
For an update on the aviation future due to CCP-COVID, Click Here.