The Biggest Change In The Airline Industry In 40 Years Is Coming October 1…
To Cover It, We're Rescheduling The International Aviation Forecast Summit
On October 1, the U.S. airline industry will undergo possibly the biggest structural change since the Airline Deregulation Act of 1978.
It is represented by the end of the current CARES Act, which takes place September 30.
The entire industry is facing structural changes once this legislation expires. Even if it is extended, it will likely still generate material changes in our air transportation system. Bank on this: there will be a new set of market planning criteria at every U.S. airline. Different fleets, fewer airliners, hubsite shifts, and a lot more that will render obsolete a lot of the assumptions on air travel.
Moving The IAFS To Deliver The New Future. We want to make sure that the IAFS covers them… especially since they won't be fully known until after September 30. Because of this, as well as today's continuing greased football represented by ever shifting restrictions on state-to-state travel, the International Aviation Forecast Summit will now be held on October 11-13, still in Cincinnati USA at the Hyatt. We are now contacting registered attendees with details.
Yes The CCP-COVID Restrictions Are A Factor, Too. The 500-pound gorilla represented by today's constantly changing travel restrictions from state to state might continue for several more weeks, making it difficult for our attendees. So, this major shift in the airline industry can correspond with reductions in  uncertainty of travel.  We believe over the next two months, much of these travel restrictions will be behind us. This will be the most incisive IAFS yet, covering territory that will be critical to planners across the aviation spectrum. We believe this date shift will also facilitate this, and far more members of the aviation community will be able to attend.
Airline Strategies: We Won't Know What's Behind The Post-CARES Curtain Until Mid-September At Earliest. This date change will make the IAFS even more valuable in forecasting the future of aviation. Even today – less than two months away from the October 30 CARES sunset – the extent of the post-CARES changes  simply is not known. The House of Representatives prefers to play politics and go on recess instead of plowing ahead with important CCP-COVID relief legislation. This means that nobody has a clear picture of what additional CARES-type legislation may entail – or if there will be any.
Outlook Changing?… Just in the last several days, instead of continuing to see clearing skies, big-time clouds have appeared: Some carriers which had indicated only a few weeks ago they might be able to avoid involuntary reductions in force are now issuing potential lay-off notices. Strong indications of regionalization and reduction in major carrier hub reach will have effects on the future of air service.
And, this does not even begin to touch the on-going uncertainty of international air traffic. We feel these factors are critical to forecasting the future of aviation.
As of today, the airline industry is facing a situation where actual long-term changes will be difficult to outline, in the uncertainty of the legislative situation regarding financial support.  That won't be known probably until late September. Due to the non-decision quagmire in Washington, the airline industry is in a holding pattern.
Once Again…We have made the decision that it would be best to reschedule the International Aviation Summit to October 11-13. By that time, the post-CARES fallout will be known, and we can explore this new industry. Originally, it was believed that by August, with the initial economic recovery we'd have much more clarity in regard to the future scope of the air transportation system. However, we are now seeing very mixed messages that were not in place before.
Forecast Perspectives Based On The Post-CARES Environment. We regret any inconvenience, but since the IAFS™ is the #1 (and actually only) forecast event in aviation, we have concluded that as we get closer to the end of the CARES act, it has become apparent that the airline industry will be fundamentally different after September 30th,
To underscore this, take a look at U.S. air carrier capacity now scheduled for the last quarter of 2020 v 2019.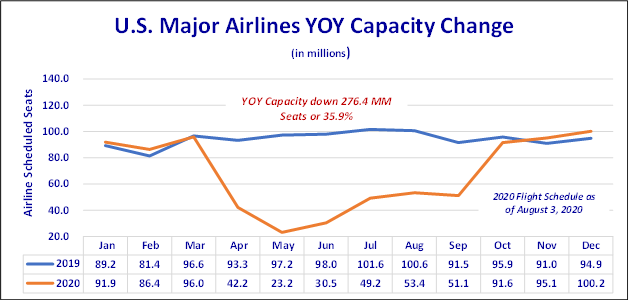 Note that adjustments have not yet been made to the last three months of the year. It's a clean sheet… one that will be fundamentally changed, but probably not until mid-September. That's because uncertainty is making capacity planning decisions much closer to day of travel.  By October 1, much of that uncertainty will be resolved, and the future of the structure of the air transportation system will be much clearer.
Once again, we're still going live, and we're still at Cincinnati, USA, and at the Hyatt. The IAFS™ will be the first gathering of aviation industry leaders to explore the new, post-CCP-COVID air transportation system. Be one of them.
A Silver Lining... As a positive bit of fallout from this, by October it is more likely that restrictions on interstate travel in various parts of the nation will be materially lifted, making travel to join us in Cincinnati a lot less complicated.
We're contacting directly our attendees with further information, and we look forward to seeing you October 11th in Cincinnati USA.
If you haven't registered yet, click here for more information.