Before we start…
Agenda now posted for the International Aviation Forecast Summit.
Take a look – this will be the event that gets down to the bedrock of the challenges facing all areas of aviation in the post-CCP-Covid world.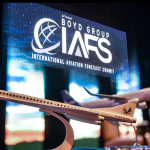 The executives and CEOs at the IAFS are the people who will be shaping the new future. Hard facts. Direct perspectives. Plus forecasts of fleets, trends and our Airports:USA trend and traffic forecasts.
Clear your calendar. Get into one of the safest environments available – air travel – and join us in Cincinnati USA October 11-13.
Click here to see the agenda and to register.
___________________
October 1 – Will The Trigger Get Pulled?
There is no point in sugarcoating it.
If there is no further support for the airline industry coming from the House of Reprobates in Washington, the airline industry on October 1 will enter into the most fundamental structural change since deregulation.
Once the estimated 70,000+ airline staff are furloughed, it will trigger major restructuring of the air transportation system, most of which will not be temporary. This will not just be pink slips, but the start of a new foundation for the airline business. One that is much smaller and less comprehensive than a year ago.
It will portend the following:
The "rebound" will be attained much sooner. Yes, sooner. Because the "rebound to normal" will be a much smaller air transportation system. The economy is coming back. But with the structural changes in the airline industry that October 1 may bring, the "new normal" will be an airline industry that's very different from what it was before the Chinese CCP inflicted this pandemic on the world.
More regionalization of  air access. The incremental revenues from metro-peripheral airports will be less accessible and have less value when airlines will be operating fleets that will be 25%-35% smaller. Bank on it.
Small community air service reduced. Because of what will be major fleet shifts, there will be pull-backs in service to smaller airports. This does not necessarily mean that all of the communities affected will lose access to the air transportation system, but the drive to a larger airport will be a new part of the itinerary.
Support industries hammered. Today, we are seeing a lot of "fleet-flipping."
It's where airlines are taking some operating aircraft and swapping them with ones previously parked. This is mostly due to the operating units coming up for maintenance, and replacing them with ones that have more time on whatever the components may be. If a component is running out of time or cycles, an aircraft on the ground can be swapped.
That means overhaul and maintenance support facilities will be seeing a major downturn in business – both independent companies as well as airline in-house operations. C-checks and D-checks cancelled, as well as component overhauls. A lot of jobs.
It Need Not Happen. But If It Does, It Won't Be Pleasant. What this lack of support from Congress means is that the airline industry will have no alternative but to completely restructure in a manner that cannot be quickly rebuilt. If airlines can get another 6-9 months of relief as the economy returns, and some common sense and honesty gets injected into the rigged numbers game that is driving the pandmic-panic, the rebound will be to a system similar to that of 2019.
If not, think of it as being a whole new industry.
_____________________
China Scores A Direct Hit On Plattsburgh
The North Country of New York has just taken one down the economic stack, courtesy of the criminals in Beijing.
Spirit Airlines has announced it is pulling service from Plattsburgh. Reason? A substantial part of the traffic base was vacationers from Quebec. In effect, Plattsburgh was the leisure gateway for Montreal. Cheaper fares and far less travel taxes.
But because of the CCP-Corona disease, the border is closed between the USA and Canada. Poof! No traffic. There simply isn't enough population along the US Route 11 corridor to support flights to Florida.
Make no mistake. This pandemic – and the near-stampede panic it has generated across the world – was foisted on us by the thugs running China. That is not hyperbole – it is fact. The Chinese government covered it up and in effect encouraged the spread of the virus.
We strongly are urging communities and airports to take stock in the financial damage done by this pandemic. Some of our politicians are quite content to give China a walk – some are likely connected with business dealings there. But others are focused on doing all possible to get recompense from the unelected Chinese Communist Party – which has billions in assets, both here and in China.
If you want some hard facts on how the CCP intentionally allowed the virus spread, click onto our Aviation Unscripted Youtube channel and invest 14 minutes on our posted video on the subject.
___________________
FROM ALL OF US AT BOYD GROUP INTERNATIONAL – OUR WISHES FOR A GREAT WEEK AHEAD!
REMEMBER… THIS IS A PERIOD OF CHANGE – AND CHANGE ALWAYS BRINGS OPPORTUNITY TO BREAK FROM THE PAST.