Before We Start This Week… 
More Great Coverage of the 2019 IAFS
We want to thank Anna Aero for their great coverage of the International Aviation Forecast Summit, with a discussion of the insightful sessions from start on Monday morning to the wrap-up on Tuesday afternoon.
Click here for the concise discussion of the complete event. And for our attendees, copies of most of the presentations are available now on the Summit app.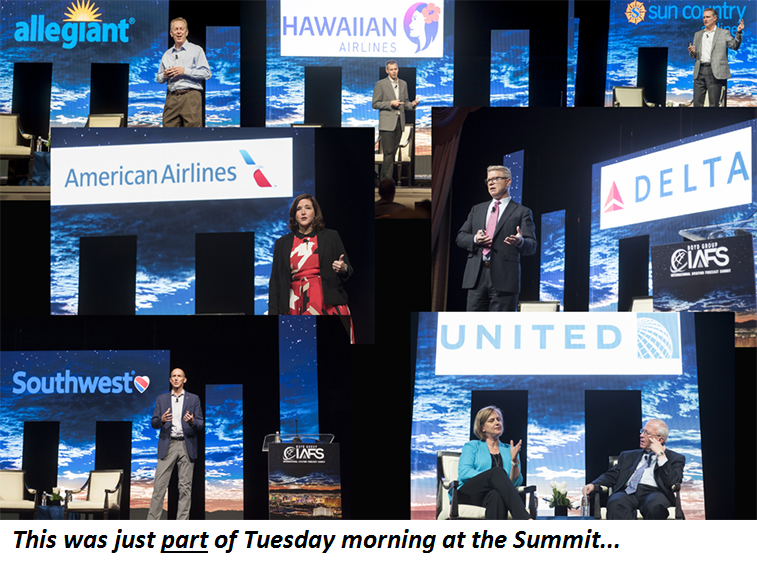 All of us at Boyd Group International want to again thank our sponsors, including Platinum partners Southwest and United, and the industry executives who joined us to make this year's IAFS the biggest yet.
And thank you to the industry leaders from across the globe who attended!
____________________
Again, Trendy  Fake News
No, There Won't Be Chaos This Holiday Season Due To MAX Grounding
We were regaled last spring with a few media stories about how the summer of 2019 would be one to remember, with airports across the nation resembling re-enactments of the fall of Saigon, due mostly to the grounding of the 737 MAX.
Yessir… all those thousands of flight "cancellations" were just going to flummox airports across the nation, according to some of the panting stories from the fringes of Fourth Estate. Bet on it… people sleeping on airport floors. Children denied the trip to ride Dumbo. Human tragedy galore, with the word "Cancelled" popping up on A&D boards at airports large and small.
Oops. Rewind. Actually, there were more flights and more seats than last year.
A little research would have helped.
Facts Can Be Such A Downer, Sometimes. Summer's over. Nothing happened outside of the usual. True, there were some poorly-researched stories implying that consumers were bumped by the bazillions due, supposedly, to the cut in seats due to the grounding. Statistical noise.
Bad News For Thanksgiving Travel? Maybe For The Turkey, Not Airports. Now, the latest group-think trend in a few newsrooms seems to be predicting airport chaos over the Thanksgiving holiday period, again due to the thousands of flight "cancellations" caused by the MAX issue.
Again, "monkey-hear, monkey-report" seems to be still in vogue in some sectors, with the usual suspects filing panting stories about how a lot of folks won't be able to get to savor grandma's apple pie this November, all due to these nasty cancellations.
Here's a load of reality to rain on their parades… we looked at the domestic schedules filed by airlines for the period 22 November through 2 December – the general Thanksgiving travel times – for both this year and last year.

These data reflect schedule adjustments due to the MAX situation. Funny, the airline industry didn't get the memo.
There will be 5.1% more departures and almost5% more seats this year than last. That's higher than the current 2019 growth rate, which is just 4.0%. Cancel the code red for the holidays.
American, sans MAX fleet, will deliver 7.6% more departing seats than last year. United, up 2.8%. Even Southwest – which, unlike AA and United has no access to net new additional aircraft – is up slightly. (An example of the situation is United, which just last week added two more A319s that came off lease at China Southern. For them and for American, they are adding aircraft, MAX notwithstanding.)
Actually, the only carrier that will be delivering fewer seats to the gate during this period is Delta – which isn't affected by the MAX issue.
Again… there are dozens of top-rate journalists covering the aviation industry. We had over 20 attending the recent International Aviation Forecast Summit.
But there's also a few amateurs that really need to find another career.
In any case, other than weather issues, there won't be much drama at airports this season.