The Airports:USA™ Forecast Update
The Next 24 Months Will Be Airline-Driven – Internally
It is very uncertain regarding just how much traffic the expected summer demand spike will bring.
To read a lot of the media stories regarding airlines resuming pilot hiring and the TSA looking for more screeners, it's easy to conclude that things will be back to pre-CCP-Covid levels by the end of the year.
Unfortunately, as it stands today, that isn't in the cards.
… The capacity won't be there, so neither will the passenger volume
… The passenger mix will be very different… the expectation is for spikes in leisure/personal travel
… The levels of business travel will not be back to pre-CCP-Covid… certainly not in 2021 and a full return isn't likely in the foreseeable future. The relative value of air travel as a business communication tool was changing even before the pandemic.
… While the fleets are being restored, the fleet mixes are different and in most cases the fleet sizes are smaller than pre-CCP-Covid.
… There are growth areas being explored by all areas – but not all will pan out as being viable.
It's a Different System. The current Airports:USA® forecast still indicates strong growth for the next two years. But one fact needs to be understood: The 2019 air passenger traffic levels are NOT a functional benchmark. They are just a number reflecting the air transportation system of that year. An air transportation system that's now gone.
The underpinnings of the air transportation system of the future are still being determined.
We will be updating the Airports:USA® forecast as we see shifts in the airline industry. For the next 2-3 years, traditional methodologies that assume airlines simply react to just economic metrics and demographics are nonsense. They are watching where the revenue streams – which are not specifically tied to historical tables – can be maximized within their specific corporate objectives. This latter concept – understanding airline strategies – is usually absent from most air service development approaches.
As they work to claw back, it is revenues that will be the driving force in airline route planning. That determination is specific and unique – and evolving – at each carrier.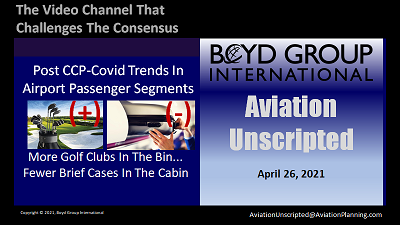 Check Out The New Demand Drivers… Airlines are calling the shots within whole new passenger demand stratas. We covered this in last week's Aviation Unscripted video, discussing the four major consumer segments and how they will be affected in the new air transportation system.
The video covers how many traditional metrics are gone. It then touches on the expected changes to the four basic air passenger segments – personal, business, leisure, and (new) impulse. Airports need to determine the general mix specific to their emerging post CCP-Covid traffic base.
Invest 8 minutes – click here to take a look… the point is that yesterday and yesterday's metrics are gone.
Along those lines…
We are completing the subscription modality for AirportsUSA.com. In the meantime, click on www.AirportsUSA.com and take a look at the Snapshot tab, which provides overviews of current traffic projections.
__________
Thursday, May 6, 2021… 11AM US MDT
Clear Your Calendar and Log On To Aviation Unscripted

We're Questioning The Consensus… With Clearly Disruptive Intentions.
In some areas, aviation future planning may be in danger of sinking into severe group think.
Sacred cows are starting to wander into the picture. Certain assumptions are increasingly not to be questioned. The masters have spoken. Accept and listen. This is not a healthy environment in which to plan the future.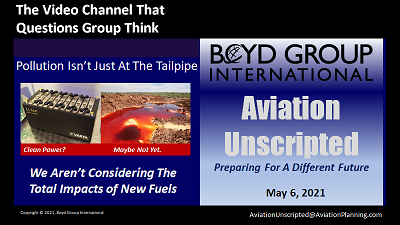 Identifying Pied Pipers & Craven Idols. On Thursday May 6th at 11AM MDT, we're planning to post an Aviation Unscripted video that within a few short minutes will openly question some of the key assumptions in regard to the race for non-fossil-based aviation propulsion.
It's not that pursuing alternatives isn't positive. It's the often myopic and dogmatic goal-focus that has some very real dangers.
In just a few minutes of video, we'll be bringing up a number of challenges that are being glossed over, or completely ignored. In some case, the direction that is being pursued could be disastrous for the human environment.
The point is not whether alternative propellants and alternative powerplants are not possible, or in some cases better than traditional technologies. It's a matter of upline and downline sustainability, social cost and global economic impact. It's more than just changing the chemical composition of what comes out of the business end of a jet engine. A lot more.
So, join us at 11AM MDT when we go on-line with some questions that it's getting trendy not to ask.
Leadership means not following… too much of this important discussion has degenerated in to just that.
__________________________
HAVE A GREAT WEEK!