Breeze – Brazen Airline Planning Heresy

Last month, we put on line an edition of Aviation Unscripted that outlined how many traditional air service planning metrics have not just changed, but are completely gone.
The video quickly outlines how many core metrics, economics, airline strategies, and consumer trends that were the bedrock of air transportation are no longer in play.
Along these lines, get ready for some fun media action this week. Start-up Breeze Airways has announced several of its initial routes. They validate the fact that in regard to applications of air travel as a communication modality, it's a new day. A new day that won't fit into the traditional assumptions of air transportation planning.
Some new Breeze routes are to Tampa, where traffic stimulation is always in play. But the majority are between cities that on the surface – and based on existing data – have traffic demand roughly equivalent to the capacity of a Ford Econovan.
Absolute Heretical Craziness. And certainly there will be the media gurus who will consult the oracles of raw and unrefined data, a.k.a. the DOT O&D tables. They will read the passenger numbers registered in these city pairs during the robust, pre-CCP Covid year of 2019, and will conclude that David Neeleman and his entire Breeze team have donned Star Trek uniforms and are begging Scotty to beam them up from reality.
Plan on hearing stuff like, "Charleston, SC to Akron/Canton? Lunacy! There are barely ten – total – people going between these cities each day." Columbus – Hartford/Springfield has less than 22 passengers reported as going each way, each day. "That's about a 30% load factor on a single Breeze E-190, and there are three other airlines – big guys, including Southwest – offering competing, albeit connecting, service. This is nuts."

We could go on. There's amusement in these lightweights.
And we're not referencing the folks at Breeze. It's the media types who don't have a clue regarding either the evolving air service market, new generation airliner platforms, or even how to read DOT data, let alone understanding what those numbers represent.
At Boyd Group International, we've been advising our clients to tumble to the fact that many of the traditional planning assumptions are gone. Many of the traditional drivers of air travel are gone, too. Breeze is a clear example. There will be more.
DOT O&D Data Is Not The Same As "Demand". Here's a message regarding DOT O&D data. These tables are indicative (and often in error) of the consumers who use air transportation between specific points, based on the characteristics of the air service options between those cities. And that is determined by several factors. In the markets chosen by Breeze, these entail the ease or lack of same of the flight options, the transit time (including connections) and, importantly, the cost.
If any of those change, it will affect the number of consumers choosing to travel.
Breeze is fixin' to send a lightning bolt or two into the moribund demand factors in a whole passel of new nonstop markets.
In a number of the markets that Breeze is planning, the convenience of using air travel today is just a shade ahead of a wagon train. And in most cases the fares are stratospheric.
Now, Getting To The Bar Mitzvah Is Possible. There's no question that nonstop Breeze flights in these markets will tend to stimulate some business traffic. But the real play will be in opening city pairs where personal travel – a deep subset, perhaps, of what is lumped together as "leisure" traffic – will be able to use air transportation where until now there were few market-viable options.
Yes, BDL and PIT are very nice places, but regardless of the fare, nonstop flights on Breeze are not going to turn the route into a major vacation option.
The real market for Breeze will be consumers in these cities who will find attending that the wedding in Akron/Canton is no longer out of financial reach. Or heading to a graduation or Grandma's birthday in Louisville. Or just to visit relatives in Norfolk when before now, it was too time consuming and too damaging to the bank account to even consider. The true demand is not yet known, because the levels of air access were an obstacle course in time-consuming schedules, high fares, and massive inconvenience.
It's Being Partially Tried By Other Carriers, Too. We covered this in a recent Aviation Unscripted video. American is adding Dayton – Orlando, where there is only O&D traffic, and no AA flow connections. United is planning a spread of O&D nonstops between Portland, Maine and places like Milwaukee and Columbus. The fact is that the true demand these nonstop flights will develop is unknown because until now the hassle of existing air transportation precluded it. The difference with the Breeze strategy is adding in low fares, which changes the equation from the approach at AA and UA. Big time.
New Generation Airliner Platforms Make This Possible. Now, this does not mean the end of the hub-and-spoke system, as some mushroom-basement academics will likely announce. It simply means that there are additional places where new-generation, multi-mission airliners (like, say, the 80 A220s that Breeze has on order) can generate net new revenues. True, network carriers can do this with current fleets of CRJs or ERJs, but that tends to make the pricing component more difficult.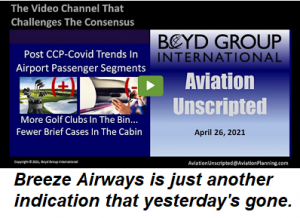 New Consumer Stratas, Too. As we've covered via video at Aviation Unscripted, there are now four consumer air travel sectors. Business, Vacation/Leisure, Personal, and Impulse.
Breeze covers all of these, but the biggest one is personal travel. The operating costs of the A220 will be a major factor in making these new markets possible. If you've not seen it, click on the icon or click here.
Rational Growth Plan. As of now, Breeze has a fleet plan for a lot of iron… nine E-190s now in-fleet and an order for 80 A-220-300s, the latter of which are the most mission-flexible in the sky.
Of interest is that the initial plan for Breeze is not to blot out the sun with new A220s. The plan appears to be two units added by the end of 2021, and only 11 more coming from the factory in 2022. Apparently another 17 the year after, plus it's likely the initial 9 E-190/195s will be phased out.
Yes, It Can Work. Naturally, it is possible, and maybe likely, that some of the market choices won't work out. But with a rational fleet strategy such as this, the program is clearly well planned.
Bank on it: it will succeed.
Planning For The New Future? We're Ready. Boyd Group International is at the cutting edge of the new trends that will be creating the new post CCP-Covid air transportation system.
We focus on tomorrow – so for air access planning and futurist traffic demand and trend forecasts, give us a call.
________________________