Air Traffic Growth Trends:
Don't Misread The Clouds on The Horizon.
Expansion's Coming. But Just Not Where Traditionally Expected.
As of today, it appears that capacity in June will likely be around 80% of that in the same month of 2019.
As the CCP-Covid pandemic continues to recede (or, at least until the incredible, unfocused political hype surrounding it runs out of steam) it is natural to find consumers going back to leisure travel.
But amid all the media stories about the crowds and "surge" expected this summer, it's still a spike off of a materially lower travel base. The economy has changed. Therefore, the role and location and applications of air transportation will change also.
To be clear, the increase in capacity does not necessarily mean a corresponding increase in enplanements. Allegiant in April had the majority of its fleet back in the skies, but with a reported 60% load factor. They are planning for the future.
The only real unknown is the level to which business travel will return. Some are predicting that it will be at or near 2019 levels. This, unfortunately, ignores the fact that electronic communication was already eating into the value of air travel as a business channel. The CCP-Covid episode served to shove it into overdrive.
The Value of Business Travel Has Changed. One bottom line that tends to be missed in such projections is that, simply put, a substantial portion of business travel was undertaken because there were no other communication modalities that allowed people to meet, confer, and exchange ideas face to face. Now, there are alternatives superior in efficiency and cost – virtual meetings – and the CCP pandemic has established them front and center.
Other Clouds on The Air Transportation Horizon –Beyond the current snap back in traffic, a longer view for the airline industry may not be particularly comforting, unless it is viewed in the context of the new role of air travel as a communication channel. There are some serious issues – troubling issues – but the emerging shift in the geographic make up of the U.S. industrial and business base will deliver some surprising growth in some surprising regions.
But, let's reach out and touch a couple of storm clouds.
Higher Fuel Costs. The Colonial Pipeline security fiasco has sent a strong message in regard to fuel costs based on current distribution channels. (Yes, it was a security failure, conceptually like 9/11, but without violence.) The supply system is vulnerable and fragile, and airlines will need to re-think fuel logistics to some degree.
Moonbeam Energy Planning. It needs to be stated. There are a phalanx of misguided, trendy policies coming out of Washington, which are guaranteed to spike the cost of jet-A, not to mention all forms of energy. The shutdown of the Keystone pipeline construction (particularly after the distribution vulnerabilities demonstrated by the Colonial affair) is not sound future planning. It's part of a playbook that's not going to get the USA over the goal line.
There is an open and clear attack on the programs that made the USA energy-independent for the first time in over half a century. In their place are schemes that encourage use of "alternative" and supposedly "sustainable" sources of energy, such as battery-electric options. The fact is that while there are no emissions from the tail pipes, that electric automobile or electric push-tug is the end product of a total system that is neither ecologically clean nor "sustainable."
(We cover that point in the latest Aviation Unscripted video. Click at the end of the Insight to go there. True heresy.)
The Economy – Signs Are Not Going In The Right Direction. While the stock market may be bubbling along, a number of the indicators that affect how consumers use air travel can be taken as warning signals. Consumer confidence – a harbinger of air travel demand – plunged last month. Inflation – and media stories about inflation – are also front and center. At this point, the majority of consumer-related factors that support air service are in question, based on traditional metrics and planning methodologies. They no longer fully apply to the emerging, post CCP-Covid economy in the USA.
But There Is A Recovery – Regional & Focused. What our Airports:USA® forecasts are now indicating is actually strong redistribution of air service demand. Mid-size and even some smaller cities, particularly those with strong and growing economic foundations and a high quality of life, will be experiencing air travel growth, in some cases enormous growth.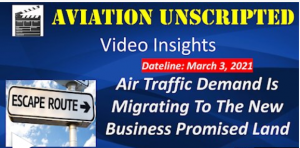 We are not – repeat, not – referring to the lucky airports that see ULCC service enter. This type of traffic is separate and parallel to the economic-generated demand that will be accessed by the major network and semi-network carriers.
As we noted in our March 3 Aviation Unscripted video, there is now a migration of businesses seeking new venues. They are escaping to regions that do not demonstrate the major challenges seen last summer – and continuing today – at many major metro centers. We'd note that several weeks later, the Wall Street Journal came to similar conclusions.
It's not a re-make of Exodus – there's no economic Moses involved, and the Interstates aren't choked with moving vans escaping New York City and other big metros. But it's enough migration to deliver strong traffic demand to places like Boise, Colorado Springs, Ithaca, and the like. And, it's not in future tense. It's happening now.
We cover this dynamic literally on a daily basis with Airports:USA®. We'll be soon sending out information regarding our new forecast subscription programs for airports and communities.
It's a tool that until now, simply wasn't available.
_________
And As For Believing The Consensus...
Again – we're being told that if there's no CO2 coming out of the tailpipe, that means all is green and "sustainable."
Not necessarily so.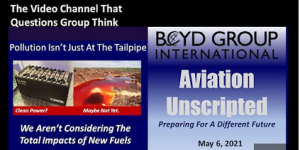 If you have not yet seen our Aviation Unscripted video on the subject, you may want to take a look. Over the decades, the powers-that-be, the media, and lots of groupie-like gadflies have periodically fed us official dogma about the latest unquestioned future trends.
Remember in the 1950s, for example it was the wonders of the atom that would change the world?
Today, there's another whole set of future solutions, none of which should ever be questioned. But here's a tidbit. All that electric ground equipment that airports are snapping up – the ones that have no emissions out of the tailpipe – are in a Colonial Pipeline-like danger. The supply that makes them move has a distantly similar vulnerability.
Oh, and this stuff about this equipment representing "sustainability" and green propulsion isn't entirely accurate, at least in the total process of getting that tug to gate 23.