Let's Stop The Charade…
Passenger Traffic Growth Will Hit A Brick Wall In 4Q 4022
Watch For A Media 180 By End of May…
The Airports:USA® forecasts have indicated for the past four months that the supposed boom in air traffic is a temporary bubble. Naturally, most other sources just parroted lots of sunshine.
Here's the situation:
Inflation is up officially by 8% – which in Washington-speak means a lot more, like, say 10%.
Consumer confidence is at a new low. That means spend confidence is at a new low.
The former head of a major investment firm warned that the economy his heading into recession.
Fueling the family car now entails $5 a gallon. Diesel – on which we depend much of our logistics – is over $6 in many regions.
Despite this, The occupants of the White House are doing all they can to constrict oil production. And actually intending to export more, too.
The price of jet-A is on a near vertical trajectory – and there are no indications of any potential for a major price pull-back.
Air fares are heading up.
One source has reported a 17% decline in April air bookings v March.
Global air cargo has reportedly now declined back below 2019 levels. The China CCP-Covid mess is likely part of this.
There are no – zip – indicators that are positive. Yet we still see rosy headlines about crowded airports and a boom in passenger traffic. The media is totally clueless.
The New 2022 Projection. Our Airports:USA® forecasts indicate a plunge in 2022 enplanements from @890 million earlier this year to as low as 822 million – nearly a 10% drop from what was expected. In context, this will still be above 2021, but the momentum is gone, and 2023 may be a real surprise.
Point: all of the factors that support robust air traffic demand are heading down, big time.
Prediction: Now that completely obvious, we can expect new "predictions" of falling enplanement growth rates to go into high gear by the end of May.
More Information on Expected Fall Out… We covered some additional detail on what airports can expect in last week's Touch & Go™ client newsflash.
If you want to be put on our T&G distribution list, just click here and request.
______________
Fleet News
Undelivered 787s Still Parked. It's been reported that the FAA last week declared paperwork submitted by Boeing to get undelivered 787s in the sky as being "unsatisfactory." For some carriers, this may be less of a hit than it may appear, particularly if long-haul international markets are hit by the downturn.
Shopping For Airliners? Not A Lot of Options –– The Only Games In Town. Not much noticed has been the unilateral cancellation by Airbus of an order for A320neos from Qatar. The background of the cancellation is not the news item.
It's Qatar's legal response. The have claimed in court that the Airbus cancellation would cause enormous harm to the airline, because there isn't a viable alternative for the airline to get planes, due to Boeing backlogs. Therefore, they asked the court to force Airbus to sell them A320s.
The court refused.
Chinese Airliners To The Rescue? Needless to say, some in the financial world will claim this is an opening for Chinese manufacturers. It sure would be, if only the Chinese had anything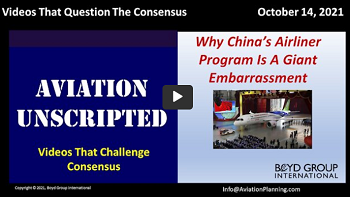 vaguely valuable.
We covered this in an Aviation Unscripted video… take a look. It goes into how "analysts" making these observations are off in the woods. Click here to take a look. The C919 , the ARJ-21, and the CR929 are enormous wastes of precious metal.
Embraer Turboprop. The Brazilian manufacturer is to make a decision on going forward with a 50-70 seat turboprop airliner. There is a strong global market for a next generation airliner of this category, only just not in the USA.
Boyd Group International has accomplished forecasts for clients in this sector. There are three regions where sales potential is near zero. One is the USA, where the marketplace has seen both ATR-42/72s and Q-400s retired for market demand reasons. Another is China, which has its own indigenous and embarrassing MA-700 (ATR clone) program. The final one is the EU, which is anti-anything-that-flies.
The rest of the world has potential demand, but it will be regional – highly so.
____________