Quick Note:
A few sections of the media may be in full non-factual swing this morning.
The tragedy of the China Eastern accident did not involve a 737Max. The CAAC has yet to approve these aircraft for use.
Just an FYI… no telling what some sectors of the Fourth Estate may report. Already, the New York Times has inaccurately commented in a crash-related article that Chinese airlines are again ordering 737Max airliners. The fact is that there has not been an order – or a delivery – to a Chinese carrier in over two years. Caveat reader.
______________
Air Travel Forecast: Mixed Messages
As of March 21, the Airports:USA® system is projecting a much slower growth in 2022, due to the expected effects of increased inflation, higher jet fuel costs, and a respondent decline in leisure travel demand.
Like, around 60 million fewer enplanements than projected prior to the latest inflation trends.

Airlines are adjusting capacity downward. Instead of being at @ 90% of pre-CCP-pandemic 2019 levels, it is becoming clear that the figure will be closer to 85% or less. This means USA airports can expect to see approximately 820 million enplanements for the full year, down from just under 900 million.
Logic May or May Not Apply… It's only logical that discretionary spend will decline when consumers are facing massive inflation, and airline capacity trends are reflecting this. That much said, other travel sectors such as the hospitality industry, are reported (key word, reported) to be seeing no decline in demand. If that's accurate, the airline capacity cuts, combined with 5% to 10% increases in average ticket prices (as Delta Air Lines has warned) and we're looking at some very confusing counter-factors.
Best guess now is the hospitality industry is lagging the dynamics facing air travel demand.
Point: we're still projecting that year 2022 won't be as robust as pre-inflation data indicated.
Where To Anticipate Changes. First, with jet-A going up, that will make the viability of the now-declining fleets of 50-seat jets at major airlines go into a nosedive. American, Delta, and United will likely move with lightning speed in making fleet changes.
Consolidation Of Access. Concurrent with this will be a definite reluctance of major carrier systems to enter or expand at smaller communities, with or without incentives. Fewer airplanes mean less expansion
New Entrants = More Regionalization. The recent expansion announcements by Avelo and Breeze should be considered closely. Note that none of the new markets at these carriers are at small airports. To the contrary, these will cause additional regionalization. The poster child for this is Norfolk… the Breeze expansion there will put PHF further down the air service development food chain.
Get Ahead of The Planning Curve With A Professional Forecast From Boyd Group International. These changes are coming in rapid order. This means the dynamics of air service access at every airport can shift radically and quickly. An Airports:USA forecast subscription from BGI can deliver up to the minute enplanement and air traffic trend forecasts for each of 172 airports. With this data, airports have a view of the future, instead of having to rely on old data that are based on an airline system that no longer exists.
Give us a call, or simply hit the contact button, and we'll be back to you ASAP.
_________________
The SkyWest/EAS Scramble –
Indicative of The Need For New ASD Thinking
As BGI noted in its most recent Touch & Go™ client newsletter, the charge is on at several EAS communities to find replacement carriers for the pending discontinuance of service provided by SkyWest/UAX.
The unfortunate part of this is that some of these communities are simply looking for an airline, and not for air service access. Somehow, the concept of "commercial service" is satisfied simply by having somebody – almost anybody – with an airplane to operate scheduled flights at the local airport.
The reality is that these communities had about the best service possible with SkyWest/UAX. Full "membership" in the United Airlines system… part of that carrier's global network, right along with New York, London and Tokyo. Access to Mileage Plus for customers. With SkyWest as the operator, the service was about as reliable as the hand of man could make it. The best of all worlds.
And it is going away. There is nothing that can fully replace this level of air access. The challenge for these communities is an opportunity, actually – now is the time to reassess and rethink their airport's role in the regional economy and within the new communication network.
But that's not happening.
Take a gander at some of the media stories coming out of a few of these affected communities. The goal is to "find another airline" – instead of focusing on the air service access needs of the region. The objective is just "flights" instead of hard determinations of the opportunities, challenges and options for the region within the new communication channels that are emerging.
Some of these airports – a number of which had EAS load factors well below 50% – are going to attend "speed date" conferences, ostensibly to speak to multiple airlines in regard to replacing SkyWest/UAX.
No doubt some will be ably assisted by the usual suspects providing the data and documentation to show the value of the EAS market. But it makes a great story – the civic leaders are going to an event to pitch the airport to lots of airlines. Truth be known, most of the carriers at these hoedowns wouldn't touch an EAS market with a barge pole.
Don't Need A Map To Find Replacements. The operators that are in the EAS play – such as Contour, Denver Air, Southern Airways Express, Boutique, etc., are known and obvious. They'll make the determination if they want to bid – it's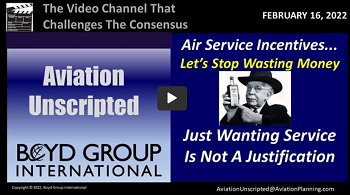 no mystery who the targets are. But for these affected communities going to some speed date event and blindly whacking away at the hypothetical air service pinata, hoping the right carrier will come falling down, is a waste of money.
We did a recent Aviation Unscripted video on this subject, in which we outlined the four foundational planning criteria absolutely necessary to determine any air service outreach.
It's eight minutes of direct and unvarnished facts of small community air service life, whether it's a small rural airport or an international gateway. Blunt, but accurate.
If you haven't done so yet, click here to go to our Aviation Unscripted video channel and take a look. Any questions, comments or input are always welcome.
____________________
Coming This Week…
Electric Aircraft – It's Time To Cut Through The Euphoria. They're non-polluting! They're quiet! They'll open new transportation channels! And they may ultimately be sitting dormant for want of motive power. This Wednesday, March 23, a new Aviation Unscripted video will ask some hard questions regarding the issue of electric air taxis and electric regional airliners. Questions that nobody seems to want to ask. Log on to our channel by clicking here.
Boyd+Swelbar Unvarnished. Thursday March 24. Okay, the gloves are off. Bill Swelbar and Mike Boyd will be taking 20 minutes to irreverently discuss aviation issues that are front and center. Insights and perspectives that are ignored or are politically off limits. The agenda intends to look at trends and strategies in rural air service, the potential effects of inflation on traffic, how communities can prepare for emerging fleet shifts, and take some carefully-aimed assaults on some of the groupthink going on in aviation. That's this Thursday. Log on to the channel by clicking here.