From Airports:USA®
The New Traffic Driver:
Economic Migration

No, the air transportation system is not going to return to the happy days of 2019.
The national economy has changed – and that means air travel has changed too.
The latest Airports:USA® forecast illuminates three major shifts in the air transportation system:
Airlines are now on a complete "war footing"- adjusting to the new economic realities, new business systems and consumer spending shifts brought on from the fallout of the CCP pandemic. They are doing all this, by the way, based on internal planning.
Leisure spend is expected to be a much larger part of the air travel revenue stream.
Secondary cities in business-friendly regions are seeing massive growth in air service demand.

Point: Airlines have completely changed strategic and route planning from what was on the table one year ago.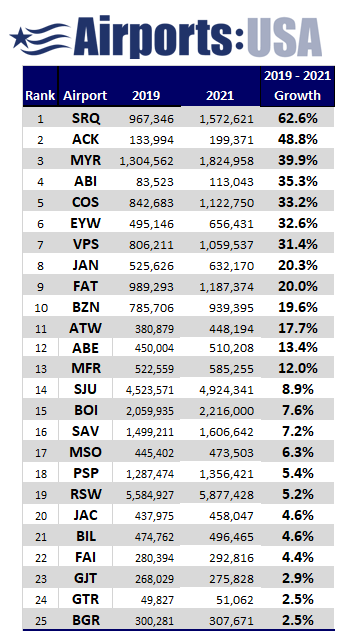 Completely – and make no mistake, these shifts and changes are generated predominantly inside each carrier – they are not the result of consultant studies, revelations at speed-date events or traditional air service development programs. The day of the 60-page market study is over.
Here are the top growth markets projected for 2021 – all will finish the year ahead of what was experienced in 2019.
Take a look at these markets… there are two very big messages here for the future.
First, the entire mix of travel demand has changed. The U.S. airline industry has responded aggressively to adjust. What we are seeing in regard to airline route planning wasn't even being considered one year ago. But this means airlines will be adjusting also to changes in the American economy.
Leisure Revenues Increasing As A Percentage of Airline Traffic. It's obvious that vacation destinations are a new focus. But this means that airlines will need to restructure both their cost base and the fleet mixes. We are talking shifting where resources are applied.
The Real Message: Economic Migrations. Take another look at the forecast list. There are some real messages for the future structure of business air travel.
Take a look at COS. It's on this list because it's emerged as a site of business migration from economic swamps elsewhere in the nation. Or BOI, where the economy is booming and quality of life is attracting industry. Face it, New York City isn't exactly a magnet for new businesses. Los Angeles, ditto. So, watch for more growth at points such as COS, GEG, BOI, etc. in the coming year.
More On This At Aviation Unscripted Video Channel. We'll be covering this on this week's Aviation Unscripted video, which will be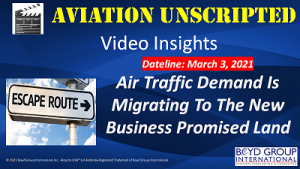 posted shortly on Rumble.com. It may also migrate to our former Aviation Unscripted channel at YouTube.
Because YouTube does not meet our community standards, we are no longer updating that channel, but will leave it in place for the time being.
Log On To AirportsUSA.com for more information on how Boyd Group International can assist your airport, community or business in gaining a clear view of the new and very different air transportation system that's emerging in America.