Traffic Levels Are Returning –
The Traffic Mix Is Not
We've looked at what airlines are doing in regard to schedule capacity in the current quarter. The unknown is what level red pen action might be expected in the fourth quarter.
We looked at this briefly in last week's Touch & Go newsletter to our clients. Using schedule data from our friends at Cirium, there were two take-aways:
First, the business travel hit was far more damaging to large metro airports. Not a great revelation, as this is where the majority of such traffic is generated.
We simply compared the three NYC metro airports with three regional airports, in regard to the level of 2019 service that was offered in the same months of 2021.

From a percentage view, there was far more cutting at the large airports. Some of this is due to reduction in flow traffic, particularly international traffic. Therefore, it would be natural for these larger airports to see bigger chunks of capacity slashed than at smaller airports with low international demand, and effectively zero connecting flows.
The second take-away is the uncertainty of the 4Q capacity. As of today, there are more seats schedule at the sample small airports than in 2019, and capacity equal to or above in the three large airports reviewed.
Standby… if these 4Q capacity data are left in place, it would indicate that booking levels are more robust that in 2019, which would mean that the pandemic is over for airline passenger volume. This would seem unlikely.
For example, take a gander at LGA. In August, there will be 67% of 2019 capacity. That jumps to 101% in September. It's a big maybe.
The next four weeks should give some indications – more cutting in 4Q or is the traffic demand back to pre-CCP-Covid.
____________
Just In Passing…
Electric Feeder Fleets –
One Huge Potential Benefit Not Obvious
The strategy of American and United to engage fleets of all-electric, short-range aircraft to feed major airports from surrounding areas represents a major shift in the structure of the air transportation system. A very positive one.
New Industry. New Jobs. Small airports in metro areas could see enormous economic impact. While the reduction in ground traffic to and from large airports won't pull a lot of cars off the road, the program will make air travel in these congested areas materially more efficient. The reduction in processing times at the large airport could be material in terms of customer convenience. And a lot more.
There are lots of hurdles – the issue of air traffic control. The thorny issue of who will operate the machines. The unknown whether the costs will be consumer-accepted. But any new concept comes with these types of challenges. They are workable.
New Demand Generates New Technology. But there is one hurdle that must be carefully watched as this new transportation structure is developed. And that's the technology and supply-chain vulnerability for the batteries to run these aircraft. New and very different production systems will need to be developed, and these are likely part of the intended new aircraft programs.
Yes, electric aircraft are zero-emission machines. In operation. But production of batteries delivering that power today is far from environmentally-positive. The current lithium/cobalt technology has enormous issues in this regard. Plus, very troubling social issues, based on where these components are sourced.
In addition, the traditional sources and production flows of current battery technology are in danger of being overwhelmed by demand, and will be increasingly attacked for the issues noted above.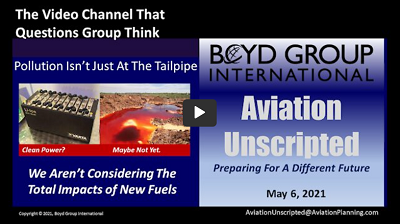 We covered this in a recent Aviation Unscripted video. Battery technology as it stands today cannot be described as "sustainable." Enormous potential, but a lot of work needs to be done to get production environmentally and socially acceptable. Click here to take a look –no  holds barred.
From that perspective, this intended new air transportation concept could actually come with another huge benefit: the research and development of new environmentally-positive electric storage technologies.
Solutions can be found when there is a consumer demand. The electric aircraft feeder concept is exactly such a catalyst.
_____________________