Following Up: JetBlue/Spirit
All Quiet On The Merger Front?
It is still amazing that so many folks are assuming that the primary goal of B6 is to acquire the route system of Spirit.
Might just as well go after Amtrak, too.
The two systems are entirely different. From a revenue combination point of view, it's akin to trying to connect a standard-gauge railroad with a narrow gauge one. Not a lot of smooth fit.
Now, it could have the potential, as Bill Swelbar points out, of being the start of an IAG-type conglomerate, where two very different airlines are managed from the top by one team. Possible. But another option is simply for B6 to have the pilots and planes it needs to expand with less of the time and brain damage of more organic options.
This was pretty clearly not a deal sparked by JetBlue wanting to capture a mostly different air travel clientele and a route system somewhere out in the boondocks from their own.
The DOT Viper May Be Coiling For A Strike. In any event, the politicians running the DOT are eager to generate great consumer headlines to woo the public away from above-the-fold stuff like inflation, recession and other things.
So, it is not out of the question that the small-town mayor in charge may come out swinging, denouncing the merger and posturing it as yet another airline industry move to zap consumers with fewer options, higher fares, and more stupid rules only to be explained by a contract call center where "Let's Learn English" was the occupants' main TV show. Lots of drama. Not much in the way of real substance in regard to any actual downsides of the B6 asset buy.
It could be as dumb as the idiotic DOJ attempt to stop the US/AA merger. Nothing like raw screen shots of web pages as hard proof, and total misinformation regarding effect on fares and the consumer. It would have been a hoot if it had gone to litigation instead of being dropped.
For airports, it needs be stated that there is the potential for one ULCC – Spirit – to disappear. Or at least not expand for the foreseeable future. But that doesn't change the fact that B6 has the opportunity to use these assets to build a larger operation.
Question What's Reported. Some of the traditional media is out in the swamp, too. The Wall Street Journal, increasingly in recent years a long way from the brightest lamp in the airline expertise chandelier, has reported that B6 should have gone after Alaska. Missed the entire story.
As has often been the case, the WSJ is assuming the past, not the future. Futurist thinking not in evidence.
__________________
Air Wisconsin. The Vendor Shifts Customers
– Just When The Cost Bar Hits Warp Drive
Over the last 30 years, Air Wisconsin has leased small lift to United, American, US Airways.
Now it's back to American.
The potential of AA now adding back 50-seat service to smaller cities dropped from their ORD hub is a staple in some aviation media sources. Not necessarily.
Okay, let's wake up and small the duty rigs. Or, more accurately, new pilot compensation. It doesn't generate much comfort for small communities yearning for the return of major airline brand service.
More Costs – Completely. AA just jacked up Piedmont pilot pay by a reported 20% plus. CommutAir did so in some cases by over 60%. Mesa just announced they will have the highest paid pilots in the (misnamed) "regional" industry.
Get the message. Small community air service with 50-seaters is fixin' to no longer be supported by lower than market wages for pilots. Mechanic/technicians are next. The skills to overhaul a fuel control valve are the same whether it gets installed on a PT-6 or a CF-6. Inside the cabin, safely managing an aircraft evacuation on a ERJ-145 is as critical as on a 737. Read: flight attendant costs are sure to start skyward.
Here's the bottom line. The capacity floor inside major airline brands has gone from 19 seats in the mid-1980s to a coming 65-76 seats with the pulldown of major numbers of 50-seaters over the next 18-24 months.
The raw economics will not change.
With New Fleets – Which Continue To Evolve, That Catchment Area Study Is Useless. Airports across the nation need to pursue new approaches to maximizing economic impact. Air service access is part of that but doing a lot more market studies that completely ignore airline fleets isn't going to work, anymore.
If your community wants to move into the next dimension of airport strategic planning, give us a call.
We're taking our clients beyond yesterday's discredited approaches to airport planning.
_________________
Check Out The Latest Aviation Unscripted Report Video.
In Just Seven Minutes,
The Fleet Picture As It Affects Future Planning
Alaska is parking the last of its Q400 turboprops this fall. That's the end of the turboprop era at major airline systems.
They join J-31/41s, EMB-120s, Casa 212s, ATR-42s, Beech 99s and 1900s, Metro IIIs, Shorts 330/360s – all of which once were parts of branded major airline fleets – in the history books. Along with this the economics of serving the local airport at small – and sometimes a little bigger – airports have ended any potential for connective air service.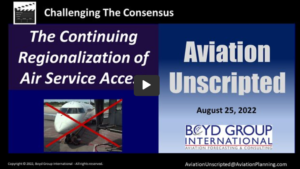 As what happened a few years ago when Alaska retired their Q200s, there will be major shifts in regard to air access in the Northwest. The only replacement is the E175, and that points to several current markets that simply cannot support more than one daily flight into Alaska's Seattle hub with the E175s that are the capacity floor now at Alaska.
Regardless of the snake oil that some consultants will be eagerly slopping out to desperate communities, there are no alternative options for SEA access, and not many more for alternative access to United's hubsites at Denver, SFO or LAX.
There is no easy solution.  The raw economics of air transportation have spoken. It's time for small communities to belly up to the reality bar and explore the new future business options for their airports.
Click here and log on to the industry's emerging source of futurist planning insight. This week, we're covering the genesis of this fleet trend and outlining what communities can do to move into the future. Seven minutes of core information that other sources are not even aware of.
And while your're there, hit the subscribe button to get notifications of future Unscripteds, too.
Then give us a call for next-future airport planning assistance. We work with our clients on bringing on the future. Not the past.
_______________