The 2018 Trend Outlook.
Looking Beyond The Consensus.
The 2018 Boyd Group International Aviation Trend Outlook is now available.
In the document, we cover several areas where evolutionary and episodic change can be expected in the coming year and beyond.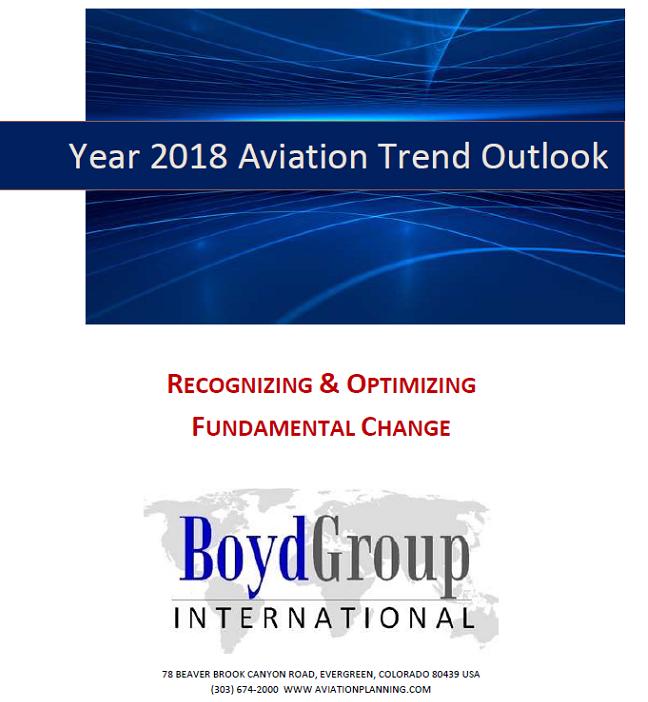 Boyd Group International has a track record of forecasting trends that are missed by other sources. The reason is simple: we do not accept at face value the "consensus" or what may be described as "ambient thinking."
Those terms are just alternative descriptions of making sure that there are no risks taken and there's no potential of challenging the entrenched thinking of the status-quo.
For more than three decades, Boyd Group International has built a track record of assisting clients from across aviation and across the globe in identifying new future opportunities. In doing so, we don't go by the book. We write the future book.
Below are some basic subject synopses of the 2018 predictions and trend projections in this year's BGI Aviation Trend Outlook. To view and download the complete document, just click here, and we'll get it to you ASAP.
If you have any questions or input regarding this document, please let us know.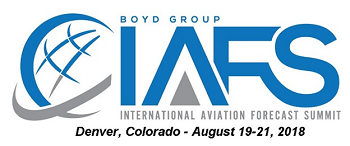 And, of course, if you need futurist aviation research, forecasting or consulting, we stand ready to assist.We would point out that many of the trends outlined herein are indicative of the scope and structure that will be delivered at the 23rd International Aviation Forecast Summit, August 19-23, 2018, hosted by Denver International Airport.
CEOs and senior executives from across the industry and across the globe will be here to openly discuss the future. No boring "panels." Instead, direct discussion and exploration of the future from those who are shaping it.
To reserve your space and for more information: www.AviationForecastSummit.com Special New Year registration rates are now offered.
2018: Looking To A Strong, But Global 2018
Traffic Trend: Fundamental Growth… Plus More Impulse-Buy Capacity
Let's put it on the line.
The hand-wringing from some in the financial world about airlines adding too much capacity in 2018 is strictly Chicken Little. Capacity discipline is firmly in control.
Look For @ 4% More Seats, But Less Than 3.5% More Flying. As of January 1, US carriers are scheduling a 3.9% increase in capacity for the first six months, compared to the same time period in 2017. Most of the reporting on this implies that carriers are simply adding flights on top of existing ones.
In some cases that is accurate, based on very high load factors, and particularly in cases where the carriers' connecting hubs experience "hub-choke" – when there is demand for more feed through the hub, but the connecting banks to major destinations are functionally fully-booked.
But in other cases, much of the increase in capacity is based on network carriers (American, Delta, United and Southwest) adding new markets – particularly trans-border and international.[1]
Also adding to the capacity picture is the expansion of the "parallel airline universe" – ULCCs expanding and offering fares that transcend ambient market "demand" and establish the travel product as an alternative application of discretionary dollars.
Wildcard: In any case, the recent reduction in the corporate tax rate, could result in carriers adding more capacity to meet newly-generated demand in the fourth quarter of 2018.
______________
2018 Trend: Hub-Choke Increasingly To Affect Route Planning
For airlines, experiencing very high load factors in key major markets to and from the carrier's hubsite operations are generally positive.
However, this dynamic also represents some traffic spill – where consumers in, say, Abilene find it difficult to find space on the connecting flights from DFW. In some cases, carriers will use sophisticated analytical systems to build highest and best use scheduling – in effect weeding out feed markets that are the least revenue-productive for limited hub capacity. Expect more of this in the coming year.
Enter New Fleets:  With the phase out of what turboprops are left at American and United, and upgrade to increasingly cost-inefficient but larger 50-seat jets, more planning pressure will be but on network carriers to again review which small-airport routes  make the most sense in light of the major routes to which they feed being at or near functional capacity.
Now add in the new dynamic of AA, DL and UA creating new "basic fare" buckets, which are applied mainly to retain and attract more nonstop O&D traffic in key major (read:  nonstop hub) markets. This will further put a strain on the availability of capacity for smaller communities that depend on connect access at the hubsite.
The result is that, in many small-community feed markets, a load factor of 65% to the airline's hubsite is functionally a "full" flight. There simply are no more seats available through the connecting hub.
This will continue to be an issue for smaller communities dependent on air access through a fully-booked hubsite operation. In many cases, these airports will be more than able to support the additional capacity to the connecting hub. Some, however, may be facing a potential pull-down in service.
_________________
2018 Trend: Small Community Air Access: Fantasy Is No Longer An Option
Many small communities need to come to grips with the three major and largely irreversible trends that are shaping air access from the globe.
Hub-Choke. This we cover above, but what should not be ignored is that there is often no alternative airline to enter the market from their connecting hub. When the distance to the UA/IAH hubsite represents more cost and more airplane time than the revenues that the market can generate, no amount of "market studies" will create more airlines or change economic realities.
Eclipsing Costs. The emerging "floor" for feed fleets to network systems is the 50-seat jet. It is being retired – slowly, now that fuel costs are where they are – but they do represent a higher revenue bar for communities to meet.
Consumer Preferences & Alternatives. Increasingly, within the emerging economics of airline operations, the type of scheduled air service that some smaller communities can support at the local airport is DOA. That's because in many cases such service is consumer-inferior, less time-efficient, and actually less convenient than an hour's drive (or even in some cases, even a 90-minute) drive to an alternative airport where the population (or an airline's connecting hub) can support much wider flight access. This is another dynamic that no amount to civic hubris or more expensive and misleading "studies" will change. Regionalization of air access is an emerging reality in some parts of the US. It should be recognized and embraced, because the air transportation system isn't returning to the 1980s.
That's because in many cases such service  is consumer-inferior, less time-efficient, and actually less convenient than an hour's drive (or even in some cases, even a 90-minute) drive to an alternative airport where the population (or an airline's connecting hub) can support much wider flight access.
Regionalization of air access is an emerging reality in some parts of the US. It should be recognized and embraced, because the air transportation system isn't returning to the 1980s.
_______________
2018 Trend: More EU Nonstops From The Heartland
As was first outlined at the 2013 International Aviation Forecast Summit, key non-hubsite major US airports are prime candidates for EU carriers to add to their global systems.
For network carrier system such as British, Air France and Lufthansa, the traffic feed to their hubs in Europe from large US cities such as New Orleans, Indianapolis, Nashville, etc., can be very attractive.
The key factors for this service are generally, 1) a strong local population base, 2) very strong installed base of internationally-focused industry, and 3) – most important – strong highway network access from a wide population region.
This latter factor is important, as a nonstop London flight from, for example, New Orleans, is more convenient for folks to drive to from Gulfport, compared to the complexity of making a flight connection over IAH or ATL.
In addition, the massive expansion of impulse service to the Continent by WOW and Norwegian will open even more access. In these cases, however, the US point will be more of a destination, as opposed to a generator of feed traffic.
_____________
Potential Trend: China Moving To Acquire Foreign Aircraft Manufacturers
Boyd Group International research in the China aviation market indicates that we may see very significant and elsewhere-unforecasted moves by China to expand its global presence.
In particular, there is a very real potential for Chinese entities to make a move to acquire either Bombardier or, more likely, Embraer. We believe the recent Boeing outreach to Embraer is at least partially a pre-emptive move.
Point: China is intent on becoming a major player in the airliner sector. Its current indigenous platforms are not going to be able to accomplish this. Therefore, an acquisition of Embraer or Bombardier (or, possibly another player we won't mention right now) is not out of the question.
The potential shifts in relationships among suppliers, and the impact on the commercial direction of the US airframe and powerplant sectors would be very far-reaching in broadening the presence of Chinese business in America.
From that perspective, BGI predicts that more US airports and venues will be moving to become more welcoming to the Chinese leisure and business visitor.  To be sure, just about every US gateway airport claims it is ready for these travelers… but in most cases, Mars has better wayfinding and welcome than US facilities.
It goes beyond having a Mandarin speaker on-site, and it goes beyond veneer things like ice water in restaurants. We point out that the poor misled airports that have been sold an "international translation" website feature that includes Chinese are simply making themselves look really amateur and silly to the Chinese consumer. The translations are abominable.
___________________
Fuel & Labor Issues
It is understandable for financial analysts to be concerned regarding the potential effects of changes in these two key cost factors on airline bottom lines,
From a rational perspective, these are important to watch, and it is near-certain that in the next 18 months, labor costs will impact the bottom line at a number of carriers. However, given the expected robust demand, there are no thunderstorms on the horizon for 2018.
_____________________
These just scratch the surface of what to expect in 2018…There's a lot more to explore.
To view and download the complete 2018 Aviation Trend Outlook, just click here, and we'll get it to you ASAP.