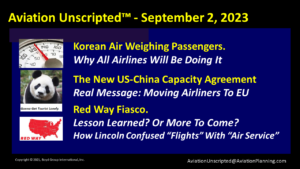 Latest Aviation Unscripted Video.
Three Emerging Trends
Affecting Air Travel In The Next 18 Months

In the latest Aviation Unscripted video, we're looking at the concept of weighing airline passengers. Then we review how the shifts in trans-Pac demand are affecting domestic networks. And we look at the recent Red Way experiment at Lincoln.
So, click below and log on. Invest the time to get air service development off of the Fantasy Island of obsolete thinking. No holds barred, straight, factual talk that other consultants ignore.
Log on. Join us - and don't hesitate to let us know your thoughts!
Aviation Unscripted is now channeled on both YouTube and Rumble. And if you're interested in exploring the future, clearly and accurately, contact us and let's talk.
As always, if you have any input or thoughts on future Unscripted videos, let us know.
The BGI Team -
Drawing on Futurist Expertise Across Disciplines

At Boyd Group International, we've assembled a formidable array of aviation expertise to deliver solutions and opportunities for our clients.
Aviation challenges represent a wide range of interactive disciplines - forecasting, media outreach, research, regulatory issues, airline operating procedures, and more. BGI has the associate resources to apply to the specifics of each client assignment.
Let us introduce ourselves - click here