Coronavirus Fallout To Reshape Global Airline Industry
Treading water, or maybe more accurately, treading air.
That's pretty much what some international airlines are doing right now.  Passenger and cargo demand curves are heading south. A recovery in revenues is uncertain.
We hear about carriers cancelling or materially reducing flights to Korea, Japan and places in Italy. The main reason, naturally, is health concerns. Another reason is that demand for such flights is likely approaching zero. The open issues are:
1. How long this epidemic situation will last
2. The extent and time frame for a rebound
3. Which airlines across the globe won't have the financial wherewithal to survive
Potential: A Lot of Excess Fleet Capacity. It is a hit for U.S. airlines, without question. Parking the heavy iron that operated routes to these places gets expensive. Plus, international air traffic demand is likely to be down for at least the next six months as the picture clarifies, so there are limited alternatives regarding reassignment of these resources.
Initially, it was logical to assume that some of this lift parked at U.S. carriers could be shifted to new markets in the E.U. That's less likely now due to the outbreak of the virus in Northern Italy.
Nevertheless, the three major U.S. international carriers – American, Delta and United – all have the majority of revenues coming from domestic and North American operations.
That's not the case with most foreign carriers. Their revenues come from international traffic, which is in the cross-hairs of this crisis.
One airline – Air Asia – is offering unlimited travel, albeit space available, through March 2, 2021 for the sum of $118, plus taxes and ancillaries. Probably there will be a lot of takers, gambling on the decline of the epidemic in the near term. But the fact is that this carrier isn't likely basking in the financial glow of an 80%+ load factor, anymore. They probably need the revenue.
At some point, some of these airlines – particularly in Asia – may have no choice but to park airliners. At some point, which may have already been reached, they may have to ask for concessions from lessors, which will have little leeway not to comply. At some point, we may see consolidations or just shutdowns.
One thing the airline business does not have is the ability to tread financial air. In the USA, the airline industry is still isolated from the majority of this threat.
Point: Within the next three weeks, we may see a lot of rapid changes in the international airline system. Major changes.
______________
New Report: China Air System Unprepared For The Future
This week, we are partially unveiling the restructuring of a new and unvarnished website covering China and its airline system.
BoydGroupChina.com will be addressing the dynamics of what until the last two months was indicated to be the #1 air passenger market in the world by the end of next year. The airline system there was expected to represent over one third of all global airliner demand in the next ten years.
China's airports had been handling an average annual growth of 10% for more than a decade. While in 2019, some severe cracks in China's economy were in the process of slowing that rate to under 8%, the industry as a whole was still robust.
Not anymore.
The fundamentals of the domestic and international markets for Chinese carriers have changed. The airline system hasn't.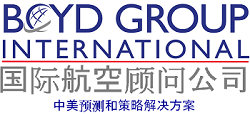 This week, we cover how the current structure of the Chinese air transportation system simply is out of sync with the China that is now undergoing not only the coronavirus epidemic, but also a troubled economy and a new enforced political philosophy from the CCP in Beijing that's starting to resemble the personality-based days of Mao.
A brief Market Intelligence report can be reviewed by clicking here. This is information and insight not available anywhere else. If you're interested in exploring how this will affect the air transportation system globally, it's a must read.
Also coming shortly on BoydGroupChina will be historical month-by-month traffic data for the Middle Kingdom, plus updates on our Airports:China forecasts, covering the 200 largest (and that's almost all) commercially-served airports in the country.
As we complete the development of BoydGroupChina.com, it will be available on a complimentary basis. Our goal is to make this site the #1 access point for perspectives on aviation in China.
With what's going on right now, it will be a "must" resource.
___________
ALL OF US AT BOYD GROUP INTERNATIONAL WISH YOU A PROSPEROUS WEEK!