To Start This Week…
It's On!
The 24th International Aviation Forecast Summit
The Wynn/Encore Resort, Las Vegas – August 25-27
We're excited to announce the venue and dates for the 24th IAFS™ – the #1 annual industry event.
We're now completing the exciting agenda, which will include presentations and discussions with the senior decision-makers in aviation – from airlines, airports, manufacturers and financial institutions.
The comprehensive nature of the IAFS™ delivers a constellation of new perspectives that will be important to all areas of the industry.
There are no silos in aviation, which is the reason the IAFS™ is the competitive edge for all sectors.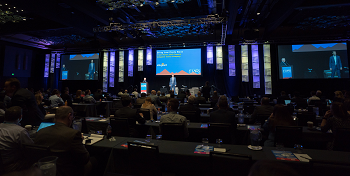 For example, a decision by an aircraft manufacturer in regard to a new aircraft will affect all sectors – from finance to airport facility planning. An airline deciding to shift fleets can affect things from capacity planning to ground equipment requirements.
The leaders in aviation who will be shaping the future will be at the International Aviation Forecast Summit.
Forecasts To Be Released. In addition, Boyd Group International will be releasing three important planning forecasts:
The 2019 -2029 Airports:USA® Enplanement Forecasts – the only traffic projections produced in the private sector. Hard data based on incisive analyses. We cover the trends as well as the traffic.
Global Fleet Trend & Demand Forecast – The airline industry is shifting fleets – what will be at the gate in 2025 or 2030? In addition to forecasts presented by the global aircraft manufacturers, the independent review of future fleet trends that will have bearing on planning throughout the industry.
Airports:China™ Forecast. Regardless of any trade or diplomatic issue, China-US traffic and investment will continue to be a factor that all communities, airports, and economic development entities need to prepare for. The IAFS™ delivers insight that no other event can match.
New Year Early Registration Rates In Effect. Reserve by February 15 for a very special early registration rate… including for your staff.
Regular attendees of the IAFS™ know that it delivers more actionable planning data and insight than any other event – anywhere in the world. So click here to register at the special New Year rate.
We've also arranged very special rates at the Encore – and these will be available for booking shortly.
This is the event where aviation leaders gather. Join us!
______________
The Latest Trend: Airport Rankings & Other Voodoo Studies
There's no telling the fun and games that can result when folks who couldn't tell the difference between a flight schedule and a racing sheet get their paws on Department of Transportation data, and then come out like they're speaking from the Throne of Peter.
One latest trend is the airport ranking gig. Lots of them out there.
No matter what airport, almost, there's a "study" or "analysis" that will rank it high or low… just take your pick of which "study" to use.
Of course, that's with the exception of LaGuardia – which was condemned starting a few years ago when some nitwit politician referred to it as "Third World."
Subject Knowledge Not Required. Recently there was a great headline in a Florida paper… "Which Airports Are Most Likely To Delay Your Flight."
Yes, it's those clumsy airport directors that are keeping flights from getting off the gate. Seems somebody looked at things like taxi times and – yes – the Sacred Scripture – DOT/BTS "on-time" reports – and purports to tell us that airlines set schedules without any earthly knowledge of the operational issues at each airport, and are then victims of inefficiently-managed and poorly-planned airports.
But, just like shallow-end airline "quality" studies that come out from time to time, most of the media makes zero attempt to see if these types of reports have any credibility. They just report it all – including idiotic headlines like the one above.
Heck, there's one report that year after year sanctimoniously even got the names of airlines flat wrong (like, "Delta Airlines" – not a minor issue when somebody is trying to pass themselves off as condescending experts on the industry.)
It's From Washington… Proceed With Caution. It's important that there be some approach to qualitative metrics in regard to air transportation. Unfortunately, DOT/BTS data is geared to an airline industry structure that no longer exists, and which needs to be carefully reviewed with a clear understanding of where the data fall flat.
In the hands of folks who know diddly about the airline industry and even less about the pitfalls of government data, the results can be outright silly. In some cases, the stuff on the BTS site is of zero value whatsoever.
One example is international O&D data. With the growth of alliances and increased foreign air carrier service, they are useless. Worse than useless, particularly when the user is clueless about the industry, and assumes that because it's "govm't" – it must be accurate.
Here's an example we've used the past to illuminate the situation. The BTS data tell us that there are just 530 O&D between Fuzhou, China and JFK.
Last year, one airline alone carried over 73,000 on the route. But because it wasn't a US carrier, the O&D wasn't reported.
US domestic O&D reports are a lot more accurate, but again, from a sample. Back in ancient times, say, the 1970s, computer power wasn't there to handle a 100% reporting system.
Today, that power is there. Boyd Group International's Aviation DataMiner™ system – unlike some other sources – can easily handle a full 100% audit of air passenger traffic. Yet DOT is reticent to pursue that path.
Another common misconception is that O&D data is the same as "demand" between two points. Wrong – at best it's an indication of traffic volume based on current air channels. Air passenger "demand" is fluid and based on a range of shifting consumer factors.
In any event, just keep in mind that some of these airport and air traffic "studies" should be taken with a grain of salt – maybe the whole salt mine.
If you're looking for a professional source of data – one that fully illuminates the pitfalls of raw DOT numbers, and one that is geared for use by industry professionals – consider Aviation DataMiner™ from Boyd Group International. We're different – and our data approach is, too.
____________________–