International Access… It's Just Starting
New-Generation Single-Aisle Airliners Will Open Whole New Markets
With new fleets, new mission capabilities of next-generation airliners, and massive increases in international business flows, we've identified the top dozen US markets in line for new service across the pond.
These are airports our research indicates to be in line for EU/UK nonstops in the next 36 months. Each one has a different set of projected criteria. The demand drivers for Albany are different from those at Louisville, as are material differences between Memphis and Columbus.
But they all have key dynamics that point to high value for feed over EU airline hubs – particularly BA at LHR.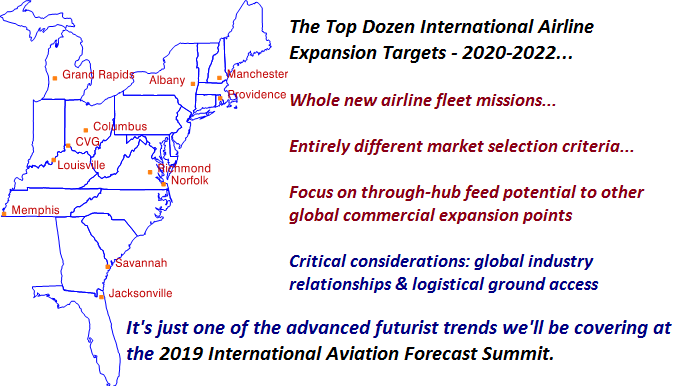 The chart does not include airports already in the true international play – such as Indianapolis, Nashville and Pittsburgh.
The key to identifying new trends is in first questioning the foundations of traditional thinking, and then exploring the shifts that are taking place in technology, aviation economics, global business flows, and emerging logistical shifts.
At the 2016 International Aviation Forecast Summit we had a session that outlined the future dynamics of international air service, and pointed out that it will be internal, non-hubsite US airports that will be in the crosshairs of market planning for carriers in the EU and UK. We noted how points such as Indianapolis, Nashville, Austin and New Orleans were targets due to the feed they can generate over an EU carrier's hub – particularly British Airways at Heathrow.
At the 2018 IAFS™, we outlined how new generation airliners will open international service to commercial points (not just large population centers) on the East Coast. Two months later, one of those potential examples – Charleston – announced BA flights to London.
Traditional Demand Drivers Are Out. The key point is to understand that the new criteria for this expansion no longer gravitates around local population, but instead a range of economic dynamics. This includes the composition of the regional industrial base, the accessibility to a wide feed area (ground hubbing) and the nature of international investment accessible.
The IAFS™ – Challenging The Future… Instead of Discussing The Past. This is just an example of the range of futurist thinking presented at the International Aviation Forecast Summit. We go beyond pre-defined "subject panels" and get right into issues that define the evolution of aviation in the years ahead.
Plus, our distinguished presenters – CEOs and senior executives – join us to discuss their independent view of the future of aviation.
Join Us, August 25-27 In Las Vegas. This year, we're at the fabulous Wynn Encore resort, with special rates for Summit attendees. And Early Registration rates are also in effect.
So, click here for more information and to register.
Expanded international access is just one of the many emerging trends that the IAFS™ will be discussing. We look forward to seeing you and having your input at this #1 industry event.
_____________
Update: 2019 Small Community Air Service Grant Program
The Government Accountability Office (GAO) last week issued a report on the status and progress of the SCASD program.
This may be the reason that there was no 2018 docket, and no indication of a timeline for the 2019 SCASD docket, either.
In the report, the GAO concluded that the DOT's stated criteria for grant issuance, and that actually used in the decision process, were fundamentally inconsistent. In an analysis of grants between 2010 and 2014, the findings were that the DOT needs to be far more clear on how they are making determinations.
The DOT apparently promised to provide revised and clearer guidelines, but as yet has not provided them. It's likely that these will be inherent in the 2019 docket, when it is issued – or whenever it is issued.
Get Ready… Be that as it may, we might expect the DOT to issue the 2019 docket at anytime, along with more clear discussions of how they make grant award determinations.
If your community is contemplating making an application, give us a call and we can explore the possibilities. The airline industry has completely changed since the SCASD program was started in 2002, and the potential applications for a successful grant have shifted, too.
Our Track Record – Unrivaled. Airports across the USA today are enjoying air service facilitated by our SCASD grant strategies. Here again, no other consulting firm can even come close to our track record.
No room to list them all from 2002 to today, but here are just a few examples among the airports we've assisted in winning more than $25 million since the program began…
Sarasota-Bradenton, FL successfully recruited low-fare service from AirTran, facilitated by a $1.5 million grant – the largest successful grant in the program's history. The result was a nearly 20% increase in enplanements.
Charleston, WV today has nonstop service to Houston, meeting the needs of the petro-chemical industry in West Virginia, as well as opening an additional western gateway for the region.
Santa Fe, now has very successful service to the AA hub at PHX, thanks to an effective grant application from BGI.
Bozeman has new access to American's global hub at DFW, incubated by a BGI-crafted SCASD application. .
Spokane gained nonstops on Delta to LAX, opening Southern California to Eastern Washington.
Richmond was awarded a grant that allowed the airport to recruit United service to Denver.
Traverse City today has new service to DFW, which is a major boost to the region's summer tourist industry.
Springfield-Branson Regional topped the 1 million passenger mark in 2017, partially due to new service to Charlotte, supported by a successful Boyd Group International SCASD application.
Bangor has successful United service to ORD, which was facilitated by a BGI SCASD grant application. The additional fallout is that United has found the BGR market to be so successful that they've added two daily flights to New York/Newark.
We look forward to adding your airport and community to this growing list in 2019!