Before We Start This Week… 
We're all excited to celebrate the 35th anniversary of Boyd Group International!
This marks three and one half decades since we founded what is today Boyd Group International.
First located in a modest office in a small town in the mountains west of Denver, our goal was to provide a higher level of aviation consulting – one based foremost on futurist industry expertise, independent forecasting, and clear thought-leadership – one that would constantly challenge ambient aviation thinking.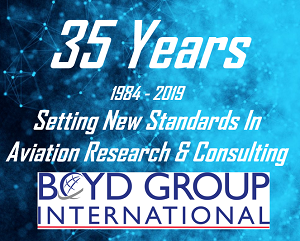 Back in 1984, that was completely opposite of "traditional" aviation consulting, which was typically aimed at first getting the project, and then billing hours learning about the subject matter, and eventually giving the client a report – and an invoice.
We were different, by design. We believed that consultants should be independent subject-matter experts in the future of aviation right out of the box, not just high-level temps.
Not surprisingly, back then a lot of those incumbent consultants considered us to be just iconoclast trouble-makers.
They were right.
Maybe that's the reason most of them aren't in business, anymore.
Questioning Norms. Barbecuing Sacred Cows. Today, we assist clients around the globe, from our own headquarters building in Evergreen, Colorado, not too far from our first small office.
From the first independent study of code-sharing, completed in 1986, to the first independent review of the concept of the "regional" jet, to testifying to Congress on matters such as ATC and airline competition, to today, with extensive in-house expertise on global subjects such as new-technology airliners, airline alliances and emerging economic trends, we set our company apart from other consultants, drawing clients from all areas of the industry. We are forecast leaders.
Airports:USA is the only enplanement forecasts accomplished entirely in the private sector. Our Global Fleet Trend & Demand Forecasts have been relied upon by both aircraft manufacturers and suppliers.
Today, our Airports:China program is the only outside forecast of the 200 largest airports in the world's second-largest economy, as well as insights regarding future trends in China-US air service.
Plus, the International Aviation Forecast Summit is now the leading event of its kind, globally. Actually, it's the only event of its kind. In 2020, the IAFS celebrates its 25th year… so plan on some really exciting additions.
We've come a long way in the last 35 years. And we're not done, by a long shot.
We want to thank all of our current and past clients for validating our approach to futurist aviation consulting, We don't stand still – if it involves aviation trends, Boyd Group International will be front and center in the forum of data, perspectives and discussion.
After 35 years, we're still into the future. And so are our clients.
______________________
Cuba Air Service Restrictions –
A Sigh of Relief from U.S. Carriers?
The US has now restricted scheduled flights to Cuba to just Havana.
For the airlines involved, it's not necessarily bad news…
Let's look at this candidly…
…Airlines having route authorities to a set of destinations that represent probably the most lucrative future expansion points on the planet – literally hundreds of millions of dollars – is a real asset.
That's Cuba.
…Airlines having to operate route authorities that now and for the foreseeable future are essentially economic dogs, is not necessarily an asset.
That's Cuba.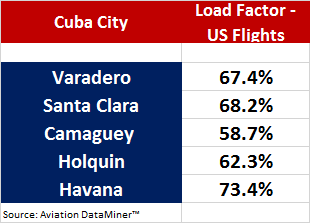 It's been five years since the initial euphoria about flights to Cuba. A quick look at load factors for the first part of this year on US flights from Cuban airports – those that are still served – tells the story.
What these data do not reflect are the ground handling and other "expenses" of flying to these airports, which are likely onerous.
Keeping the Route Authorities Pending a Change in Havana. The question is how long could U.S. carriers tread financial waters operating sub-performing flights, waiting for any material change that will allow Cuba to evolve from a socialist worker's paradise into one that can attain the economic miracle that would be possible with a free and open political system.
The fly in the medianoche is that this opportunity will be cashed in only upon a change in government in Havana. Five years ago, that was the unstated bet – airlines could get the authorities now, and once the doddering Castro regime fell, economic reform would be full speed ahead.
Go Back to The Polly-Anna Assumptions. Back in 2014, when restrictions were initially loosened on air travel to Cuba, the ambient thinking – much of it baseless babble – was that Cuba would soon open up to huge new US business investment, regardless of the fact that the island was on a subsistence economy and no consumer or business base existed.
Plus, upon hearing the great news of new flights to Cuba, the travel industry gushed on about how some mythical "pent-up demand" for Cuba travel would soon hit the shores of the island, a veritable Normandy invasion armed with American Express cards.
Okay, it's been five years, and just as our 2014 study on Cuba-US air traffic forecasted, Cuba – in virtually all aspects – has come up a cropper.
Cuba air service is a dog.  As a market, it's a one-way bow-wow… and it's not the US embargo. They can buy oil and wheat and soap and consumer goods from anyplace else in the world. Their political system has trashed the place, and until that changes, the dreams of air service success will remain at that level. Dreams. Under current conditions, it can't work.
But now airlines can delete flying to these markets, without (presumably) losing these authorities for the future.
US carriers may well be giving a sigh of relief…
Another flight to Manchester-Boston, or opening Golden Triangle, or or another DFW frequency to Traverse City, would be a leadpipe cinch to be more lucrative than the airplane time flying to any of these places in Cuba.
Not as politically-cosmic, but probably a lot more contributive to the bottom line.
__________________
FROM ALL OF US AT BOYD GROUP INTERNATIONAL, HAVE A GREAT WEEK!