China's Air Traffic Hits A Brick Wall…
Is The USA In Similar Danger?
Let's cut to the bottom line.
At BGI we monitor major trends in global aviation. One of these has been the economic hoedown in China, none of which is particularly comforting.
It is not comforting, either, that so much of the American economy is affected by events in a country run by the likes of the CCP, an organization that's effectively the demon spawn of what was dreamed up in Nazi Germany. But it is what it is.
In the last week, some interesting data was published on the native language website of the Civil Aviation Administration of China, called the CAAC. It's not on the English version, which is the reason many other consultants and analysts are still clueless. We found some interesting data that only a couple of other sources have even noticed.
China commercial air transportation is now officially in a freefall. It's headed down like a lawn dart at a suburban barbecue party. Take a look… domestic traffic in millions: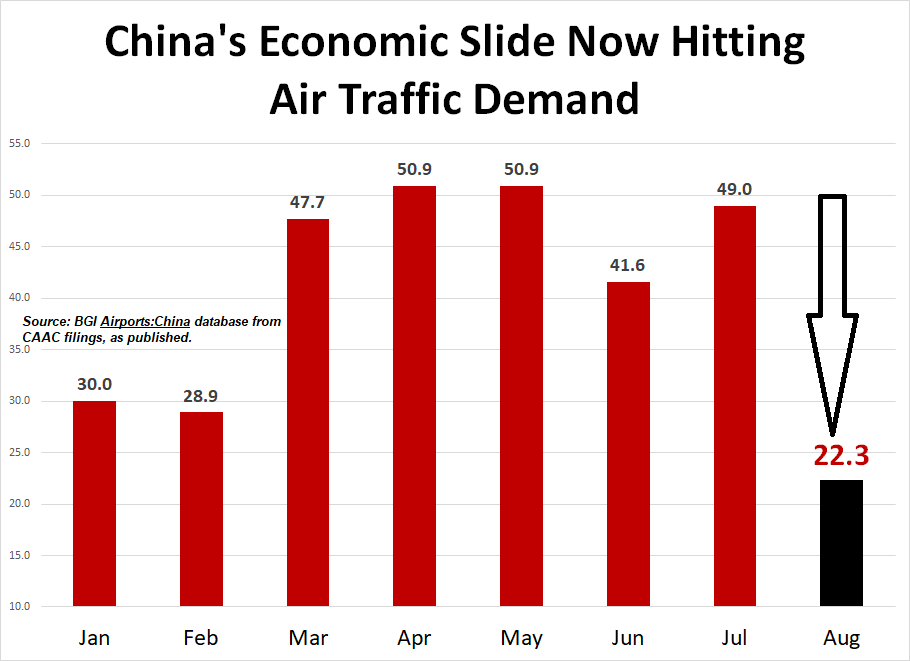 Between July and August, domestic passenger volume fell by over 54%.
In one month.
Air travel spend is just one bellwether within any nation's economic health. And, yes, China is pretty much unique. Between collapsing real estate scams that make selling Florida swampland in the 1920s look like charity programs, to power blackouts across the mis-governed nation, to a resurgence in the Wuhan/CCP Covid epidemic, to the closed factories and constricted ports, the economy of China is officially heading for the full upright and locked position.
But make no mistake, this will affect the global economy as well, including the U.S. and the dynamics that underpin commercial air traffic in the USA.
Boeing: 170+ Orders With No Place To Go. As we've pointed out, this only puts a bigger spotlight on Boeing's China backlog, on which a lot of U.S. jobs depend. Essentially, it's sort of like a grocery list for a supermarket that's just been bulldozed. Boeing was already geopolitically cut off from the Chinese market months ago. Now, with the latest self-inflicted financial quicksand coming from Beijing, the last thing China needs is more airliners, whether from Boeing, Airbus or the domestic lead-sled C919s being huckstered by Comac.
Less Goods To Sell Over The Holidays… But let's take this home to the local U.S. airport. This financial Gong Show in China will affect the American economy. There will be less on the shelves for sale this holiday season, which means financial hit to the retail industry. That will percolate down to falling retail sales, lower earnings for the retail sector, less local taxes, and a shower of other issues.
That Dollar Is Buying Less And Less – Including Air Travel. Then we have inflation. We pointed this out in last week's Touch & Go newsletter… a year ago, inflation was less than 1.3 percent. Today, it's heading for 6% and up. Heck, it's so obvious that the clown running Twitter took time out from censoring free speech to announce that we're heading for hyper-inflation.
We Really Want To Have Better News, But… adding all of these indicators together, it's pretty clear that the demand for air transportation cannot but be affected. That means factoring these issues into the Airports:USA® forecast. The troubling aspect is that it would appear that some of the capacity to leisure destinations added in the past year may be in the crosshairs. Any reduction in discretionary dollars due to higher prices of other goods and services will hit air travel first.
Do not underestimate this. Not being able to see grandma in person can be addressed by a virtual meeting, as is the case with a lot of business travel. But experiencing the Vegas strip or the Keys can't be done virtually… when it's a matter of either that or filling the tank or putting dinner on the table, the choice is pretty clear.
Clear Time This Thursday, October 28. On the next Aviation Unscripted video, we'll be revealing the revised Airports:USA® forecasts, which will address how these clouds might rain on the air transportation parade. We'll be projecting trends and data that will assist in anticipating what may come down in the months ahead.
In the meantime, check out the current Aviation Unscripted video… it is a good lead-in as it discusses how a BGI Runway To The Future program can put an airport in the offensive position as these expected changes start to appear in the months ahead. Click here to take a look.