The End of The "Regional Airline" Sector
Is Now In Sight
Summary: The costs at small lift providers (a.k.a. misnamed "regional airlines") are going up beyond levels that the fleets they are allowed to operate can economically support. That means these operators need to find revenue streams other than leasing jets to large carriers, or they simply will cease to exist.
A reported 38% increase in compensation.
That's over the life of a new pilot contract negotiated by ALPA at Air Wisconsin. In general, it tracks with recent contract trends at major carriers Delta, American, and United.
While the Air Wis contract is positive and solid news for employees, it is also another factor that most people in the industry refuse to recognize: the value and role of small lift contract carriers, still mischaracterized as "regional airlines," now have a very short half-life.
The raw economics of the model no longer work. Between changes in operating costs and the retirement of the airliners they fly, the facts can no longer be ignored. Operators whose business is restricted to small jets have a limited future. In its current form, maybe five years. Maybe less. In any event, the role of these operators will be far less than today.
Stuck In A 76-Seat Cage. The hard fact is that entities such as this one, and SkyWest and particularly those owned by major carriers, such as Piedmont and Envoy, are locked into a market limited mostly to flying airliners of 76 seats or less, give or take, and doing so strictly as part of major carriers. They have no route system of their own. They are leasing companies, and the airliners they now lease will continue to have less and less economic contribution to major airlines.
The nonsense implied by the Regional Airline Association notwithstanding, these operators have almost zero stand-alone business. Again, to be clear: they are essentially leasing airliners and crews to larger airlines. As pointed out in the past, this is fundamentally no different than what AirLease or Jackson Square, or BOC or ILFC does with larger airliners.
However, what is missed by the RAA and most of the media is that the entire economic role for small jet airliners is disappearing. Actually, those fleets physically are disappearing – both in numbers and in operating economics. The aircraft that these small lift providers are leasing are becoming of less value to major airlines.
Applying Labor Costs To Gain Maximum Return. Small Jets No Longer Qualify. Point: The labor costs of levitating an airliner – pilots, flight attendants, maintenance, fuel, ground handling, airport costs, etc. are going up. That means the aircraft involved need to have sufficient revenue-generating capacity to cover these increasing expenses. If there is a limited number of pilots, that means the highest and best use is in operating an airliner with more seats, not less.
It is no secret that 50-seaters are going out for specifically this reason. Next are 65-76 seaters, which in reality are getting older, and the only one still in production – the E175 – has only a trickle of deliveries.
It does not take a degree in astro-economics the tumble to this one.
That Small Airport "True Market Study" Is Now Fiction. Draw your own conclusions. Because of the naked economics of air transportation, network air service will be dependent on larger capacity airliners. That not only paints a picture for the companies who are in the "regional airline" business, but for a whole lot of airports across the nation.
If the local demand can't support frequency with 100+ seat jets that is competitive with other consumer air access options, even with a drive, that means a number of small communities need to review other economic development options for the local airport. Scheduled passenger service is problematic.
We'll deal with this aspect in the coming weeks. A lot of the consultant ASD jive being fed to small airports is skirting closer and closer to edge of professional ethics. Or beyond, by implying there is potential for new service operated with airplanes that will no longer exist.
In the meantime, small lift providers need to scramble to find future revenue streams. Mainline airline labor unions are not likely to relax any current scope clauses, and that locks these operators into flying planes that have declining contributive value to the majors now leasing them.
One example of moving on is Mesa, which is expanding into cargo 737 operations.
Lots of fallout from this one. Stand by.
_________
Client Pow Wow
The fourth quarter Boyd Group International Client Pow Wow will be on October 18 at 11:30 ET.
We'll be covering some key trends that need to be watched. A number of them are positive, such as the continuing strong demand for EU and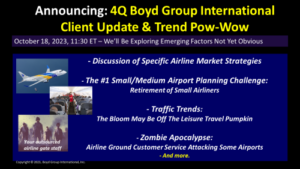 Caribbean capacity, give or take a war or two.
Airline strategy shifts will be reviewed, too, including some interesting fleet changes.
Another point will be how airports need to assure that airline ground service is delivered professionally. Today, the interface during the airport processing is largely automatic, with no need for one-on-one interaction. That is unless there is a major operational issue. The point is that an abused passenger is also the airport's passenger.
Clients who have not yet registered can do so by hitting the contact button above and we'll get the Zoom invite out.
_______