Inconsequential News of The Week
GallopAir:  Launch Delayed A Year.
To the disappointment of web geeks across the world who are following the exciting Brunei airline industry, the planned arrival of the new national airline, GallopAir (can't make this up) won't be seeing the skies until 2025, due to regulatory issues.
Must be a huge disappointment to the folks at COMAC in China. See, GallopAir was heralded as the grand international breakthrough for China's bow-wow fleet of C919s and ARJ-21s, of which were to be flagships in the Brunei fleet. It was to be clear proof that these airliners, delivering yesterday's technology right out of the factory, were world beaters.
But there need not be any angst in this regard, as it's been discovered that GallopAir is really not much more than a Chinese airline itself, but based in Brunei. This entire charade is actually owned by some CCP-controlled front corporation in China.
-__________
Sgt. Bilko International To Start Flying This Week.
The groundbreaking (bad choice of words) new airline operated by the Mexican Army is scheduled to begin service this week.
After weeks of press conferences led by guys in battle fatigues (not kidding) the new Mexicana was announced as a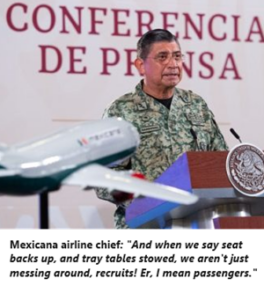 737-800s operator, flying to 20 or so destinations. They made public a letter of support from Boeing that was so milquetoast as to make it crystal clear that at least the aircraft manufacturer knew where Mexico was, but not much more.
Now, supposedly, it won't be 20 initial destinations as proudly projected. More like 12. Or is it 13? Not real clear on that, yet. They have a couple days to decide.
Oh, yeah, that letter of support from Boeing didn't mean a whole lot. After months of doing press releases and the president hyping the need for the airline, they just now found out that ten 180-seat 737-800s they were planning to fly aren't available.
But damn the 737s! It's full speed ahead. The military brass is going all out to wet-lease a few 50-seat ERJ-145s to fill in.
Obviously, a new dawn in airline expertise.
_________