To Start:
Frontier CEO To Participate At International Aviation Forecast Summit
We are honored to announce that Mr. Barry Biffle will be joining the distinguished line-up of aviation CEOs and senior executives at the 2019 International Aviation Forecast Summit in Las Vegas, August 25-27, 2019.
As our regular attendees will attest, the IAFS is the #1 event in delivering insights and perspectives regarding where aviation is headed. That's because the individuals shaping the future gather annually at the IAFS.
If you haven't registered, click here, and also reserve your space at the our venue, the Wynn/Encore resort. We look forward to seeing you, and exploring the future together!
____________________
Monday Insight:
Futurist Trends That Aviation Planners Need To Consider – Now
One of the most egregious planning mistakes being made today is assuming that the future is a trendline of the past. Here are three main emerging trends that are largely missed today.
Trend #1: Air Transportation Within Whole New Communication Channels
The illustration below is one we use to show clients that air transportation has an entirely different – and evolving role – in how people communicate.
The entire communication system has evolved… channels we once depended on are now supplanted by alternative technologies…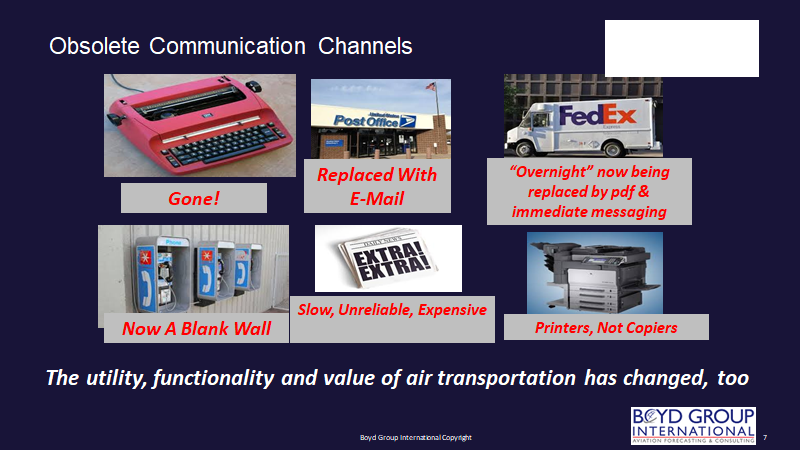 So, the point here is – why are most "air service development" approaches still focused on an airline industry structure that was in place when pay-phone banks were the main communication channel when one was traveling, or when commuter airlines were vibrantly carrying people on business trips between BDL and LGA?
Think about it…  And then give some futurist consideration to other emerging technologies that will further change the role and value of air travel.
Trend #2: New Fleets – New Air Transportation System
Time to recognize the reality that not having scheduled passenger flights at every local small community airport is not a sentence to economic starvation.
Regardless of civic hubris and enough "true market studies" to fill the fiction section of Barnes & Noble, small communities across the nation that have seen local air service evaporate have not turned into ghost towns.
Consumers in places like Youngstown and Chico and Stockton and Topeka have found far superior alternatives than what the local community can attract to keep them from driving to larger airports.
They have air access – but it reflects the new economics of air transportation. These are hard economics that more jive "leakage/drive" analyses – the ones that usually show the community's catchment area to be only slightly smaller than the Louisiana Purchase – won't change.
Stand by… The New Air Transportation System. But, taking a cue from Trend #1, there are new fleets coming on line that are going to create a whole new, different and robust air transportation system.
No, scheduled flights aren't coming back to Nacogdoches. But the effects of the Bombardier CSeries – now Airbus A-220 – have started major airline systems – American, United, Delta, and yes, Southwest – to re-think the economics of service to  mid-size commercial centers. It's a mainline aircraft with new economics… and don't think for a second that Boeing isn't sharpening its pencils to get the 737-700 in a market position to compete.
Plus, new-technology aircraft such as the A-321XLR and A-321LR are going to drive the next wave of long-haul expansion – opening secondary markets in the East to not only trans-Atlantic nonstops, but also trans-con flying. ALB-LHR and ALB-SAN are now possible… and that's just the start.
Again, linear thinking is a great way to play ostrich.
Trend #3: New Metrics

The latest FAA Aerospace Forecast has just been issued. It's a wallow in trying to apply yesterday's metrics to today's air transportation system.
One fun example is that the FAA is still separately forecasting "major" carriers and "regional" carriers. This despite the fact that there is no "regional" airline system anymore. The FAA still thinks that these "regionals" have separate route systems and independent traffic sectors.
It's unforgivably sloppy work.
What were independent regional airline brands 35 years ago are either out of business or have evolved into companies that lease aircraft and crews to major airline customers. SkyWest, Envoy, ExpressJet, Compass, etc. are not "airlines" – yet the FAA misleads the public by not understanding the structure of the air transportation system.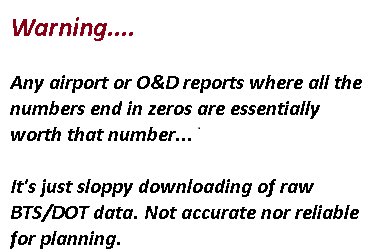 Then, there are BTS data. There are journalists and consultants that download this stuff and purport it to be the final word. There are annual reports from college professors that re-jigger these numbers into not-to-be-questioned tomes that define airline "quality."
It's the quality of their numbers and their understanding of the airline industry that's at issue.
BTS/DOT data are based on reporting that, like the FAA, assumes an airline industry that no longer exists. As a result, these sources can be considered only as the starting point for analysis of key metrics such as O&D, fares, yields, and passenger itineraries.
The reason is that the sampling and the methodologies used are out of date. For example, because the BTS system of determining itinerary breaks is often questionable, their data will show 300 to 500 annual passengers making connections at Bangor… when there is no such service.
Or, missing whole sectors of metrics due to the fact that AA, DL, UA, and AS are a combination of certificated carriers, each of which some of the BTS data still assumes to be independent brand operators.
If The Traffic All End in Zeros – That's The Value of The Report. This gets back to a lot of the data peddled by some sources. Here's a surefire indication to grab your wallet and head for the door when somebody tries to peddle "quarterly" traffic reports:  all the airport traffic data end in zeros…. that means that raw BTS sample data is being used.

The problem is that these numbers need to be reconciled against other sources – such as T-100 and even airport-reported statistics – to accommodate often major shortfalls in BTS reporting.
These are a few of the factors that make Airports:USA a superior data source… it's on line 24/7, updated consistently, and provides professional – not raw BTS – planning assistance.
Point: In planning for the future, it demands the understanding the that the air transportation system has evolved fundamentally, and its role as part of the communication system has also evolved.
It also means that the future air transportation system will also continue to evolve – and that means identifying emerging trends and planning accordingly. Regardless of what outdated channels of information may indicate.
This is the approach and foundation of the International Aviation Forecast Summit – it looks beyond ambient thinking and gets the perspectives of the leaders who will drive the future.
Click here for more information and to register. We have a lot more trends to cover.