Before We Get Started This Week…
International Aviation Forecast Summit Update:
Turkish Airlines VP To Present. We are honored to have Mustafa Doğan, Vice President (Americas) providing his airline's views of the global aviation scene. This is an airline that's aggressively expanding across the

globe from its hub at the new giant Istanbul Airport, and US airports are in the cross-hairs.
Note that what sets the IAFS apart is that the global leaders such as Mr. Doğan make the determination regarding the areas they feel are most important – it's free form exploration at the Summit, not canned subject "panels."
New China-US Forecast: Forget the trade war – it's just another indication of how important the two countries are to each other, and expanded air service is a part of it… China-US traffic is entering a whole new phase, and all US airports are in the play. Some of the forecast findings:
Growth: China air traffic growth is slowing, but not traffic to the US, which today is less than 15% of what can develop in the next 5 years…
American Airlines In The Beijing Pole Position: Why AA and its US destinations will be the major immediate beneficiaries of the new Beijing Daxing Airport…
The #1 Air Market Earlier Than Expected – plan on mid 2021 for China to surpass the US…
New Hubsites In China: Today, there are no true US-style connecting hub operations in China. But that'll change by 2023. Chinese carriers and their US alliance partner hubs will open easy access from all of the US to all of China… and more.
This will be presented in detail at the Airports:China session at the IAFS. Any airport that's looking at connectivity with China should not miss it.
Sunday Afternoon Workshops Now Announced
Get in a bit early… because at 1PM sharp, the exciting optional pre-Summit Workshop Program begins… Five sessions covering subjects other events don't even get near.
Boyd Group International:

Airports:2025 – Leveraging America's Globe-Leading Aviation System

Tencent & IM2China: 

Capturing Chinese Business With New Access Channels

Captain John Cox:

SMS: Optimizing Safety in Airport & Aviation Operations
UAS: Drones the Next Communication System

Cirium:

What a Difference a Data Makes: From QSI to Consumer Analytics & Back
To see the entire exciting IAFS agenda and to register, click here.
___________________
The MAX Grounding – Four Airlines Now Re-Thinking Fleet Deployment
Everything From 50-Seaters To 787s Are In the Play
Okay, now, it's a real problem.
One that's fixin' to affect air service access at a lot of US airports.
A Couple of Metrics: 1.57 million annual passengers. $210.6 million in annual fare revenue. Toss in ancillaries, and it could be as much as a quarter billion dollars.
That's what Southwest is giving up with its cessation of service at Newark Liberty International.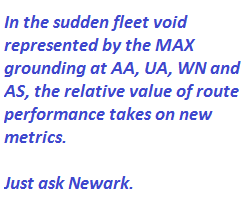 They need the airplanes elsewhere, and with the new fleet imperatives represented by the MAX grounding, the airline determined that EWR suddenly was simply non-performing.
Even with a million and half passengers.
The message for any US airport served by one or more of the four Max-operator airlines is clear. These carriers are sharpening their red pencils. They have no choice.
Background: the Boeing 737 MAX situation, originally assumed to be a relatively fixable software blip, has now escalated in one that will affect communities across the nation – whether they have 737 service or not.
Just as at Newark, the standard of highest and best use of aircraft has gone up, as affected carriers look to address the shortfall in planned capacity. Way up.
Here's some more dismal news. If the operational go-ahead for MAX operations is granted in January, that's not the end of this mess. It's a lot more than sticking keys in the ignition and flying these machines back to their owners. It's just the start of what could be another six months to get all of the grounded fleets back in the air.
Southwest is the most severely affected, in that, unlike American, United and Alaska, it has only 737s in its fleet.  AA is taking delivery of A-321s and some used A-319s. United has a fleet of used 737-700s already contracted, and also some used A-319s. Both are taking mainline-cabin Embraer-175s and leasing them to surrogate "regional" partners. Furthermore, both AA and UA have substantial route and revenue streams generated by international and widebody flying.
Regardless, with a grounding for the rest of the year, all four of these airlines will still increasingly be way short of the aircraft – and the revenue generation – that they had anticipated, and will be taking a hard look at redeploying their fleets to maximize revenue streams in the absence of MAX aircraft. We have already seen Southwest drop an airport that represented almost 40% of its presence in the New York metro – and also reduce some frequencies elsewhere in their system.
At all four carriers, there will be a ripple effect across entire route planning and aircraft resource applications, and at AA. UA and AS, the review will encompass 50-seaters through intercontinental wide-bodies. More threat of red pencil usage in the market planning department.
Crunch Time Only Just Starts With An FAA Approval. At the time of the grounding in March, it involved just 35 airplanes in the US. However, by the end of the year – which is now the estimate for any regulatory approval involving the MAX – the situation will represent close to 130 airplanes that would otherwise be in service at American, United, Southwest and Alaska.
Not only that, but by that time, Boeing will be facing approximately 600 737 MAXs that have been sitting like big potted plants on the ground, stored. About half of these were parked immediately upon leaving the factory, either at Boeing or flown to another storage field. The rest are scattered across the globe. Just getting them out of a storage mode represents time and effort.
All will then be subject to whatever the ultimate approved "fix" is determined to be. But some of the ones just out of the factory likely will also need some substantial finishing not yet done– such as interiors and airline-specific equipment.
This work, in addition to whatever FAA-directed modifications are ordered, will need to addressed, and digesting this grounded flock of 737s could take additional months of metering the airliners through the Boeing facility.
Another unknown is the potential changes that may be required for additional or supplemental pilot training. Simulator time may be in big demand – and up until now, much of this was accomplished in 737NG simulators. As for MAX-specific simulators – there are less than 20 in the world right now.
Revaluing Aircraft Mission Applications. What all this means is that the four carriers affected will be re-thinking their market and route planning. There could be more, albeit less obvious, "Newarks" from the red pencil department. Reductions in frequency. Changes in fleet gauge on certain routes. Elimination of what are suddenly non-performing markets in light of the MAX shortage.
It's a lead-pipe cinch that a lot of what these carriers were planning back in March is now in the round file. It's a near certainly that some of the expansion that may have been on the books earlier this year is now on hold, or eliminated completely.
Getting Perspective on The MAX Issue at Your Airport
It is logical for the community, local media and airport boards to have concerns regarding how this situation may affect local and regional air access.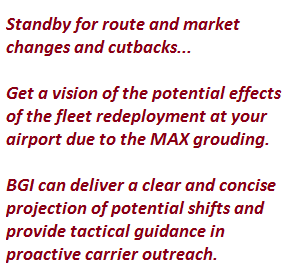 We are now reviewing the strategic and tactical fallout from the MAX situation at a number of our client airports.
Our understanding of airline trends and strategies is unrivaled and, while there's no crystal ball, there are logical metrics that can be analyzed to determine the vulnerability of a given airport to MAX-driven redeployment of airline fleets.
Tactically, Boyd Group International is now working with client airports to analyze carefully-crafted outreach programs to these carriers. Therefore, any airports served by these airlines need now to carefully review their market performance – and that means revenue performance, competitive aspects, hub flows, and other metrics specific to the carrier, and not necessarily just load factors. Then, formulate a clear outreach plan to assure that the carrier(s) understand the value of the market.
At any airport that has service from one or more of the MAX-affected carriers, it would be prudent to get some visioning now on what fleet redeployment may represent. The objective is to explore how to proactively liaise with the carrier(s) to shortstop any wayward red pencil activity in the route planning department.
Remember, Newark, with close to a quarter billion in revenues, sank below the line. So, there should be concern at smaller airports, too. If you're interested in a very concise analysis in this regard, give us a call, or click here.
In the meantime, a lot or red pencils are being sharpened as we speak.
__________________________