"Soft Boycott" –
Is Boeing's China Market Effectively Shut Off?
Last week China Eastern Airlines ordered ten more A320s from Airbus. Other China-related entities ordered an additional four. This has been the trend for the last 18 months. Airbus is now the preferred source of narrow-body airliners in China.
Boeing, very obviously, is out. Ordering new American flying machines is not welcome in China, anymore.
Regarding the latest China Eastern order, they also have 14 737Max-8s still on the ground, and they indicate 39 more Max airliners from pre-2018 orders, but no deliveries since the grounding.
When it comes to single-aisle airliners, the carriers in China (which are controlled by the Chinese government) have relied almost 100% on Airbus over the last year.
There is a message here that's more obvious than a double-cheese Whopper at a vegan dinner party. But how come U.S. analysts have missed it?
 It's 100% Political. The red flag here is that China is the only major government that has not re-certified the Max for operations, and as close as public information can reveal, there have been no new orders from Chinese airlines for additional 737s. Lion Air of Indonesia also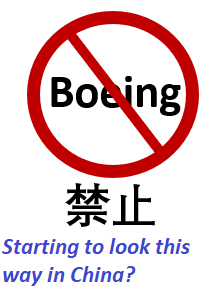 has kept their Max fleet grounded, but possibly for financial reasons. They had several airliners re-popped (repossessed) last week.
It is getting clear that Boeing may be experiencing a "soft boycott" from the thugs running China. Nothing in writing. No comments at blow-hard Party meetings, or pedantic speeches as the thug Chinese president reviews military hardware in Beijing, all intended to attack the USA. It's just silence.
Earth To Financial Industry. What's amazing is that none of the financial institutions that supposedly cover Boeing have tumbled to this situation. The #1 (or close to it) market has put the k-bosh on Boeing, and nobody on, in, or hovering around Wall Street has made a peep. Maybe it's to not upset the stock-price apple cart. Maybe it's because a lot of these people don't have a clue.
It appears that this could be a hit of nearly 400 Max aircraft for Boeing, including those on, or potentially on, the books, and those sitting collecting dust on hardstands across the Middle Kingdom.
Who Cares If They Boycott Boeing? Let's Keep Buying Chinese Stuff, Anyway. More disturbing is that the politicians now sitting in Washington apparently are completely confused about China-U.S. relations, and have zero backbone in regard to standing up to the criminals in Beijing.
Our #1 exporter to China – Boeing – is boycotted, but it's full speed ahead to rely on goods made by CCP-controlled Chinese companies. The same CCP that's committing genocide, locking up dissidents and just generally trying to outdo Nazi Germany.
We've already seen zero action even when it is beyond obvious that the CCP engendered the Covid pandemic. Now, it is more than clear that when it comes to U.S. – China trade relations, it's the people on the other side of the Pacific that are in control.
In this latest example, American jobs and the American economy are at risk.
Let's Do A Betting Pool. This cannot be intentionally ignored for much longer. Maybe we should start a bet on when the usual suspects in the mystical world of finance will take public notice, like latter-day Captain Louie Renaults. They will be, well, so shocked! shocked!
Point: in the dungeons-and-dragons world of finance and stock plays, it is hard to believe that this is a mystery to Wall Street.
But perhaps they aren't ready to recognize the obvious, just yet. For whatever reasons.
____________
In The Latest Aviation Unscripted…
Last week, the Aviation Unscripted video reviewed the latest Airports:USA® enplanement forecast.
Growth, But… The year 2021 is still projected to clock in with 670 – 675 million airport enplanements. But there are a lot of unknown economic and airline industry strings attached that we won't know about for several weeks.
It is uncertain if the leisure demand will be as strong after Labor Day, and whether there will be any real uptick in international travel.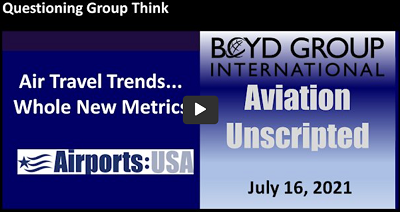 Again, addressing the issue of business travel, the indications increasingly are that the transfer of portions of such demand to video and alternative channels was a dynamic already in progress before the CCP inflicted Covid on the world. It just accelerated the process.
Log on for some data supporting that contention.
The Growth Patterns Will Reflect A New Post CCP-Covid Economy. In addition, the video discusses how the return of air travel demand will be highly regional, with one part of the nation expected to see 30% growth by 2025, compared to 2019. On the other end of the chart, one very populous region will actually see a decline compared to pre-Covid traffic levels.
We want to thank our viewers and subscribers who are joining Aviation Unscripted from a variety of global portals.
Log on by clicking here.  And check out our entire library… hard facts, direct delivery.
___________