The Meteors Have Hit… The Dinosaurs Haven't Noticed
We Have… Announcing A New Aviation Perspectives Channel
They claim that the dinosaurs went 86 because they failed to adjust to changes in the environment after a meteor or meteors hit the planet.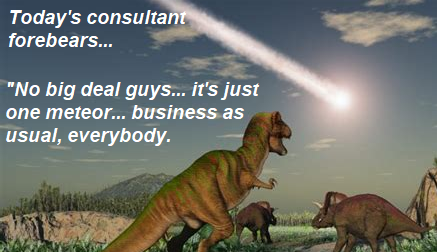 When it comes to aviation planning, the CCP-covid pandemic might be the equivalent of the event… the entire ecosystem has changed but a lot of the approaches to the future haven't.
… Air traffic volume is not only materially reduced, but the demand drivers have changed…

… The role of air travel as a business communication channel has changed – the pandemic only accelerated the expansion of virtual meetings – not a channel in 2010, but a huge one now.
… The emergence of new, multi-mission airliners is opening new potential for many airports, that were non-existent just three years ago.
… Network air carrier access is shifting into fewer airports, accelerating regionalization of air access – a process that in most cases is also consumer-driven
… ULCCs have evolved into a parallel air transportation product – using airliners to produce a new consumer spend option.
… Business aviation is taking on a new expanded role in the the transportation system – raising new revenue opportunities for airports of all sizes and categories.
… Air logistics and the value of time are emerging to represent new future opportunities for secondary and rural airports.
Lots of changes… lots of opportunities. These are just the main shifts that clearly show that how air transportation and its role in the economy is fundamentally different than two years ago. Yet, the approach to air service and airport planning is still assuming that the salad days and the pre-CCP-Covid system are coming back.
The dinosaurs haven't adjusted to the post-Covid meteor. It's pre-Covid business as usual. It's planning for the past.
When In Doubt – Assume The Past. Not too long ago, there was a study completed for a mid-size airport that has been losing network air access for years, mainly because an easily-accessible nearby connecting hub offers far more convenient and time-effective service than the local airport could ever support. It's a natural consumer trend in many parts of the nation. The airport in question needs to review and pursue new economic roles.
One would think that the study would concentrate on the emerging alternative economic options open to the airport, such as analysis of future regional logistics, opportunities for new-generation aviation investment and/or re-focus on additional impulse/ULCC service, quit-claiming air access demand to the other airport which is already meeting the community's air access needs.
Nope. Instead, in addition to the usual-suspect charts and graphs of the now-gone pre-Covid air transportation system, the document spent page after page reviewing the airport's website, it's app, and it's social media program. It went into detail comparing these to other airports' digital programs. The ultimate conclusion was that with improvement in these areas, additional airlines would definitely be attracted to serve the airport, once the pandemic was over. Can't make this stuff up.
Yessir, a new website and a flashy Twitter and Facebook strategy – that's sure gonna lure those airlines into town. Dunno if this state has legalized marijuana, but it would appear that cigarettes with no names may have been involved.
Unfortunately, this is still the obsolete level of a lot of airport development support… instead of a focus on the future, the trend is in trying to dance away from it. Instead of recognizing that past data are no longer representative of the future, the M.O. is massive tables and heat maps and charts of pre-CCP-Covid O&D data that have little value in planning the new future.
The issue is that the effects of the CCP-pandemic have completely changed the metrics and the strategies in the airline industry, not to mention consumer preferences. That means hard, unvarnished advice and perspectives are needed… not pablum trying to bring back the past.
Traffic Demand Is Shifting – Appearing In New Places – Evaporating In Others. Here's a hint: in 2022, US airports will see almost 100 million fewer enplanements than in 2019. In raw numbers, that's 100,000,000 less folks boarding airplanes. Here's another fact: as carriers such as American, Delta and United yank additional feed routes, there is no magic formula that the passengers will just shift to other airlines. When Delta cut service to Scranton/Wilkes-Barre, over 12,000 annual Atlanta O&D evaporated…poof! Gone. No, it didn't shift to other airports. It just ended. Another fun fleet hint: look for an additional 150 50-seat jets to evaporate from US network carriers in the coming year.
All of this tells us that a lot of traditional aviation thinking is going in the wrong direction. There are entirely new evolving dynamics of air transportation in the USA. Cuddle-level studies and a new Facebook outreach won't do diddly to address them. Unfortunately, a lot of airport consulting doesn't dare state the hard facts – one reason is that it might kill the consulting deal, and they aren't ready to define a new future that has a lot of tough-to-accept changes.
Log On Wednesday For A Futurist Horizon. Announcing a new source of hard, no holds barred aviation perspectives – Boyd+Swelbar Unvarnished – aviation perspectives that other sources shy away from. Tentatively, a new video every other Wednesday. Our Rumble channel can be accessed and will be up shortly… what will also be up may be some hackles from some of the remaining dinosaurs.

This Wednesday, take a few minutes to check out a whole new approach to aviation issues. Direct, irreverent and incisive, with just a touch (or more) of an iconoclastic disregard for ambient thinking.
We're taking the old, peeling varnish off of aviation analysis approaches.  We don't worship sacred cows… we barbecue them. We question a lot of ambient dogmas being accepted within the safe cloak of intellectual me-too ism. Each video will discuss a set of important aviation issues of the day. No sugar-coating. No political correctness. Just hard commentary and data for aviation leaders who can join us on the think wagon.
So, join us January 12, and take a look  Click here to get ready. 
__________________________________