In the Post CCP-Pandemic Environment:
New airliner capabilities. New missions. New Challenges.

Boyd Group International is.
So, let us accomplish an independent Air Service Strategy Diagnosis.
The airline industry structure is fixing to see material changes in the next 12 months… is your air service plan ready and revised? Have you pressure-tested your assumptions?
Point: last year's air service development assumptions are now out of date. Matching your air access program to new airline strategies will be critical.
Remember, the drivers of air service – and the enplanements at an airport – have all changed due to the CCP-Covid panemic. There won't be a re-bound, but instead a continued restructuring of the role of air transportation in America./

These are just a few of the new dynamics that point to the need for new metrics and the need to understand and anticipate what changes like these will mean in your efforts to assure economic air access.
An Air Service Diagnostics Check From Boyd Group International
This is the reason to call Boyd Group International for a candid and forthright Air Service Diagnostics check.
Unlike other consultants, BGI is focused on forecasting. This means we are on top of the changes that will be caused by changing airline fleets, and changing airline strategies. With our Airports:USA system, we monitor traffic trends at the nation's 146 largest airports. Our airliner trend and demand forecasts have been relied upon by manufacturers, suppliers, financial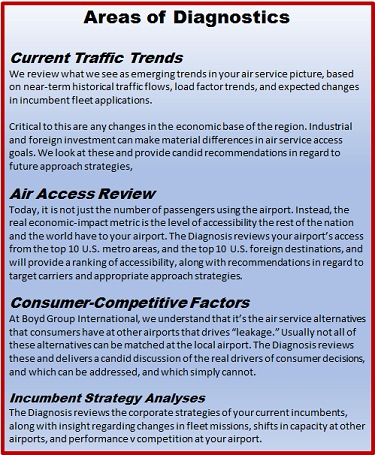 institutions – even the European Union competition commission.
It's our job to keep our clients ahead of the curve, prepared and ready to move swiftly to adjust to changes in airline strategies, fleets and competitive tactics.
In today's global economy, it's no longer "air service development" – it's assuring that your airport optimizes access from and to the rest of the air transportation system.
It's also anticipating the evolution in airline strategies. What was in the plan last year might change completely… leading to sudden and unforeseen route and market "pink slips"… or, changes that represent new opportunities for market expansion.
In short, knowing the future is critical to air service planning, and BGI is the #1 aviation forecasting source.
Historical Data Is Just That – Yesterday's Numbers. It's no longer just having historical PDEW or O&D data… airlines today plan on the basis of their own future corporate goals… not just economic metrics.
The future lies in accurately identifying these goals – which are constantly evolving, and them matching them to the concurrently-changing economic foundation of your region. That's where we come in.
Get A Review From The Leader In Aviation Forecasting. So, let us take a candid and independent diagnosis of your airport's air service access opportunities in the post-pandemic environment/
Even if you're working with another consultant, no problem. In medical situations, a second opinion is a right option. Shouldn't that be the case with your future air service access planning?
When we're done, you'll have new perspectives and new data on which to plan the future.
For more information, and to discuss tailoring a Diagnostics program to your airport, give us a call, or click here to send us an email.