Traffic Forecast – Continued Strength
But 2019 Passenger Levels A Long Way Off
The latest Airports:USA® long-term forecast indicates just under 620 million enplanements for 2021.
Based on known and expected airline capacity and fleet trends, the latest Airports:USA® forecasts indicate 2021 on track for just under 620 million enplanements.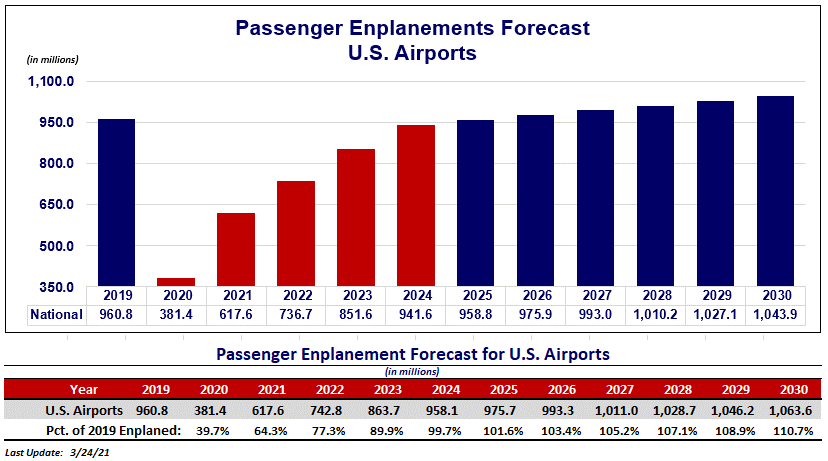 This tracks with current rates of screening reported by the TSA, which has been in the 1 million to 1.5 million level each day.
Currently, the average passenger journey generates 1.4 enplanements, which is the result of connecting itineraries. This then would indicate that the 620 million enplanement figure is on target.
The challenge is that this figure is well short of the 960 million experienced in 2019, and even further short of what was expected, pre-CCP Covid, for 2021. Based on the forecasts and traffic trends expected, year 2021 was projected by Airports:USA to be approximately 1.15 billion enplanements.
That means we are looking at a very different air transportation picture, and one that represents a much-reduced set of revenue streams for all sectors of the aviation industry. The planning that was in place in March of 2020 has in many aspects been made obsolete.
Obviously, the picture is mixed. Some regions are in line for very strong enplanement growth, based on the airline industry adjusting to the new consumer and business base.
What needs to be grasped is that there is no "rebound" – the reality is that we are experiencing traffic adjusting to the fact that air transportation as a communication modality is changing, both in regard to leisure and business applications.
How this will manifest is based on very different consumer and economic drivers than the ones in place in 2019. Understanding these emerging dynamics will be critical to revising airport Master Plans and revenue projections.
Airports:USA® is the only independent source of traffic and trend forecasts for the industry. Updated constantly, it provides clients with the insights and perspectives that illuminate how air transportation will evolve in the future.
Log on to www.AirportsUSA.com and then give us a call and we can set up a quick demo of how we can give you a clear planning tool for the future.
______________
In This Week's Aviation Unscripted Video
Another Pandemic – An Economic Pandemic – May Be Coming
Not to be a Kassandra, but we may be in for another set of economic torpedoes later this year… maybe sooner.
Be sure to join us this Thursday, April 8, for the latest Aviation Unscripted video, published on that channel on Rumble.com. We have some very sobering insight regarding some possibly near-term shenanigans on the part of the un-elected hoodlum system running China.
Understanding the events and geo-political issues that are unfolding in other areas of the globe is essential to contingency planning. This is one contingency that might land in our laps and put air traffic and the economy back on the skids.
The CCP-Covid pandemic was a health-related scourge that was inflicted first on the Chinese people and shortly thereafter on the entire world.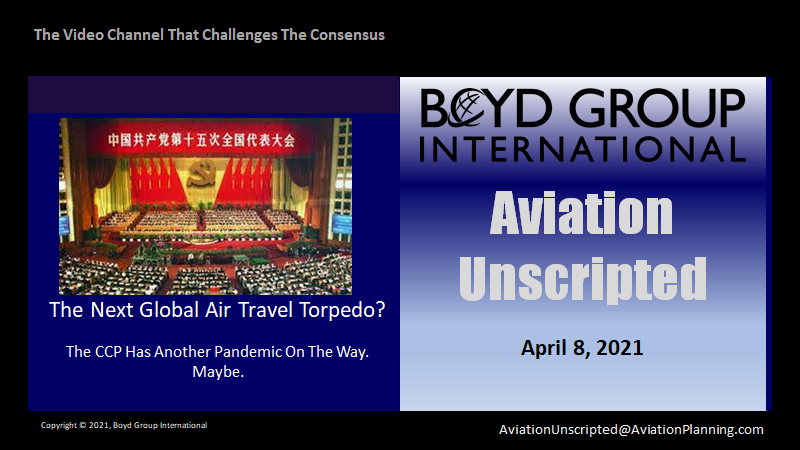 Unfortunately, the mobsters running China may be in line to do a repeat, but this time it will be an economic pandemic.
Political trends in China are very dangerous. Various factions are going to the mattresses in power struggles regarding the current leader, Xi Jinping. It is just like the mafia on a huge scale… they are all members, but the infighting between "families" portends danger for the entire globe.
Dictators in trouble tend to take actions that are aimed at rallying the citizens and neutralizing opposition from political enemies. In this case, what Xi Jinping may pursue will do to the global economy what his incompetent handling of the Covid virus did to global health.
To access the Aviation Unscripted video channel, click here… and be sure to log on this Thursday and get the facts. Things could change very quickly in the months ahead.
Here's one hint. Taiwan.